Happy 4th of July Razzball Commenter Leaguers!  This week not only marks the birthday of our fine U.S. of A., but more importantly, marks the halfway point of the fantasy baseball season!  We just finished ~13 weeks and there are ~13 weeks remaining. While we typically use the All Star Break to mark the halfway point, this week is the real deal.  If you were exactly on pace with your innings pitched, you would have 700 on the button. You can use that as a nice gauge to see if you need to be streaming your buns off the next 13 weeks or if you can chill out a bit and wait for the choice match-ups.  This week, in addition to the weekly leaders we will take a look at our halfway point leaders. It will be a quick shoutout to those teams that have started hot in each of the roto categories. Obviously, our team of the halfway point is the leader of our Master Standings.  Who might that be you ask? Let's take a look at that and the rest of the week that was week 13 in the Razzball Commenter Leagues:
Each week we'll peek in at our resident 'perts to see who is laying claim to best "expert" RCLer in the land.  We'll take notes, check the standings and generally stalk them.  The heading is also hyperlink, so feel free to follow along as we go.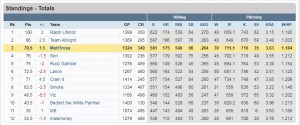 Like any star worth its salt, Rudy burned brightly, but then burned out.  After gaining 9.5 points last week, Rudy lost 6.5 back and fell from 3rd (and was in 2nd at one point during the week) back to 5th.  That two position drop was the tied for biggest of the week with Lance who fell from 4th to 6th. All of this goes to show just how close the 7th through 2nd spots are.  Meanwhile, Ralph is rubbing our noses in our pitiful scores.
The biggest gain of the week was your humble RCL updater.  I gained 7.5 points this week and clawed back into 3rd place, up from 6th last week.  All it took was leading the league in Runs, HRs, and co-leading in SBs this week to make it happen.  I also finally got a decent pitching week (3.16 ERA and 1.102 WHIP in 42.2 IP) despite only managing to muster 2 Wins…stupid wins.
TOP 10
For those too lazy to check the MASTER STANDINGS, I present to you, the current top 10
The top two remain the same for another week with the Squat Cobblers stretching their overall lead with 105 league points.
Los Beisbolcats moves up a spot this week as does The Road Warrior.  Team KOechslin moves up as well, eight spots this week from 13th to 5th.
Im in a Ditch makes a huge jump this week, gaining 8.5 points and moving from 33rd to 6th.  What a week!
1-800-BETTSOFF falls a spot while week 10 TOW winner, SmoakNCron, stays hot and moves into the top 10, debuting at number eight.
LauraHolt took a tumble this week from third to ninth and Bag Stealn Wheelin Dealin Son Of A Guns round things out falling from seventh to tenth this week.
TRADES
All the trades that have gone down in the past week.  Public ridicule is not only allowed, but encouraged.
I spotted three trades this week, but do tell if you had one in your league that I missed.
Vottoman Empire was at it again, he's quite the wheeler and dealer.  I love the first deal for him, nabbing Kris Bryant and a closer for Odubel and a crappy closer.  I really like that move a lot. It's risky with Houston's bullpen constantly in flux, but if Rondon really is the guy, that's a smooth move.  If you're desperate for saves, I'd investigate swapping a "meh" closer like Soria or maybe Wily Peralta for Hector Rondon. If someone doesn't think he'll be the guy, you may be able to snag him for cheap or as a throw-in.
I hate trading for pitchers, but I had to in Crab Army.  My pitching numbers are horrendous (Chris Archer was my first pitcher drafted).  I've got Charlie Morton and a bucket of garbage and my ratios show it. Hopefully my team can handle missing out on Harper's .230 average!  I am in first in HRs though, so I'm hopeful this move works out. What do you think?
WEEKLY LEADERS
The best of the best from the week that was.
R – 63 – Prospect Jesus (Crab Army)
HR –26 – Team namelessNsilent (RCL 2018 (#73))
RBIs – 76 – Fake News Bears (RCL 2018 (#62))
SB – 12 – Team HoosierBoss (RCL 2018 (#48))
AVG – .346 – Fake News Bears (RCL 2018 (#62))
K – 102 – Call me mabry (RCL 2018 (#51))
W – 9 – Im in a Ditch (RCL 2018 (#44))
SV –  14 – The Strolgs (Cougs R Us) & Mr Big & Bud Goode (RCL 2018 (#23))
ERA (Min. 40 IP) – 0.41 – FANTASY WIZARDS (RCL 2018 (#71)) (in 43.2 IP)
WHIP (Min. 40 IP) – 0.739 – Team soccrtiger13 (RCL 2018 (#61)) (in 47.1 IP)
Three new records were set this week.  Team namelessNsilent upped the HR record by one with a 26 and the five-way tie for the Saves lead was finally broken…by two teams.  So, the tie remained in effect with 14 saves. I'm not sure that ERA mark will be topped this season, that is some impressive work by the Fantasy Wizards.
HALFWAY POINT LEADERS
The best of the best from the week that was.
R – 655 – Weird Balls (RCL 2018 (#4))
HR –205 – CrustyJugglers (RCL 2018 (#40))
RBIs – 657 – Vin O'Wins (Original Recipe 2018)
SB – 112 – Team cubbiebearz (RCL 2018 (#19))
AVG – .290 – Lickety Splits (RCL 2018 (#44))
K – 998 – Team tyedyedrebels (RCL 2018 (#8))
W – 70 – Autodrafting Like A Boss (DFSers Anonymous) & Team Nikodogpsp (RCL 2018 (#21))
SV –  112 – The Sneetches (RCL 2018 (#51))
ERA (Min. 520 IP) – 2.47 – Lenny Potts (RCL 2018 (#42)) (in 673 IP)
WHIP (Min. 520 IP) – 1.007 – The Ordzhoni Kids (Crab Army) (in 687 IP)
Congrats to our halfway category leaders.  The OCD SAGNOF in me loves to see the SB/Saves marks both at 112.  Nice work RCLers!
Just for reference, here are the all time RCL records that these teams could be chasing:
| | | | | |
| --- | --- | --- | --- | --- |
| CATEGORY | STATS | TEAM | LEAGUE | YEAR |
| RUNS | 1283 | Backdoor Sliders 1 | FCL | 2016 |
| HOME RUNS | 414 | New York Dahls | Keepin It Real | 2017 |
| RBI | 1239 | The Sneetches | Razzers Not Brazzers | 2017 |
| STEALS | 270 | MaxPlanck 1 | RCL European Division | 2014 |
| AVERAGE | 0.297 | Team Thompson | Razzball Roto League | 2012 |
| STRIKEOUTS | 1801 | Rudy is Booty | Baba Booey | 2016 |
| WINS | 122 | Samuel Colt Debate Team | DFSers Anonymous | 2016 |
| SAVES | 258 | Rudy is Booty | We're All Winners | 2017 |
| ERA | 2.57 | John Boccabellas | The Downward Spiral | 2015 |
| WHIP | 1.001 | Anabolic Agents | Dr. Bosch's Anti-Agers | 2015 |
TEAM OF THE WEEK
Our weekly shout out to the team that killed it the previous week.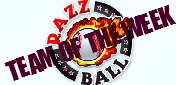 Team: Prospect Jesus
League: Crab Army
Stats:   AVG: .272, R: 63, HR: 16, RBI: 56, SB: 8
IP: 85.2, ERA: 3.57, WHIP: 1.074, K: 86, W: 5, SV: 9
Summary: It was just a matter of time before one of Ralph's teams made the TOW.  This one and his 'Perts League squad have been on fire. Ralph led the RCLs in Runs this week and had fine ratios while maintaining a strikeout per inning pitched.  There's a great battle going on in Crab Army with 3 teams separated by a point and a fourth team within striking distance. Ralph is top 2 in every offensive category in that league, so it's no wonder his offense carried him to TOW honors.  Nice work Ralph!
Want to be Matt's Twitter pal?  That's kinda creepy, but you can follow him here: @MattTruss