Another week has passed in the Razzball Commenter Leagues and yet again, the FFBs sit atop the Master Standings.  The lead shrank a bit this week, but not enough for a change at the top. As I was looking at the Master Standings and wondering how anyone was going to catch FFB I noticed that FFB has made a whopping 273 moves so far, meaning they only have 227 remaining.  If my hippo math serves me correctly, there are 25 weeks this season meaning we're just about halfway through this long haul of a season. In other words, FFB is slightly over pace in that department. For all those in the top ten that are currently looking up at FFB, we can at least hope they run out of moves by the beginning of September and we'll have a shot at catching up then.  All this move counting had me going down the rabbit hole and surprisingly, FFB is not the moves leader on the season. To find out who that honor belongs to as well as which leagues have made the most moves as a whole, jump below for the rest of the week that was week 12 in the RCLs:
Team HoosierBoss leads all RCL teams with 293 moves.  However, their 63.5 league points show that moves aren't everything.  The Squat Cobblers are doing some serious work this season with three teams in the top ten in moves they must have an achy clicky finger.  That hard work has paid off in one league as the Cobblers sit in ninth place overall. The other two aren't too shabby either checking in at 79th and 117th.  You can take a look at the moves leaders at anytime by heading to the Master Standings and sorting by the last column, "Moves".
Typically the number of moves a league makes has a good correlation to a high league competitive index (LCI).  This makes sense, right? A league making the most moves would be a league full of attentive managers, racking up counting stats and thus have a high LCI.  There are four leagues with over 1,000 moves so far: ECFBL (1465), 'Perts League (1367), Cougs R Us (1239) and Night of the Living Zombinos (1201). However, none of these leagues has the highest LCI.  That honor goes to RCL #52 with a 108 LCI and 672 total moves. NOTLZ is right there with a 107 LCI while 'Perts League and ECFBL lag a bit with a 105 LCI. Once again, moves aren't everything.
Each week we'll peek in at our resident 'perts to see who is laying claim to best "expert" RCLer in the land.  We'll take notes, check the standings and generally stalk them.  The heading is also hyperlink, so feel free to follow along as we go.

Well, well, well, look what we have here, a brand new leader in the 'Perts League!  Not that long ago (week 5) I was sitting in 11th place, looking at Tehol's backside and wondering what I was doing with my life.  Look at me now Mom! I still think it's a little over-inflated due to innings and win-luck, but I'll take it. I need some more steals and a better batting average to hold on.  Someone wake up Kerry and tell him to trade me Whit Merrifield would ya? Oh, and I just lost Frankie Montas, yipee. Hold me Jack Flaherty, be more like the Jose Berrios I had you ranked next to but for some reason decided I had too much Berrios exposure on draft day.  I did manage to lead the league in steals and batting average this week, which, as my two most lagging categories really helped boost me up. Now, I need to sustain.  
My six point gain led the league this week but Grey and Roto-Wan each had 5.5 as well.  Grey gained the most standings spots this week, jumping back up three places this week to settle in fourth.
The biggest loser this week was B_Don who dropped seven points and fell three places down to seventh.  The only time coming up sevens is unlucky I suppose.
TOP 10
For those too lazy to check the MASTER STANDINGS, I present to you, the current top 10
As mentioned above, the leader didn't change this week and I'm still right behind the Fat Fuckin' Babies in second place.
Up North and Licketty Splits swap spots this week with Up North taking over third place overall.
Team mcafeeeee and I remain in fifth and sixth place respectively and my leaguemate, Backdoor Splitters rebounded from a tough week 11 to tie me atop the ECFBL standings and get into seventh place overall.
Orchids of Asia took a week off from the top ten, but come back this week and push the Squat Cobblers down one spot to ninth.
Rounding this out this week we have J&G getting back in the top ten for the first time since week seven.
TRADES
All the trades that have gone down in the past week.  Public ridicule is not only allowed, but encouraged.
It was a VERY quiet week of trading in the RCLs.  Father's Day hangover? Is that even a thing? Whatever the reason, I think I'd take Cruz and Didi in those two deals, but they are both pretty close.
WEEKLY LEADERS
The best of the best from the week that was.
R – 65 – Hanson Bros. (RCL 2019 (#19))
HR –23 – Hot Rod (PERTS LEAGUE) & Fred Garvin MP (Original Recipe)
RBIs – 69 – The Dead Hand Gang (RCL 2019 (#15))
SB – 14 – Vlad Company (RCL 2019 (#19)) & J's House (RCL 2019 (#56))
AVG – .383 – Galloping Beavers (RCL 2019 (#37))
K – 110 – Seaton Wolves (RCL 2019 (#48))
W – 9 – Team OldBlue55 (RCL 2019 (#12))
SV –  10 – 3 Teams Tied
ERA (Min. 40 IP) – 1.24 – Ljubljanska Jezica (RCL 2019 (#49)) (in 51 IP)
WHIP (Min. 40 IP) – 0.761 – Team jle0379 (RCL 2019 (#63)) (in 44.2 IP)
The Galloping Beavers set a new high water mark in batting average with a .383.  That's impressive.
Vlad Company and J's House tied the weekly steals record which means we need someone to step up and break that tie.  Get on it speedsters.
Shoutout to Hot Rod who co-led the RCLs in HRs this week.  He needed a good week after a disaster of a season so far. This week got him out of the teens though!
TEAM OF THE WEEK
Our weekly shout out to the team that killed it the previous week.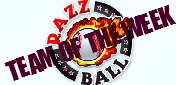 Team: The Dead Hand Gang
League: RCL 2019 (#15)
Stats:   AVG: .298, R: 58, HR: 18, RBI: 69, SB: 5
IP: 117.2, ERA: 2.29, WHIP: 1.045, K: 97, W: 6, SV: 1
Summary: The Dead Hand Gang blew away all previous TOW point-earners this week.  So far, they are the best of the weekly best and it's easy to see why. Not only did the Gang lead the RCLs in RBIs this week but they also posted a dazzling ERA and WHIP in a whopping 117.2 IP!  That's a good month for some teams! Mike Trout and DJ LeMahieu (Yea, those two belong in the same sentence) led the offense this week while Masahiro Tanaka and Marcus Stroman led the pitching staff.  This excellent week netted the Gang 11.5 league points this week, pushing them into fifth place in RCL #15. It'll take a few more good weeks for them to catch Prague Defenestrators and Lucky Bucky, but what a week!  Nice work Gang!
Want to be Matt's Twitter pal?  That's kinda creepy, but you can follow him here: @MattTruss