There's a new sheriff in town atop the Razzball Commenter Leagues Master Standings.  The STL Squat Cobblers are riding their 103 league points in ECFBL with it's 105 LCI to Master Standings glory.  You can really see the importance of LCI on the Master Standings when you look below the Cobblers at my RCL #23 team with 108.5 league points but just a 100 LCI.  This led me down a rabbit hole of top LCIs and how the LCI correlates with total league moves. It would make sense that a league making the most moves would be a league full of attentive managers, racking up counting stats and thus have a high LCI.  There are four leagues with a LCI of 105 or greater. Cougs R Us has the highest with a 106. ECFBL, Night of the Living Zombinos and RCL #62 all have an LCI of 105. There are two teams (RCL #51 and #61) with an LCI of 91, the lowest of any league. RCL #51 has a team with an illegal roster since day 1 and has collected no stats on the year.  RCL #61 has a team that was trying to make terrible trades, got them denied and has since benched their entire team and seemingly quit the league. So, it takes some extreme examples to get an LCI that low. Click below and you'll be magically transported to the rest of the week that was, week 12 in the RCLs as well as a table showing which leagues have made the most moves so far this season:
| | |
| --- | --- |
| League | Moves |
| 'Perty Perts | 1437 |
| Cougs R Us | 1337 |
| ECFBL 2018 | 1262 |
| Night of the Living Zombinos | 1218 |
| RCL 2018 (#62) | 1167 |
| Frequent Commenters League | 1115 |
| DFSers Anonymous | 1023 |
| RCL 2018 (#59) | 862 |
| RCL 2018 (#73) | 788 |
| RCL 2018 (#64) | 762 |
'Perty Perts has been the most active league so far.  This is mostly due to Tehol and his 333 moves. I'm fairly certain he has no idea there's a 500 move limit and I can't wait for his message board rant when August hits and he is locked from making add/drops.  That will be fun to witness. 'Perty Perts has an LCI of 103. That is high, but not highest obviously. The next four leagues on the list are the four with the highest LCI. So, while making moves doesn't guarantee a higher LCI and moves is not part of the LCI calculation, it does make sense that an active league will earn a higher LCI.  In contrast, the league with the fewest moves, RCL #72, has an LCI of 93.
Each week we'll peek in at our resident 'perts to see who is laying claim to best "expert" RCLer in the land.  We'll take notes, check the standings and generally stalk them.  The heading is also hyperlink, so feel free to follow along as we go.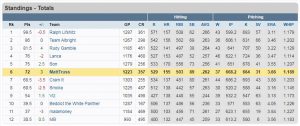 I hate to say the 'Perts League has been boring to follow this season, but when one team is dominating the top for 10 straight weeks, it can get a little stale.  Thanks Ralph! The battle for 2-7 is at least exciting and this week it was Rudy Gamble making the moves up the standings. Rudy gained 9.5 points this week and moved up three places from 6th to 3rd.  Rudy is now just 5.5 points behind second place Grey. Rudy led the league in RBIs, AVG, Wins, ERA and WHIP. Not bad, maybe in a couple weeks it will be Rudy putting some pressure on Ralph.
On the flip side, Cram It was the big loser this week, dropping 5.5 points and falling three places from 4th to 7th.
TOP 10
For those too lazy to check the MASTER STANDINGS, I present to you, the current top 10
As mentioned in the open, the Squat Cobblers gained 2.5 points this week to take the top spot, moving up from fifth last week.
My Starfish & Coffee squad remained in second place while Laura Holt gained a point in the Writers League and moved from ninth to third because of it.
Los Beisbolcats and The Road Warrior each fall a spot while 1-800-BETTSOFF gained two places this week to move into sixth.
Bag Stealn Wheelin Dealin Son Of A Guns has peaked at 14th overall but busted into the top 10 this week with a seventh place showing.  Also making their top 10 debut this week in eighth place is Team Shoopy, who were on the bubble last week.
Templeton Shoots The Bird and Retro Vertigo each fall three places this week to round out the top 10.
TRADES
All the trades that have gone down in the past week.  Public ridicule is not only allowed, but encouraged.
No trades to report this week, but if your league had one that I missed, do tell in the comments!
WEEKLY LEADERS
The best of the best from the week that was.
R – 66 – Florida Cardinals (RCL 2018 (#18))
HR –24 – Chattanooga Crackers (RCL 2018 (#39))
RBIs – 70 – Team onionskin (RCL 2018 (#4))
SB – 14 – Fear and Ignorance (RCL 2018 (#71))
AVG – .343 – Cram It (RCL 2018 (#62))
K – 108 – WiHaloFan (RCL 2018 (#3))
W – 7 – 7 Teams Tied
SV –  13 – AL KOHOLIC (RCL 2018 (#60))
ERA (Min. 40 IP) – 0.60 – Update Roster Team (RCL 2018 (#6)) (in 45.1 IP)
WHIP (Min. 40 IP) – 0.686 – unknowns (RCL 2018 (#25)) (in 46.2 IP)
AL KOHOLIC joins the 5 team tie for most saves in a week with 13.  We need someone to hit 14 and break that tie.
Update Roster Team bested the weekly ERA record by 0.19 this week.  Berrios, Sale and Corbin had 34.1 IP and three earned runs between them.  That's pretty killer.
Quick shout out to Fear and Ignorance who tied the Saves record last week and came back and made an appearance on the leaderboard this week in the steals department.  SAGNOF R US!
TEAM OF THE WEEK
Our weekly shout out to the team that killed it the previous week.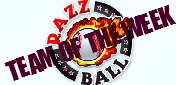 Team: Chattanooga Crackers
League: RCL 2018 (#39)
Stats:   AVG: .325, R: 61, HR:24, RBI: 55, SB: 6
IP: 64, ERA: 2.25, WHIP: 1.156, K: 60, W: 4, SV: 0
Summary: Besides having no saves to speak of, this is an impressive week, well rounded in every other category.  The Crackers led all RCL teams in HRs and backed that up with some stellar pitching. The Crackers got offensive help from AL Player of the week, Nelson Cruz as well as Odubel Herrera and Cody Bellinger.  On the pitching front is was Jose Berrios and company leading the way. The Crackers do own a closer, Shane Greene, however, there are plenty of points for them to gain if they added one more. Of course, this squad is already leading RCL #39 by 5.5 points, but who doesn't want to win by more?
Want to be Matt's Twitter pal?  That's kinda creepy, but you can follow him here: @MattTruss