Week eleven saw a lot of rough team ERAs in the Razzball Commenter Leagues.  In one of my leagues only one team had a weekly ERA of under 3.00. Grey had himself an epic week of ERA (more on that later) and so did many others.  With all that going on I thought I'd take a look back at season's past and see where our average team ERA ranked right now. This is the benefit of being the keeper of the RCL data for as long as I have.  In 2016 the average team ERA was 3.71 and in 2017 it was 3.87. 2018 saw the move to FanTrax and the change to 1400 IP instead of 180 GS, this, along with some potentially juiced balls saw our average ERA jump to 4.03.  So far this year, we're looking at a 3.88 ERA and we haven't even hit the hot, humid days of summer yet. For reference, during week 11 last season we had a 3.60 ERA only to finish with a 4.03. It's going to get worse before it gets better folks.  Worse, of course, is a relative term. If you love offense, this is great. You'll see in this week's weekly records that we're demolishing offensive records left and right. So, don't be down on your 3.75 ERA, just know that you're actually slightly below average and everyone is struggling.  The struggle is real folks. Now, for the rest of the week that was, week 11:
Each week we'll peek in at our resident 'perts to see who is laying claim to best "expert" RCLer in the land.  We'll take notes, check the standings and generally stalk them.  The heading is also hyperlink, so feel free to follow along as we go.

Oh me, oh my, what a shake-up in the standings this week.  Ralph jumped up three spots this week after gaining the second most points of the week (8.5).  
The real story here though is the fall of Grey.  Grey dropped a Tehol-esque six places this week and lost 15.5 points to land in seventh place.  The lowest Grey had been all season before this week was second place. This is troublesome for our Fantasy Master Lothario.  Grey rocked an 8.39 ERA and 1.662 WHIP this week. Grey's ERA was the worst in the entire RCLs for those teams that logged over 40 IP.  Grey was done in by Patrick Corbin, Jon Lester, Zack Wheeler and worst of all by David Price and his 40.50 ERA. Yikes. Ralph was there to take advantage with his 2.83 ERA (the only ERA on the week under 3.06).  It will be very interesting to see how things shake out the next couple weeks.
Roto-Wan gained the most points this week, gaining 9.5 as he moved up one spot to ninth.
TOP 10
For those too lazy to check the MASTER STANDINGS, I present to you, the current top 10
FFB gained another two league points this week and are really running away with the overall lead right now.  More on FFB's amazing week to come.
I was able to swap spots with Licketty Splits this week, but just barely.  We're fighting for second at this point.
UpNorth remains in fourth this week and Team mcafeeeee reclaims fifth place after a two week hiatus from the top ten.
Likewise, I get back into the top ten with my ECFBL team after a week on the outside looking in.
Bunting ban makes their top ten debut this week, up from 25th last week, as does Squat Cobblers 2, up from 20th last week.
New Jack Swing drops one spot this week to ninth and the Casterly Rock Fighting Imps debuts in the top ten this week to round things out.
TRADES
All the trades that have gone down in the past week.  Public ridicule is not only allowed, but encouraged.
Mr Big and Bud Goode traded Chris Paddack mere moments before he was optioned to Triple A.  Well done.
I'd love to trade Walker Buehler for Bryce Harper, well done 8th Wonders.
Likewise, the foul balls got a steal and a half trading the equivalent of a bag of balls for Trea Turner and Charlie Blackmon.  Wow.
WEEKLY LEADERS
The best of the best from the week that was.
R – 77 – The Lucchesi Family (RCL 2019 (#58))
HR –31 – #6org (RCL 2019 (#62))
RBIs – 86 – The Crying Wolves (Original Recipe)
SB – 12 – Golden Sombrero (RCL 2019 (#1))
AVG – .363 – Team Silence14617 (RCL 2019 (#64))
K – 88 – Scott Boris' Opt Outs (RCL 2019 (#7)) & @Roto_Chris (RCL 2019 (#19))
W – 8 – Rocket City Trash Pandas (RCL 2019 (#54))
SV –  12 – Team Wass (RCL 2019 (#54))
ERA (Min. 40 IP) – 1.52 – Lest Ye Be Judged (RCL 2019 (#1)) (in 47.1 IP)
WHIP (Min. 40 IP) – 0.634 – Lest Ye Be Judged (RCL 2019 (#1))
As I mentioned in the lede, it was a huge week for offense.  We didn't just break, we smashed the weekly records for Runs, HRs and RBIs.  The Lucchesi Family netted four more runs than the previous record, which had already beaten last year's record of 69 runs.  #6org bopped three more homers than the previous record which had already beaten last year's record of 26 HRs. The Crying Wolves really set the bar high with 15 more RBIs than the previous record.  Last year, the weekly record for RBIs was set at 80. We're only in week 11 folks. Records are falling fast and I can't wait to see what the end of year numbers look like.
TEAM OF THE WEEK
Our weekly shout out to the team that killed it the previous week.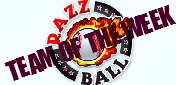 Team: Fat Fuckin' Babies
League: RCL 2019 (#57)
Stats:   AVG: .315, R: 69, HR: 21, RBI: 58, SB: 7
IP: 86.1, ERA: 2.71, WHIP: 1.158, K: 79, W: 7, SV: 7
Summary: Then there is a team that can do it all and do no wrong.  FFB increased their overall lead with a monster week. FFB was near the top in all the offensive categories and had a stellar ERA/WHIP in 86 IP.  When you do that in a week where most people are putting up ugly ratios, you'll be moving on up. If it makes you feel better, FFB started their draft by nabbing Trea Turner and then Giancarlo Stanton.  Trevor Bauer was drafted next with Yasiel Puig in the fifth and Andrew McCutchen in the ninth. FFB does a great job of filling the roster daily and streaming well and that's what it takes to excel in the RCLs.  Take notes. Starling Marte paced the offense this week and it looks like the entire roster hit over .300 this week. Trevor Bauer finally had a good week and was a big part of the pitching dominance.  Nice work FFB!
Want to be Matt's Twitter pal?  That's kinda creepy, but you can follow him here: @MattTruss