I hope you all had a wonderful tenth week of the Razzball Commenter League season.  The injuries seem to really be piling up for my squads. I've got Acunas, Buxtons, Pollocks, Hills, Rays, a lot of Andrew Millers and now an Ohtani on various teams.  Ohtani stings since FanTrax was the one place you could utilize his dual-eligibility. I know Grey was touting the "I told you to avoid/sell him" game the other day, but with Ohtani's horrid spring training, he actually came at a discount later in the draft season.  He went from being drafted between pick 55 and 80 early on to being drafted after pick 100 and even as late as 213 in one league (ECFBL – Nice grab Ralph!). After pick 100, or about the 9th round, I don't consider this a make or break point in an RCL draft. Losing Ohtani won't kill your season unless you traded away your entire pitching staff or something.  It sure stings to lose a dynamic player though, especially one you grabbed at a decent price who was out-performing that draft day price tag. As I said, I liked Ohtani in this format with the new moves limit for the flexibility he gave on short schedule days, etc. Maybe Ohtani can rest this off like Tanaka has managed to do, but either way, it's to the DL and look on the bright side, now you have a streaming spot available!  Hello Jack Flaherty. Now that we've lamented our week 10 loses, let's take a look at the rest of the week that was in the RCLs:
Each week we'll peek in at our resident 'perts to see who is laying claim to best "expert" RCLer in the land.  We'll take notes, check the standings and generally stalk them.  The heading is also hyperlink, so feel free to follow along as we go.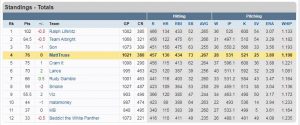 Another week, another Ralph romping of the 'Perts League.  All Ralph did this week was lead the league in every offensive category but steals and was only 1 run off leading the entire RCLs.  All of that helped Ralph gain the most points in the league this week with 6. Crammy seems to be making a move as well, picking up 6 points himself and moving closer to the top 4.
I had a dreadful week, for everything Ralph did awesome this week, my team was awful.  I had 28 runs to his 55, 7 HRs to his 19, hit .217 to his .325, it was a bloodbath. All of that and a 6.00 ERA / 1.53 WHIP led to me dropping 10 points this week and falling two places to 4th place.  Yuck. Oh, and I lost Ohtani in this league, lowercase yay.
TOP 10
For those too lazy to check the MASTER STANDINGS, I present to you, the current top 10
Same Salvy held onto to the top overall spot for another week.  It's nice to see the legacy leagues holding strong. Four of the legacy leagues have teams in the top 10 with two more lurking in the top 20.
The Road Warriors are overcoming that 96 LCI thanks to 108 league points and jumped into second overall.  Meanwhile, I slipped to third overall this week.
Los Beisbolcats moved up two spots this week and Templeton Shoots The Bird moved up three as they both passed Stl Squat Cobblers who fell from third to sixth.
1-800-BETTSOFF has been lurking in the top 20 for a couple weeks now, but pops into the top 10 this week, debuting at #7.
Laura and Ralph are holding it down for the Razzball writers at eighth and ninth.  Laura slips from fifth last week but Ralph jumps back up from 22nd last week to get back in the top 10.
Finally, SmoakNCron rounds out our top 10 this week with their top 10 debut.
TRADES
All the trades that have gone down in the past week.  Public ridicule is not only allowed, but encouraged.
That is a fairly sizable trade and given what's going on in Houston right now, I'd have to go with the Corbin/Haniger/Gleyber side here.
Look at Hoskins getting dealt for waiver wire peanuts, what a bum!  (Can I reverse jinx him to start hitting HRs please!)
These are the only two trades I spotted this week, but there are a whole lot more that processed Monday that will be included in next week's recap.
WEEKLY LEADERS
The best of the best from the week that was.
R – 56 – Team catfishalomar (RCL 2018 (#1))
HR –23 – Mous Drool (RCL 2018 (#23))
RBIs – 63 – The Cardinals (RCL 2018 (#19))
SB – 10 – 4 Teams Tied
AVG – .382 – Team Ibustillo (RCL 2018 (#23))
K – 96 – Team Crunchrules (RCL 2018 (#17))
W – 9 – Lance ('Perty Perts)
SV –  13 – Fear and Ignorance (RCL 2018 (#71))
ERA (Min. 40 IP) – 1.34 – Ted's Splendid Splinters (RCL 2018 (#10)) (in 53.2 IP)
WHIP (Min. 40 IP) – 0.702 – Fake News Bears (RCL 2018 (#62)) (in 57 IP)
Fear and Ignorance tied the weekly saves record this week with their 13.  Congrats to Lance for leading the RCLs in Wins, not bad for 67 IP. Among the 4 teams tied for the steals lead were Ralph, Johnny Utahs and myself.
TEAM OF THE WEEK
Our weekly shout out to the team that killed it the previous week.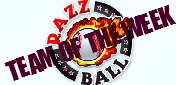 Team: SmoakNCron
League: RCL 2018 (#52)
Stats:   AVG: .253, R: 50, HR: 20, RBI: 44, SB: 5
IP: 71.2, ERA: 2.64, WHIP: 1.047, K: 76, W: 7, SV: 7
Summary: That is quite the week right there.  The batting average might not be much to write home about, but the rest of the stats are simply gorg.  This stellar week moved SmoakNCron up from 17th overall last week, into 10th overall this week. Not too shabby.  Cron got 4 HR weeks from Bellinger (finally!) and Khris Davis (welcome back!) as well as nice weeks from Paxton and Berrios on the pitching side.  Cron also scooped Hector Rondon and his 3 saves week! It's a good battle right now in RCL #52 with SmoakNCron holding a slim lead over Freggio. A few more weeks like this though and the rest of RCL #52 won't stand a chance.  Nice work Cron!
Want to be Matt's Twitter pal?  That's kinda creepy, but you can follow him here: @MattTruss