I hope everyone had a wonderful tenth week of fun in the Razzball Commenter Leagues.  The Yordan Alvarez party has officially started and it started off with a bang. Even people in my leagues that aren't usually prospect-hounds are excited.  The numbers in Triple-A have been pretty insane, I'll admit, but for those of us with zero RCL shares, I hope this is a quick cup of coffee. I'm afraid he's here to stay though and I completely whiffed on stashing him.  Shame on me. In the meantime, I've got Kyle Tucker still burning a hole in my bench in a few RCLs. Goodness, gracious these Astros are stacked. If I were you, I'd take a peak around my league at who had Yordan stashed (Donkey Teeth) and plan accordingly if they happen to be behind you in the power department (we are tied in the 'Perts League in HRs).  We could have another Austin Riley on our hands! I'll be very curious to see what Yordan draws on the trade market the next few weeks. Now, for the rest of the week that was, week 10 in the RCLs:
Each week we'll peek in at our resident 'perts to see who is laying claim to best "expert" RCLer in the land.  We'll take notes, check the standings and generally stalk them.  The heading is also hyperlink, so feel free to follow along as we go.

It's another week at the top of the heap for Mr. Albright, but with a 2.5 point loss this week coupled with a 2 point gain from Malamoney, things are very close!  Grey now holds a mere 5 point lead. Can he hold on? Probably. Grey has 85 less IP than Malamoney at the moment and once he starts picking up the pace there, he'll be shooting back up the standings.
B_Don had the best week in the 'Perts League this week, gaining 14 points and moving from eighth to sixth in the standings.  Knocking 19 dingers and clocking a 1.49 ERA / 0.847 WHIP in 54 IP will do that for you.
On the other side of that coin was Pert-Wan who dropped 15 points this week and fell from seventh to tenth.  That 5.87 ERA was the worst mark in the league this week and with a large group in the high 3's, low 4's for ERA, big swings can happen with a really bad or really good week of pitching.
Further 'Perts League updates for you: Hot Rod is out of the teens and now sits with 20 points.  Tehol hasn't made a move in a month, so consider him dead. Public Service announcement to the league, if you aren't beating Tehol by the end of June, it's time to reevaluate yourself.
TOP 10
For those too lazy to check the MASTER STANDINGS, I present to you, the current top 10
The top three remained in tact for another week with Fat Fuckin' Babies keeping it real for another week on top.  FFB added three league points this week to really pull away from Licketty Splits and my DFSers team.
Up North was able to add 1.5 league points this week and move from eighth to fourth, leapfrogging Backdoor Splitters who falls one spot to fifth.
Frequent Commenter, The Great Knoche makes his top 10 debut this week moving from 12th to sixth.  Knoche has been hovering around the top 20 all season and just biding his time to strike.
Team pozzo falls one spot to seventh while New Jack Swing moves from 11th to eighth and makes their top 10 debut.
Everyone's favorite massage parlor, Orchids of Asia gets into the top 10 for the first time, up from 23rd last week thanks to a 5.5 point jump in league points in Crab Army.
Finally, BEZOBRAZIE 1 gets back into the top 10 for the first time since week six and rounds things out.
TRADES
All the trades that have gone down in the past week.  Public ridicule is not only allowed, but encouraged.
Seven trades went down this week.  
I swapped some batting average for (hopefully) more power and RBIs in ECFBL.  More importantly though, I nabbed an OF and got rid of a CI cluster of Matt Chapman, Matt Olson and Freddie Freeman.  Having Nelson Cruz in the UTIL spot really puts a crunch on the roster sometimes.
Motownmauler swapped some saves for Justin Turner and Brandon Woodruff.  Meh,
I've seen Hyun-Jin Ryu on the block in a bunch of leagues with not much action, but netting Joey Gallo is pretty sweet.
Team jed757 shows you how to trade closers getting back Blake Snell and Stephen Piscotty…nice!
Finally, Cram It had enough of Noah Syndergaard and B_Don was happy to take him off his hands after drafting Kluber, Carrasco and Luis Severino.
WEEKLY LEADERS
The best of the best from the week that was.
R – 63 – Spanky's Gang (RCL 2019 (#13)) & Trussell Shuffle (RCL 2019 (#64))
HR –23 – 4 Teams Tied
RBIs – 64 – 3 Teams Tied
SB – 11 – 4 Teams Tied
AVG – .342 – Team cjbay (RCL 2019 (#34))
K – 97 – Filthy Scooter (RCL 2019 (#32))
W – 9 – Team ninigh01 (RCL 2019 (#58))
SV –  11 – 5IVE5IVE9INE (RCL 2019 (#38))
ERA (Min. 40 IP) – 1.08 – JuanLuckyPierre (RCL 2019 (#45)) (in 41.2 IP)
WHIP (Min. 40 IP) – 0.725 – Acuña Matata (RCL 2019 (#2)) (in 40 IP)
No records were broken this week, just a whole lot of parity as there were ties galore.
TEAM OF THE WEEK
Our weekly shout out to the team that killed it the previous week.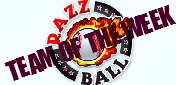 Team: 8th Wonders
League: RCL 2019 (#65)
Stats:   AVG: .248, R: 49, HR: 14, RBI: 42, SB: 5
IP: 79.1, ERA: 2.04, WHIP: 0.92, K: 78, W: 8, SV: 3
Summary: 8th Wonders is currently trying to run down the #4 overall team in the Master Standings, Up North.  With a stellar week this past week 8th Wonders was able to gain four league points, unfortunately, Up North gained 3 of their own so the gap didn't close very much.  Still, 8th Wonders is now just 1.5 points out of second place and another solid week may have them there. Freddie Freeman paced the offense while Walker Buehler, Hyun-Jin Ryu and Noah Syndergaard set up a pretty spectacular week of pitching in a week where there wasn't a lot of great pitching.  Nice work Wonder and good luck chasing down Up North!
Want to be Matt's Twitter pal?  That's kinda creepy, but you can follow him here: @MattTruss