First of all, a big thank you to Rudy for getting his Razzball Commenter Leagues robots crunching numbers even faster than last year.  We have real, live standings in what is really the first full week of games! It's awesome to have a starting point for the Master Standings in week 1.  I hope your first full week is going better than my team that owned Trea Turner, Giancarlo Stanton and had snagged Ryan McMahon to replace Matt Olson. Yikes.  I also don't own nearly enough shares of Cody Bellinger this year. I am excited for Ronald Acuna to visit Coors this week though. There are simply not enough eggplant emojis in the world.
It's the silly season for our leagues at this point, where we can have huge swings in the standings based on 2-3 good days of stats.  So fear not if you're off to a slow start. Who's the number one team after the first week (OK, week and a half) of the season? You'll have to click below to see that.  Let's take a look at the standings, the top teams in each stat category and some trades in the week that was, week one plus in the RCLs:
Each week we'll peek in at our resident 'perts to see who is laying claim to best "expert" RCLer in the land.  We'll take notes, check the standings and generally stalk them.  The heading is also hyperlink, so feel free to follow along as we go.
Grey is off to a hot start in the 'Perts League and is lighting the world on fire on offense.  The aforementioned Cody Bellinger is helping out there as Grey leads the league in Runs, HRs, RBIs, AVG and co-leads with 12 steals as well.
Hot Rod has burned the most innings so far with 109.2 and has 8 wins to show for it.  Unfortunately, that has come with a 5.09 ERA and 1.35 WHIP, a far cry from Pert-Wan and his league leading 1.87 ERA and 0.873 WHIP.  Love those sub 1 WHIPs! Meanwhile, Donkey Teeth has collected the most strikeouts (119) despite having 10 IP less than Hot Rod. Malamoney is currently leading the league in saves with 15 thanks in part to everyone's favorite relief pitcher, Shane Greene.
TOP 10
For those too lazy to check the MASTER STANDINGS, I present to you, the current top 10
In our first top 10 of the season we have what appears to be someone's randomly generated password leading the RCL universe.
Team ParkBarkley has managed the impressive feat of managing two separate teams into the top 10 to start the year, nice work!
Razzball's own mcafeeeee debuts in third place overall.
Familiar name, Backdoor Cutters makes what is sure to be a long stay in the top 10.
Your humble RCL Update host rounds out the first top 10 of the year.  It's always nice to get out to a good start.
TRADES
All the trades that have gone down in the past week.  Public ridicule is not only allowed, but encouraged.
This week we have Enrique Hernandez changing teams twice, each netting some potential save in return.  I'm good with those deals.
I wonder if Team Lvaughn03 watched Zack Wheeler's performance Sunday before hitting accept on that deal?  Maybe it was sitting in Shoopy's inbox and they hit accept following that performance. Who knows, but that could be some serious buyer's remorse if Wheeler doesn't get right.
WEEKLY LEADERS
The best of the best from the week that was.
R – 104 – 31g4T-0N3-31g4T (RCL 2019 (#38))
HR –35 – Operation Shutdown (RCL 2019 (#36))
RBIs – 102 – Operation Shutdown (RCL 2019 (#36))
SB – 17 – Team wonderfulpantsuit (RCL 2019 (#59))
AVG – .344 – Team mherndon (RCL 2019 (#8))
K – 147 – The Pyongyang Ping Pongs (RCL 2019 (#60))
W – 12 – Ljubljanska Jezica (RCL 2019 (#25))
SV –  21 – Team Stop Short (RCL 2019 (#20))
ERA (Min. 60 IP) – 1.08 – RayFlowers akabaldasshole (RCL 2019 (#23)) (in 84 IP)
WHIP (Min. 60 IP) – 0.76 – Team mcafeeeee (RCL 2019 (#17)) (in 74.2 IP)
Returning readers of the RCL Update know that I track the weekly leaders and call out the best of the best weekly performers through the year.  I won't be counting the counting stats from this extra long week, but I will let the ratios records stand as long as they can.
TEAM OF THE WEEK
Our weekly shout out to the team that killed it the previous week.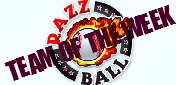 Team: Team ParkBarkley
League: RCL 2019 (#44)
Stats:   AVG: .283, R: 97, HR: 29, RBI: 92, SB: 11
IP: 101, ERA: 1.77, WHIP: 0.866, K: 112, W: 8, SV: 20
Summary: The first TOW is usually pretty easy to pick but I still ran the numbers.  For those who aren't familiar, I take the weekly stats of every RCL team and run them through a calculation I created a few seasons back.  What I've tried to accomplish with this is to find the team each week that had the most outstanding, yet balanced week. Sure, you can lead the RCLs in HR, but if you had a 7+ ERA for the week, that's not that great.  What is great though, is ParkBarkley's opening week+. They've got huge offense combined with teeny tiny ratios and a pile of wins and saves. That is what the TOW is all about. Nice work ParkBark, keep it up!
Want to be Matt's Twitter pal?  That's kinda creepy, but you can follow him here: @MattTruss