Happy All Star Break my fellow RCLers.  The Razzball Commenter Leagues can take a toll on your time, you social life and your personal hygiene.  I hope you're using the break to take a shower, get out of your sweat pants and get reacquainted with your roommates, also known as, your family.  They've missed you. Spend a moment and remind them that you are in fact, alive and well. Show those that love you that you haven't been lost in the wilderness for the past 15 weeks, being cared for by a pack of wolves.  In fact, you've just been winning fantasy baseball leagues. You know, just like your idol, Grey Albright. Actually, right now your idol might be Ralph Lifshitz, current 'Perts League leader, or maybe the STL Squat Cobblers, current Master Standings leader.  Perhaps you're partial to your RCL Update host, currently in second place in the Master Standings, or maybe you look up to Laura Holt, deep league writer extraordinaire and current fourth place finisher in the Master Standings. Check out this and the rest of the All Star Break standings in the week that was, week 15:
Each week we'll peek in at our resident 'perts to see who is laying claim to best "expert" RCLer in the land.  We'll take notes, check the standings and generally stalk them.  The heading is also hyperlink, so feel free to follow along as we go.

As mentioned, Ralph is still leading the 'Perts League pack, but, BUT, there's a glimmer of hope for the rest of us as Ralph finally had a bad week.  It's been a long time coming but it was ultimately one bad week of pitching for Ralph that caused an 8.5 point drop. A 6.80 ERA, 1.512 WHIP and no wins in 41 IP has Ralph below 95 points for the first time since week 5.  Meanwhile, I rode a week of leading the league in Runs, HRs, RBIs and Saves to an 8 point gain. Only 8 points now seperate the pack from Ralph and Rudy, Son and Grey are hot on my heels. We'll see if someone can make a move here in the coming weeks.
TOP 10
For those too lazy to check the MASTER STANDINGS, I present to you, the current top 10
The top two remain the same for another week, but got a smidge closer the the STL Squat Cobblers losing 1.5 league points.
Bag Stealn Wheelin Dealin Son Of A Guns put up a n incredibly solid week and moved from fifth to third despite losing a point in RCL #59.  LauraHolt also put up a big week and moved from ninth to fourth as she gained 2 points in the Writers League.
The Road Warrior gained a spot from sixth to fifth and Big Blue takes the sixth spot after a big week moving up from 28th.
Frost took over the top spot in Cougs R Us two weeks ago but this week Some Salvy For My Knee came storming back and with that we now have two members of the league in the top 10 overall.  Just like ECFBL earlier in the year these two squads are riding that high (107) LCI.
Roundings things out we have Team KOechslin falling from third to ninth and Im in a Ditch falling from seventh to tenth.
TRADES
All the trades that have gone down in the past week.  Public ridicule is not only allowed, but encouraged.
Two trades were spotted this week.  I would probably rather have Mazara in the first, but I could see if it I needed pitching.  The second deal I believe is a landslide in favor of Scherzer. I'd have preferred to get back a more defined closer when dealing the ultimate ace.
WEEKLY LEADERS
The best of the best from the week that was.
R – 64 – DeJong's Long Dongs (RCL 2018 (#25)) & Pig Masked Gunmen (RCL 2018 (#6))
HR –25 – Operation Shutdown (RCL 2018 (#64))
RBIs – 80 – The Iron Horse (Crab Army #2)
SB – 14 – MattTruss223 (DFSers Anonymous)
AVG – .332 – Team Name (RCL 2018 (#3))
K – 97 – Ralph (Crab Army #2)
W – 8 – Pudge Pounders (RCL 2018 (#34)) & Fake News Bears (RCL 2018 (#62))
SV –  16 – Chicago Mark (RCL 2018 (#71))
ERA (Min. 40 IP) – 0.42 – The Stanley Goodspeeds (RCL 2018 (#49)) (in 43.1 IP)
WHIP (Min. 40 IP) – 0.776 – Suicide Squezze (RCL 2018 (#60)) (in 56.2 IP)
We have a new weekly record for the year in RBIs and Saves as Crab Army #2 took the weekly leaderboard by storm.  Congrats to Iron Horse and Chicago Mark for their new spots in the record books.
TEAM OF THE WEEK
Our weekly shout out to the team that killed it the previous week.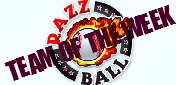 Team: Bag Stealn Wheelin Dealin Son Of A Guns
League: RCL 2018 (#59)
Stats:   AVG: .281, R: 54, HR: 21, RBI: 65, SB: 10
IP: 63, ERA: 2.14, WHIP: 1.063, K: 71, W: 5, SV: 3
Summary: As mentioned in the top 10, Bag Stealn Wheelin Dealin Son Of A Guns had a heck of a week with great all-around stats.  The Guns somehow lost a point in their league but put up such good stats that they ended up making up for the loss by gaining in the Master Points.  For those that don't know, you can gain in the Master Standings either by moving up in your league, and/or by gaining overall stats against the rest of the RCL teams.  Either way, it was a great week for the Guns!
Want to be Matt's Twitter pal?  That's kinda creepy, but you can follow him here: @MattTruss