Three weeks remain in the battle for overall Razzball Commenter Leagues dominance and Grey is once again pushing for the top spot.  How fun will it be if Grey actually wins this thing?  Will we ever hear the end of it?  Doubtful.  Deity of choice knows that Rudy will never hear the end of it.  If Grey does win, what will he buy himself with the Best Buy card?  Who wants to speculate?  It would have to be something absurd, right?  Maybe that mini, waterproof television he can install in his toilet so he can watch TV while taking a pee?  A Swagtron perhaps?  My vote is for a pocket drone to track Ted and take aerial photos of him.  Alas, we may never know, that is, if Returning Champ has anything to say about it.  Returning Champ boosted his league total to 116 points this week.  That, with a 101 league index, is good for 108.3 RCL Points or 4.1 more than Grey.  It's going to be a fun final 3 weeks, that's for sure.  We'll look at the race to the top of the Master Standings, as well as the other close races around the RCLs and more in the week that was, week 23:
Each week we'll peek in at our resident 'perts to see who is laying claim to best "expert" RCLer in the land.  We'll take notes, check the standings and generally stalk them.  The heading is also hyperlink, so feel free to follow along as we go.
Call off the dogs, it looks like this thing might be over.  Grey has now opened up a 9.5 point lead over Ralph.  Grey mentioned in his post yesterday that he's going on defense and not starting anyone to help protect is 3.616 ERA.  Will not maxing out his starts hurt Grey?  Maybe, but likely not enough to make a huge difference.  It's possible Rudy catches him in Ks and he might give up a half point in Wins, but that's about it.  It helps Grey's cause that half the league has pretty much moved on.  Yes, I realize how poorly this reflects on me that I'm only beating the teams that have stopped trying, it happens.  Can't win every league.
Mike Maher made the biggest gain of the week, adding 7 points and jumping up three spots in the standings from 11th to 8th.  
Grey had the second largest point gain, adding 6.5 this week to really break this thing open with 3 weeks to go.
Meanwhile, Jay was the biggest loser this week, dropping 5 points, but, you know, football season!
TOP 10
For those too lazy to check the MASTER STANDINGS, I present to you, the current top 10
As mentioned in the lede, Returning Champ and Grey are one and two this week.  
With Grey pushing his way into second, Cram It falls to third and Rudy is Snooty falls to fourth.
Gomes' Gnomes jumps up one spot to fifth and Team Studer falls two spots to sixth.
50 Shades of Jon Gray moves up three spots this week from tenth to seventh.
Our other top 10 robot, Grey is Bae moves up a spot from ninth to eighth this week.
Rounding out the top 10 this week is a pair of DFSers Anonymous managers that have been battling back and forth for the last few weeks.  Vottoman Empire checks in at ninth and I round things out in tenth despite being ahead of Vottoman in the league.  Go figure.  Still, it's pretty nice to see two teams from this league in the top 10 overall.
CLOSE RACES
Here's a quick look at some of the close races around the RCLs.
With three weeks to go I thought it'd be nice to check in on some of the close races we have to finish out the year.  Any league with a race of three points or closer got included and we ended up with 19 leagues.
A few of these races I'll be watching are:
Rio Ruiz Super League where J FOH (not J FOH) is battling Ralph.

The Camp Fire where Victoria B and her beaux and co-writer, Dr. Easy are duking it out for household supremacy.

DFSers Anonymous where I have a bit of a vested interest.

Night of the Living Zombinos, a RCL classic league and top LCI competitor.

Original Recipe, another RCL classic league where Razzball OG commenter, AL KOHLIC leads the league.

Take on Jay where our human compatriot, Bush Light 30 Pack is trying his darndest to fend off the evil robot manager, Grey is Fae.
WEEKLY LEADERS
The best of the best from the week that was.
R – 63 – Team Albright (Razzball 'Perty 'Perts )
HR –25 – Team M (La Cheesearie )
RBIs – 66 – TN Achilles (Johnson's Ornithology E.O.D.)
SB – 12 – FoX WiTh 1 X (Jobu Needs A Refill ) & Guys and Dahls (Super League) (Back to back weeks with a share of the RCL lead)
AVG – .363 – Millville Meteors (Take On [email protected] 3 )
K – 108 – Returning Champ (The Giant and the Jew )
W – 11 – 5 Teams Tied
SV –  13 – Team Sullivan (Insert League Name Here)
ERA (Min. 40 IP) – 1.12 – The Obsidian Order (Chicks dig the deep Razzballing!) (in 40.1 IP)
WHIP (Min. 40 IP) – 0.74 – Rizzovoir Dogs (Tater Time) (in 41.2 IP)
No record-breakers this week, but Grey did make an appearance this week.  Also of note, the weekly record for wins is currently 12.  Five teams came up with 11 this week.  That seems incredibly high.  Nothing more to add here, just thought it was an interesting note.
TEAM OF THE WEEK
Our weekly shout out to the team that killed it the previous week.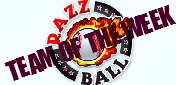 Team: kumamoto quakers
League: Take on Jay
Stats:   H/AB: 103/336, AVG: .307, R: 59, HR: 17, RBI: 54, SB: 5
IP: 72.1, ERA: 2.99, WHIP: 1.18, K: 79, W: 10, SV: 7
Summary: The quakers got a big week from some unlikely sources on their way to Team Of the Week honors.  Would you have guess back in April that Tim Anderson (maybe), Chase Headley (never), Matt Olson (unlikely) and Rhys Hoskins (only in your wildest fantasy fantasies) would be leading your team to first place down the stretch in 2017?  Perhaps you would have guess Mike Clevinger and Luke Weaver would be the anchors of your staff come September?  Life comes at you fast.  These unlikely heroes along with Trea Turner, Joey Votto and Gary Sanchez paced the kumamoto quakers this week as they opened up an 11.5 point lead in Take on Jay.  Not too shabby considering the quakers don't even own their 3rd-6th round picks anymore.  Rougned Odor (traded for Brandon Kintzler), Jonathan Villar (dropped), Alex Bregman (dropped) and Hanley Ramirez (dropped) prove that you can indeed overcome a bad draft.  It also helps to be in a league where guys like Hoskins are easily grabbed (ie: not a league with Ralph Lifshitz).  Nice work quakers, now bring it on home.
Want to be Matt's Twitter pal?  That's kinda creepy, but you can follow him here: @MattTruss