Technically the first "week" was from (Re)Opening Day, July 23rd  to Sunday, July 26th, but that was just too short, with too few games and just didn't feel right.  Instead, I'm going to combine that short week with this week to form week 1.5 of the Razzball Commenter Leagues.  How has the first week plus gone for you?  Are you overloaded on Blue Jays and Phillies like I seem to be everywhere?  Did you draft Roberto Osuna, Nick Anderson, Wade Davis and Mychal Givens as your closers?  Perfect!  Unlike in past seasons at a similar point in the season we can't really say, "It's still early" this season, because it's already getting late!  If you are sitting in last and haven't been trying to maximize those empty roster spots left by Mike Trout, Lourdes Gurriel and Rhys Hoskins, then it's time to drop a would-be closer and start working that waiver wire like a boss.  This is where the RCL battle is won and lost.  We've already had races for more closers than I care to remember, the latest being Jairo Diaz and Ryan Pressly and we've had races for prospect call-ups in Nick Madrigal and Jo Adell.  Again, there can be no resting on your laurels this season, so set those Twitter notifications and hit the wire.  Let's take a look at which RCL teams are getting an early jump on their league standings in part to streaming and batty-calling their butts off:
Each week we'll peek in at our resident 'perts to see who is laying claim to best "expert" RCLer in the land.  We'll take notes, check the standings and generally stalk them.  The heading is also hyperlink, so feel free to follow along as we go.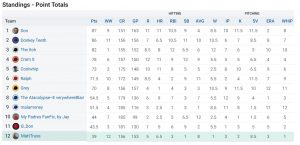 Son dropped one point this week, but holds onto that top spot!  Donkey Teeth is hot on his heels though, picking up seven points this week and now sits just one point back from the leader.  Grey gained nine points this week to move up one spot to seventh, but the real action was from Cram It who gained 27 points and moved into fourth place.  Meanwhile, Jay lost 30.5 points to join B_Don and myself at the bottom of the barrel.
I also want to use this space to check in weekly with our other Razzball sponsored league, the RazzSlam.  This is our NFBC Best Ball league.  This has been a league of survival in the early going and hoping you had enough players to score some actual points.  Here is how the standings look through a week and a half:
Ray Butler of Prospects 365 has jumped out to the early league but only 100 points separates first from eighth, so fear not, this thing can change hands on a whim!
TOP 10
Typically, this will be a quick view of the top of the Master Standings.  Since it takes a couple weeks to get those up and running, this week we'll just that a look at the top 10 highest scoring RCL teams based on roto points.  Here's how it shakes out after 1+ weeks:
| LEAGUE | TEAM | SCORE |
| --- | --- | --- |
| RCL #3 | Matty's Super Twos | 111.5 |
| RCL #24 | Team DFresh | 108.5 |
| RCL #10 | Swangin & Bangin | 108 |
| RCL #19 | Chi-Town Champs | 108 |
| RCL #14 | Juan Solo | 105.5 |
| RCL #35 | Team erniemm | 105 |
| RCL #1 | Ghost Runner – 1 | 103.5 |
| RCL #33 | CT Old School | 103.5 |
| RCL #6 | Muskogee Wharf Rats | 102 |
| RCL #21 | Ghost Runner – 4 | 102 |
| RCL #45 | Ghost Runner – 6 | 102 |
Matty's Super Twos takes the early lead with a 111.5.  That's an impressive start!  More on Matty below, but a shout out to the Ghost Runner who placed three teams in the top 10 and has one more team leading their league with 100 points.  Team DFresh and The Squat Cobblers also currently lead two leagues, which isn't too shabby either.  All of these 10 teams can take a bow, but don't celebrate too long!
TRADES
All the trades that have gone down in the past week.  Public ridicule is not only allowed, but encouraged.
Apparently Yasmani Grandal has done something to annoy his fantasy owners as he's getting passed around the RCL universe.  Given the way pitchers look right now, I'm all in favor of top arms for top bats.
TEAM OF THE WEEK
Our weekly shout out to the team that killed it the previous week.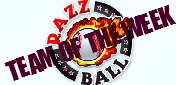 Team: Matty's Super Twos
League: RCL #3
Stats:   AVG: .251, R: 68, HR: 22, RBI: 60, SB: 7
IP: 88, ERA: 2.05, WHIP: 1.034, K: 110, W: 9, SV: 6
Summary: This is where we will call attention each week to the top scoring team in the RCLs.  Shouting out the top each week is one of my favorite parts of this gig.  Typically, there's no set numbers I'm looking for here, just a team that has displayed dominance on both the hitting and pitching side of the equation.  This week is pretty easy, we can look at the top scoring RCL team and clearly see their numbers are superb.  Matty picked eleventh on draft day and went with Fernando Tatis and Jose Ramirez to kick things off.  That's four HRs and four steals with a .280ish average right there, what a start!  Yu Darvish, Sonny Gray, Dinelson Lamet and Lance Lynn are setting up some pretty insane ratios and a fantastic k-rate over 88 IP.  Nice start here, let's see if Matty can keep it up!
Want to be Matt's Twitter pal?  That's kinda creepy, but you can follow him here: @MattTruss