I had a dream the other night. I was riding a Donkeycorn through the clouds going to Cram's house to deliver his radiantly white championship hoodie. My beard was flowing in the wind and I wasn't wearing any pants, when I had a thought. Why waste a day with a flying Donkeycorn to do what the post office could accomplish in 5 to 7 business days?  So I landed at the local post office, shipped it and took off for the Greek Isles to get drunk on ouzo and do some island hopping. When you're not wearing pants, you may as well go somewhere tropical.  Any the hoo, I woke up, sent Cram an email, and went back to bed.  Cram's prize is after the jump (talk about anticipation!):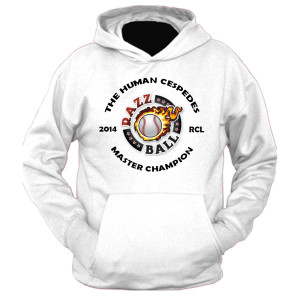 I've known Cram for a few years now. For a long time we were both commenters with bite to our responses, fans of the Mets, and never afraid to go after each other's jugular because…well, that's who we are. Last year he played in the FCL and took a beating but I think what he gained in that defeat propelled him to the highest yearly commenter honor you can achieve, the RCL Master Champion. As a bonus he will also be winning this super kick a*s FT belt, the FCL trophy (that pic also contains the only known photo of Mauled by Pandas out of the wild, and out of his mother's basement — he needed more natural light for the pic). I did a brief Q&A with Cram because this is his post and it's something he can show his dates.  Fantasy baseball:  "When your winning personality isn't enough to get rid of the ladies, try talking about winning at fantasy baseball."
1) In your opinion, what was the most important factor in winning this year? Draft? Strategy? Frequent Activity?
I put the most importance on the draft, always have. My first 6 picks, all bats, didn't disappoint and set the foundation for a top offense. But you can't win an RCL without frequent moves, trading for Rosenthal (Adam Jones and Yelich for Pence and Rosenthal) put me over the top in saves and guys off the wire like Lindor, Bogaerts and Zimmerman, when others gave up on them, helped me cruise offensively.
2) Who was your offensive MVP? Who was your pitching MVP?
Offensive MVP:  
Jose Bautista
. He was my top performer in Runs, HRs, RBIs, and the 8 steals were gravy.  Pitching MVP:  
Jacob deGrom
.  Only SP I held all year and statistically my top performer across the board.
3) This season I did a lot of Frankencatcher coverage in the Creeper of the Week.  I noticed you took the same approach this season, how did that work out for you?
Final Catcher totals in FCL. 536 AB's .244 67/23/85/3. Who was he?
Norris, Hundley, Realmuto, D'Arnaud, Gomes, Perez, Rupp, Weiters, Ramos,  Zunino, Mckenry…or
Carlos Santana
without the wasted draft pick.
4) Do you have any advice for the RCLer that want to take it to the next level in 2016?
Definitely a learning curve with this style of play!  Seeing as I won without very good pitching numbers again, I can't stress enough to draft offense, offense, offense!  It's much easier to find temporary SP post-draft than permanent hitters.  Try to trust your draft and give your team a few months before assessing what categories you can make up ground in.  It may be a grind checking lineups every day for a batty call and RP/SP streamers, but you've got to fill up the stat lines on short schedules.  Every stat counts!
5) You brought up the RP streaming approach, can you elaborate on that experience for the readers?
Since I started RCLs last year, I've been fascinated to know how much of an impact the RP shuffle has on a team's overall pitching numbers, for better or for worse. I put the pedal to the metal all year with filling my P slots with relievers on full schedule days, since I knew my SP was lacking.  My overall starting pitching numbers finished at or below the league average so I looked to RP for help with Ks/ERA/WHIP.  Looking back at my team log, here was the rundown of my RP usage.  I used 45 RPs throughout the year. (I thought that number would be way higher, but it turned out I picked up a lot of the same guys repeatedly.)  My RPs' stats:  404.7 IP/405 Ks/3.31/1.16/23 wins (17 from my true closers).  The shocker (to me) I could have sworn that I picked up and deployed Josh Fields/Pat Neshek/Will Harris/Will Smith and Hansel Robles, like, 40 times each. But they only logged 52 IP total for me.  Hmph?  That's it?!  10 innings each? The whole year?  Neshek and Smith logged the most innings and their ERAs were over 4 and 6 respectively for me. Considering their season numbers were much more spectacular than what they did for me, I can attribute that to bad luck, and that's what you're susceptible to when you shuffle RPs.  Overall, are those good numbers?  Average?  Can that be improved upon?  The K rate seems solid, but considering I got a 6 out of 12 in the K category, I feel like there's a way to better maximize the RP use. Can I get more innings pitched out of them?  Whatever the answers are, I'll be sure to formulate a more dedicated plan to the RP approach.
Sounds like Cram's going for a repeat!  Just don't three-peat, then Pat Riley will sue your ass. Before moving on to the final top 50 standings and the top placers in each statistical category, I wanted to pass on a piece of advice. If you want to play the RCLs at a high level, you need good competition. I urge you all to try and organize your RCLs next year in the comments and create a strong active league with other active commenters. I know, I know, I have beat this drum before, but it's the only way to have a high league index.  Here, let me demonstrate why. Of the 7 offensive stats that Rudy collects (R,HR,RBI,SB,AVG,AB,HITS), the FCL led in five of them, including the all important ABs, the ECFBL led in one (Hits) and was second in 4 others. I bring this up because, like Cram said above and like I have jammed down your eyes all year, YOU MUST UTILIZE GAMES ON OFF DAYS!  Batty Call, Batty Call, Batty Call!
On the pitching side, it's the same game. You have to fill your pitching slots as much as possible. In the six categories we track (W,K,SV, ERA,WHIP,IP), the FCL led in 4, the ECFBL was second in 4, and actually the FCL was 4th in ERA and WHIP. Wow, I wasn't expecting that ERA and WHIP finish.  Now if you don't know, these leagues accomplished this by rostering less starters and instead they streamed their starts and loaded up on middle relief…yes, even on the off days. Sometimes, they will stream MRs on an off day for some extra Ks. Well, to do some basic math, we play 26 weeks, if you get an extra 2-4 Ks a week then that's 52-104 extra K's at the end of the year. Now, go look at your final standings and tell me if that is something you would be loving right now.  Am I right?!?!  Before I go, I would like to take a moment to thank all of you who came in and commented this season. Without you, there is no us. I really enjoyed being your host for 2015, I'll see you around the site. (I do these on the fantasy football side every week, too.)
The RCL Top 50: Final Standings
This is the best around!… For the season. Cram is our Daniel Larusso for 2015! He beat all the Cobra Kai's and won the All Valleys RCL Championship. Sky will be visiting you soon to jump out of a cake and doing a strip tease to the the tune of Moment of Truth by Survivor. The table below contains the final ranks, team name, league name, RCL points, League Index and League Points.
| | | | | | |
| --- | --- | --- | --- | --- | --- |
| Rank | Team | League | RCL Points | League Points | League Index |
| 1 | Cram It | FCL | 123.98 | 97 | 112 |
| 2 | Team AL KOHLIC | ECFBL | 122.96 | 101 | 110 |
| 3 | **** CARNAC | FCL | 118.53 | 88.5 | 112 |
| 4 | Unpainted Arizona | HA! | 116.1 | 110 | 103 |
| 5 | Backdoor Sliders | Razzball Champion's League | 115.92 | 93 | 109 |
| 6 | Odin's Virulent Man Beard | Razzball Champion's League | 114.35 | 93 | 109 |
| 7 | Astros to Mouth | Spiders and Snakes | 114.1 | 113 | 101 |
| 8 | Team Albright | RCL 'Perts | 112.92 | 105 | 104 |
| 9 | Hardy Bombs | Lester's RCL #3 | 112.03 | 107 | 103 |
| 10 | The Hippos | ECFBL | 111.49 | 88 | 110 |
| 11 | kumamoto expungers | The Captains of Outer Space | 111.2 | 118.5 | 98 |
| 12 | Don Mattingly's Sideburns | Cougs R Us | 110.43 | 94 | 106 |
| 13 | Big Magoo | ECFBL | 110.3 | 86.5 | 110 |
| 14 | Big Magoo | Take on Magoo | 110.14 | 108 | 102 |
| 15 | Soler Powered | Two Out Rally | 109.61 | 107.5 | 101 |
| 16 | Pittsburgh Lumber Company | Night of the Living Zombinos | 109.4 | 95 | 106 |
| 17 | Backdoor Sliders | Night of the Living Zombinos | 109.35 | 95.5 | 106 |
| 18 | Wake Up | FCL | 109.3 | 83 | 112 |
| 19 | My Mustache Has A Mustache | Lester's RCL #2 | 109.18 | 105 | 102 |
| 20 | AK FortySevens | Night of the Living Zombinos | 108.86 | 96 | 106 |
| 21 | RA the Rugged D ickeys | King Ralph's Emporium | 108.66 | 107 | 101 |
| 22 | Money Ballers | JB's RCL | 108.53 | 103 | 102 |
| 23 | Johnny Utahs | Razzball Champion's League | 108.45 | 85 | 109 |
| 24 | Dr Freeze Signd Scalpel | Hamiltons Dandruff | 108.17 | 111 | 100 |
| 25 | The BallBusters | FUBAR | 107.3 | 110 | 100 |
| 26 | John Boccabellas | The Downward Spiral | 106.11 | 103.5 | 102 |
| 27 | Sporkcroft ! | FCL | 106.01 | 78.5 | 112 |
| 28 | Team Frost | Cougs R Us | 105.41 | 89.5 | 106 |
| 29 | Big Magoo | Razzball RCL Writers League | 105.29 | 104 | 101 |
| 30 | Last Vegas | Razzball Soccer Sympathizers | 105.25 | 104 | 102 |
| 31 | Beast Coast | SchmidtHeads | 105.22 | 103 | 102 |
| 32 | M'Altuve Carter | Saskatchewan | 104.9 | 97.5 | 102 |
| 33 | Heartless Baastards | JB's RCL | 104.83 | 98.5 | 102 |
| 34 | Donkeycorn Apocalypse 3 | British Columbia | 104.75 | 100.5 | 102 |
| 35 | Baseball Cougar | Night of the Living Zombinos | 104.72 | 90.5 | 106 |
| 36 | Kid A | Jawns | 104.45 | 95 | 104 |
| 37 | I've got Wood. … Phrasing! | Take on Jay #1 | 104.38 | 100 | 102 |
| 38 | Yu Out | Grey's Mustache Wax | 104.18 | 106 | 100 |
| 39 | Delts Brah | Lester's RCL #3 | 103.87 | 101.5 | 103 |
| 40 | Philly Jawns | CharlieHustlers | 103.8 | 97 | 102 |
| 41 | Boro Ballers | Early Birds | 103.54 | 103 | 101 |
| 42 | Slump Busters | Saskatchewan | 103.41 | 99.5 | 102 |
| 43 | Tony's 5.5 Hole | Take on Jay #1 | 103.2 | 97.5 | 102 |
| 44 | Chicago Paleo Hoes | Original Recipe 2015 | 103.17 | 96 | 103 |
| 45 | Adderall Admirals | Beddict's Chosen Disciples | 102.75 | 113 | 96 |
| 46 | drunc orks | Euro Razzball | 102.63 | 101.5 | 101 |
| 47 | Musk Oxes | Hodgepadres 'R' Us | 102.35 | 106 | 100 |
| 48 | Rube Waddell's Shiny Objects | Razzball Champion's League | 102.34 | 83 | 109 |
| 49 | Team harris | CharlieHustlers | 102.27 | 95 | 102 |
| 50 | Happy Vegans | Razzball Champion's League | 101.94 | 80 | 109 |
Top 3 Category Leaders for 2015
RUNS
HR
RBI
SB
AVG
WINS
SAVES
K's
ERA
WHIP
Note: AVG based on a minimum of 6560 AB's.  ERA and WHIP are a minimum of 1190 innings