Hello again fans and foes, and welcome to the second installment of Panning For Gold – Finding The Prospect Hidden Gems. Here's where we try to shine the spotlight on some of those young up-and-comers who may not have generated quite the buzz the players mentioned in Baseball America or MLB's Top 100 lists YET, but someone I'm keeping an eye on as someone that may be about to turn into one of those guys often mentioned as "having helium". Think of these guys as players you may not necessarily have at the top of your lists in shallow keeper leagues, but names you'll definitely want to keep an eye on as you begin to participate in deeper leagues – the types of player you can wind up scooping your mates with in your quest to become another fantasy baseball "guru"…respected and adored whenever draft time rolls around (not to mention mumbled about under your opponents' breath) for years to come.
This week we're going to take a look at a prospect that's already making a bit of a name for himself at the MLB level, even before most of his biggest supporters would've expected him to – San Diego Padres' RHSP Jesse Hahn. Jesse has had a very impressive start to his MLB career (now 3-1, 2.38 ERA, 1.06 WHIP, .190 BAA, 27/8 K/BB Ratio in 22.2 IP covering 4 starts following his impressive win over Tim Hudson and the division-leading Giants last night), becoming the first Pitcher in Padres' history (and only the 41st in MLB since 1914) to go at least six innings without allowing an earned run in two of his first three career starts. Undrafted out of Fitch Senior High School in Groton, Connecticut, he's come a long way already – and I expect him to keep climbing.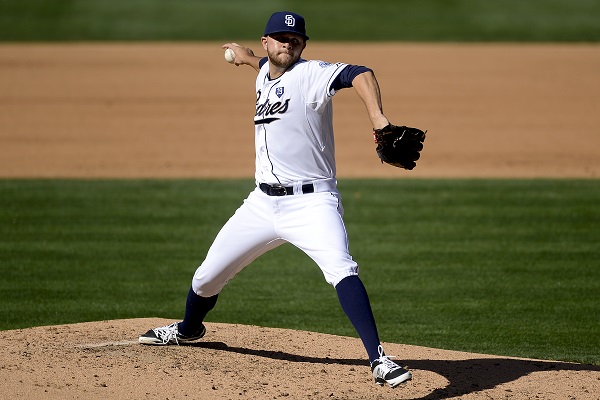 Hahn was originally drafted by Tampa Bay in the 6th Round of the 2010 draft out of Virginia Tech, and was traded along with Alex Torres for a package that included Logan Forsythe and Brad Boxberger, in what is one of the scant few deals that Andrew Friedman likely regrets. While at VT, Jesse was used primarily as a reliever until his Junior season, when he posted a 5-4 record in 13 starts covering 73 IP with a 3.70 ERA, 1.25 WHIP, .257 BAA, and a 76/20 K/BB Ratio.  After signing with Tampa he missed the 2011 season following Tommy John surgery (the main reason he slipped from First Round consideration), returning to compile  (including 11 appearances – 8 starts – with the Padres' AA San Antonio affiliate this season) a 2.32 ERA, 1.12 WHIP, 155/47 K/BB Ratio (3.3 K/BB) over 159.1 IP.
Hahn works off of a 92-94 MPH fastball that can touch 97 with late life, mixing in a heavy low 90's two-seamer with an overhand curveball and a change that flashes plus at times – the ideal arsenal for success in cavernous Petco Park. He has the upside of a #2 starter even though he never appeared on BA's Rays' Top 10 list at any point. We'll insert a hat-tip to John Sickels and Yossi Feins at DRays Bay here for mentioning Jesse as a Sleeper/Breakout candidate prior to last season after he posted a 2.77 ERA with a 55/15 K/BB Ratio for Hudson Valley in the New York-Penn League in 2012. Hahn topped out on Sickels 2013 list of Rays' prospects at #18, and did crack his 2014 Padres' list at #9.
(Note From Denny Crane: If you wind up in a league with me sometime and are looking for Hahn, don't bother – I scooped him up in most leagues I'm in when he was drafted!!!)
Remember, you can always hit me up on Twitter @clvclv, as well as in the comments section here.