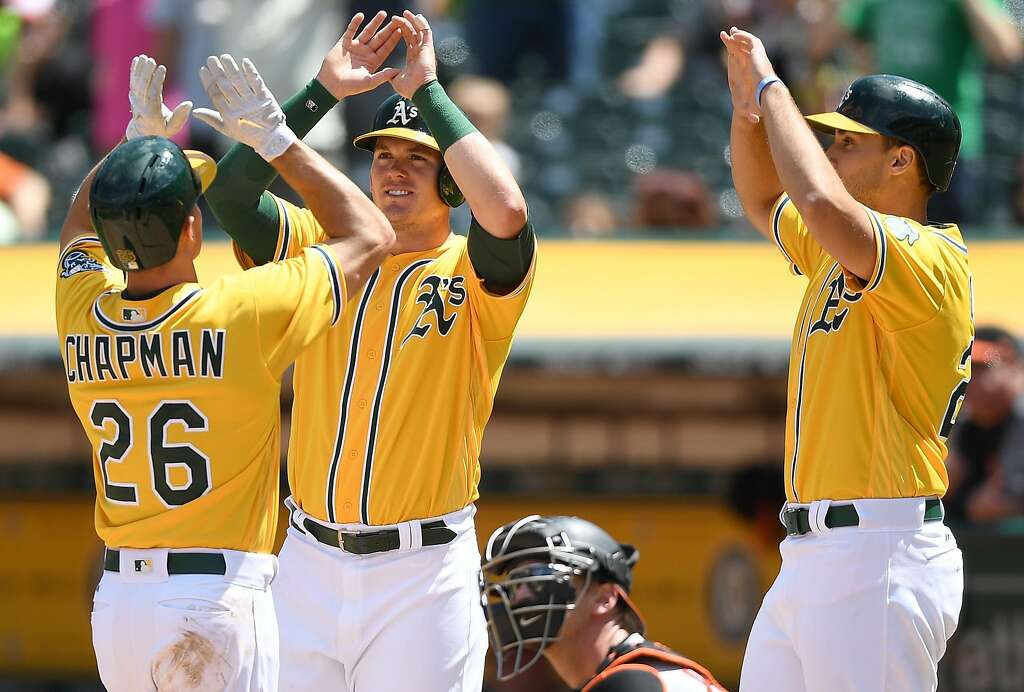 Oakland, while generally being seen as a place where power hitters go to be average, certainly has a few good OPSers hitting there in 2018. First off, there's Khris Davis, but you already know about him, so let's talk about two lesser knowns: Matt Chapman and Matt Olson. I googled the two of them and the first article that came up was from last September on Forbes. Until this moment, I had no idea Forbes cared about sports other than to rank the values of the teams and the net worth of their owners. Color me surprised (I like to think of surprised as a day-glo bluish color), so surprised that Forbes has a sportswriter and that they agree with me (or really it is me that agrees with them…great ideas all around)! The Matts will be providing some OPS fantasy goodness this season and lets look at why, shall we?
Matt Olson hit so many home runs at the end of last season in Oakland…that you probably didn't notice (since no one watches the A's, get it?).  24 bombs and a 1.003 OPS in 216 plate appearances is no joke. Olson also has a 37 homer minor league season (in A+), a BB% rate in the minors in the mid-high teens, a K% around 25% and an OPS in the high .800s. All those numbers look Fantasy ready.
Olson was a supplemental first round pick in 2012 (pick 47) and is starting at first (while qualifying in the OF for Yahoo!) for the A's hitting fifth right behind Davis. Going into his age 24 season let's see how 30+ homers and an OPS over .830 suits your team. Right now he's ranked around 130 overall depending which site you like; Grey has him as the 36th OF and 22nd overall 1B, so he doesn't have to be starting for your team (in Yahoo! I want him as my third OF) and if you're in a league with a Corner Infield spot he slots in there nicely too.
The closer we get to draft day the more I think we'll see Olson creep up draft boards; by draft day depending on his spring  we could see him going in the 7-8-9th round of 12 teamers and even higher in OPS and OPS & AVG leagues. Get in while the getting is good I always heard and now I'm repeating it so it must be true.
Next up his partner across the diamond, Matt Chapman. He's the A's third baseman, former first round pick, lede of the July 28th, 2017 edition of OPS Leaguers Unite, and all around good guy (hopefully, I don't know him).  When I mentioned him then he was striking out at a rate of 36% (not good) and for 2017 he had a K% of 28.2% (still, not good, but better). So what did we learn? He cut down on his Ks throughout the end of the season.  His walk rate was just a hair below 10% which jived with his minor league percentage.
Chapman's ISO was pretty decent at .238, and he hit 14 homers in 326 PAs.  Combined AAA and Majors he hit 30 homers last year, so the power is there. He's also a plus defender so that should keep him on the field, even if his average isn't the greatest. OPS-wise he also needs work. A .785 at the hot corner, even with 30 homers, isn't starting (but for off days and when he goes on streaks (like the homers in three straight games last season, you'll want to play him). If he can get to an .820 (which makes me more hopeful than most) he'll be filling the UTIL spot on your roster in no time.
There's little risk in Chapman; as of right now he's the 32nd ranked 3B on Fantasy Pros, Grey has him at 31, and he has an ADP past 275 on every site. He's a bopper with a glove. Use him as such. Draft him toward the end (or if you're in a shallow league add him once he starts a HR binge) and thank me later.
Chapman at this moment has a mild soreness in his right hand palm (I like how specific MLB got on this; if it was a football injury they would call it a hand and make it seem like that's acceptable), but there's plenty of time to let that heal before the regular season starts.
I like the above picture because it looks like Olson (on the right) is getting dissed for a high ten (which doesn't seem right at all. High five sounds right. High ten, eck). The guy getting some love from Chapman was featured prominently here last season, former A and current Mariner Ryon Healy. I'm a big Healy fan, so looking through my past posts there's a better than 50% chance Healy's mentioned (probably, I'm not checking). Healy is hurt right now and not swinging a bat as of this moment, but he's going to be at some point this season (late April hopefully) and he'll be worth this pickup.
Lastly: I'm going to try and make an A's game this year, anybody have any tips/advice/stuff to avoid at a game? Next week we'll start the tiered OPS rankings like last season leading up to the start of the regular season. If you're interested in a buy-in OPS 5×5 league on yahoo, leave a comment and I'll invite you.  Razzball Commenter Leagues are up, join one here. Until next week, take care of yourselves out there Razzballers and Razzballettes!