In a post last year titled, Good Luck Storming The Castillo In 2018 Drafts, I wrote, "Watching Luis Castillo is officially an ASMR trigger.  *insert onomatopoeia of satisfied exhale, picks up invisible fork and knife, mimes cutting up satisfied exhale, eats exhale*  Do you see how Castillo's got me?  I'm eating satisfied exhales.  Can I write the 2018 fantasy baseball sleeper post right now for Luis Castillo?  TFW you see Castillo:  Insert Oprah's o face around Gayle King.  CASTILLO MAKING ME CRAZY!  And not eating sugar for six days isn't helping.  This Whole30 Diet got me like:  insert crazy-googly eyes.  I got Biggie Smalls eyes right now.  *smacks face*  Be coherent, Grey!  Sorry, about that.  Luis Castillo's surface perfs:  9.9 K/9, 3.2 BB/9, 3.40 xFIP, averages 98 MPH, and now I'm lightheaded again.  Okay, need to save something for his 2018 sleeper post."  And that's me quoting me!  So, guess what this is?  The Luis Castillo sleeper post.  Frank Voila!  Am I little concerned he's not really a sleeper anymore?  Yeah, he's being drafted a little high.  He might only be a sleeper, if everyone in your league is actually asleep.  So, what can we expect from Luis Castillo for 2018 fantasy baseball and what makes him a sleeper?
Here's what Prospect Ralph wrote before Luis Castillo was called up (while still on the Marlins), "Castillo is one of those players where I'm not really sure I like him, as much as I like the idea of him. He's 24, throws an upper 90's fastball that touches triple digits, mixes it with an above average slider, and the numbers were good. Here's the thing, he doesn't strikeout that many batters for a guy with a big heater and a solid breaking pitch. He's also old for the levels he's played in. So is he the second coming of Nathan Eovaldi? Maybe, but he's a back of the rotation arm. I suppose I shouldn't write a blurb about Castillo without mentioning that he was traded to San Diego in the Andrew Cashner/Colin Rea deal, only to be returned to the Marlins when it turned out Rea's arm was made of straw and overcooked spaghetti. Gotta respect A.J. Preller's gangster."  I say if Preller was such a gangsta, he'd spell his name, Prella.  Listen, we all make mistakes, but I gotta think Preller would've sent about six more arms to replace Rea if it meant getting Castillo.  Also, how about them Marlins?  Making head-scratchers for a decade now, no matter the management.
Prospector Ralph then redeemed himself, texting me this yesterday, "Luis Castillo started throwing a two-seamer on a whim during a game late in June. Worked it into his arsenal in July and August, found feel for it in September and his SwStr% jumped to 10%+ w/ an elite ground ball rate (like 75%+).  Tucker Barnhart asked him to throw (the two-seamer), and all of a sudden in a month it was his second best pitch."  Ralph then texted me some nifty Jay Pegs.  His SwStr% per pitch by month (courtesy of Brooks Baseball, which is a good site to lose eight hours in):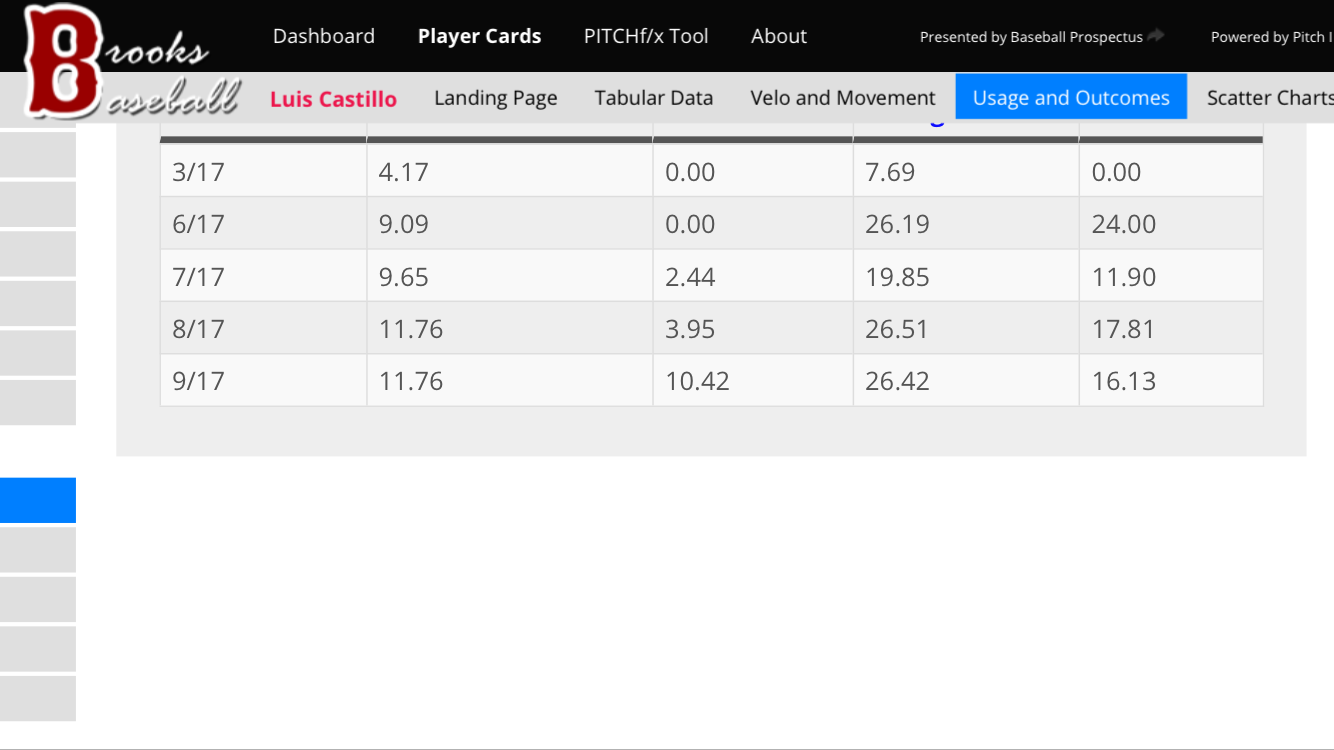 His ground ball rate:
Then Ralph continued, "He's got four pitches that drive grounders and swinging strikes. I didn't expect to like him this much when I started digging in. I actually was working under the premise he was overrated.  By the way, this info is all for your eyes only, don't share."  And that's me quoting Prospector Ralph!  Obviously, I wouldn't share if I didn't agree with Ralph.  Plus, I allowed him to redeem himself after that Eovaldi comparison.  However, Ralph wasn't finished, "Castillo made some mechanical tweaks with the Reds. He busted out of nowhere.  I think he always had ability, he was just in a crap organization (Marlins). He was working on a changeup grip last year.  Now it's a top 10 changeup." At this point, I muted Ralph.  When I unmuted him ten hours later, he wrote, "…And that's the story of how I met your mother."  Last year, Castillo only pitched 89 1/3 IP in the majors (3.12 ERA, 9.9 K/9), but he also threw 80 1/3 IP in Double-A, so around 170 IP, which was about a forty inning jump from 2016.  Would've liked if he came about ten short of that, but tomato-tomato with a different emphasis.  Castillo can throw 200 IP this year with a 9 K/9.  That alone makes him a contender for a top 20 starter.  If that was alone in a forest, does it not make a sound?  Maybe.  Oh, and Castillo ranks number one in the majors with a 97.5 MPH fastball velocity.  Last year, we witnessed a breakout in Castillo.  This year, we're going to see the next level.  Like a lactating breast, I am pumped.  Damn, already broke my resolution for stopping terrible similes.  I'll give Luis Castillo the 2018 projections of 12-8/3.54/1.09/194 in 189 IP with a chance for more.