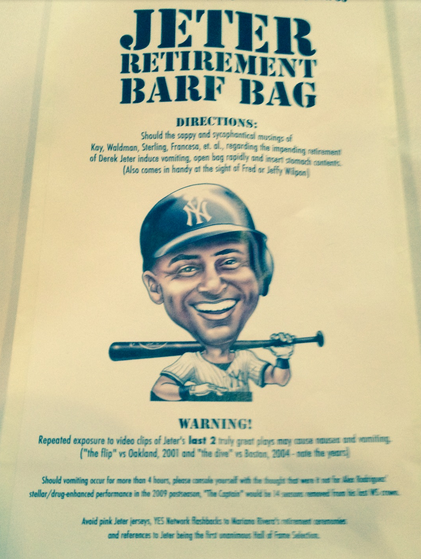 Has the Derek Jeter Memorial Midsummer lovefest ended in Minnesota yet? I need an afterglow cigarette and one of those Jeter gift baskets after that All-Star reach around. Hey, as a Red Sox fan I can actually tip the turban to Jeter for a great career ( I just vomited in my mouth a little), but it's not like Jeets is on his death bed muttering "Rosebud" or was the greatest player of his generation. Or was he? At least Adam Wainwright wasn't grooving pitches to him for the last 20 years. With the fantasy DT's settling in, I turned my trembling hands to Razzball's Historical Fantasy Baseball Player Rater to check the numbers. I was surprised by what I found. No surprise that the top 3 fantasy players of all-time were Ruth, Aaron and Cobb, but it is interesting to note that Jeter ranks in the top 50 at No. 41. The Yankees captain ranks just ahead of Hall of Famers like Jim Rice, Paul Molitor, George Brett and should be Hall of Famer Pete Rose. According to the Razzball Rater, Jeter is the No.6 shortstop all-time ahead of Robin Yount, Barry Larkin, Joe Cronin and Pee Wee Reese. Now, as Jeter rides off into the pinstriped sunset, he currently ranks as the 22nd best shortstop in our fake ballin' world. Not great, but still better than more heavily owned players like J.J. Hardy, Xander Bogaerts and Brad Miller. In honor of the departing Jeets, his "dating diamond", the Midsummer Classic and the fantasy baseball DT's, let's jam or cram the currently under-owned (60% or less) waiver wire All-Stars.
Jam it or Cram it: Catcher, Kurt Suzuki, Minnesota Twins
Availability: 65% Yahoo, 73% ESPN
First Half Stats: 278 AB, 28 R, 2 HR, 37 RBI, 0 SB, .309 AV
Jam or Cram: Suzuki was an All-Star? Sure was, I saw Joe Buck introduce him and Erin Andrews confuse him for Koji Uehara. He's Hawaiian, Erin, you dancing with dopes ditz! If you're still playing catcher roulette and missed the Devin Mesoraco train (who saw that coming?) Suzuki has quietly put together a top 10 backstop season thus far, but won't give you any pop or steals. I'd expect the regression faeries to come a callin' in the second half as he's been hitting about 50 points above his career average and his .328 BABIP is nearly 70% higher than his career. CRAM.
Jam it or Cram it: First Base, Lucas Duda, New York Mets
Availability: 75% Yahoo, 47% ESPN
First Half Stats:281 AB, 36 R, 14 HR, 49 RBI, 2 SB, .256 AV
Jam or Cram: Check this out: Player A has 17 homers, 48 RBI and is hitting .240. Player B has 14 homers, 49 RBI and is hitting .256. Which one is 95% owned? Player A, Mark Teixeira. What is this 2009? Why no love for the Duda? Over the month of July leading up to the break Duda has slashed 300/.432/.600 with two home runs, seven RBI and his OPS over his last 40 games is 1.015 OPS. The Duda could hit another 10 homers the rest of the way with 30ish RBI. If you still own Mark Teixeira over Duda you may want to change out of your pinstripe pj's and give the Dude a roll. JAM.
Jam it or Cram it: Second Base, Scooter Gennett, Milwaukee Brewers
Availability: 63% Yahoo, 42% ESPN
First Half Stats:282 AB, 40 R, 7 HR, 33 RBI, 5 SB, .309 AV
Jam or Cram: I've been riding Scooter most of the season and it's been paying off. Even though he's in a bit of a Platoony Tune situation, Scooter is still ranked higher than Dustin Pedroia, Jason Kipnis and Ben Zobrist in the first half of the season. He should be owned everywhere and could easily finish the season with 70-80 runs, 12-15 homers, 10-15 steals and a .300 average. JAM.
Jam it or Cram it: Third Base, Conor Gillaspie, Chicago White Sox
Availability: 85% Yahoo, 88% ESPN
First Half Stats: 258 AB, 36 R, 4 HR, 35 RBI, 0 SB, .326 AV
Jam or Cram: If you whiffed on third base this season (hello, Jedd Gyorko) the waiver cupboard is a little bare. Lonnie Chisenhall, Brock Holt and Casey McGehee are likely long gone, but Gillaspie is worth running through the jammer crammer machine. Gillaspie hits the break on a six-game hitting streak, with eight runs, three homers and five RBI. It would be nice to see him bumped up in the batting order and, if he continues to hit, that will likely happen. Deep leaguers, it's an alright JAM, everyone else it's a CRAM.
Jam it or Cram it: Shortstop, Jordy Mercer, Pittsburgh Pirates
Availability: 86% Yahoo, 84% ESPN
First Half Stats: 292 AB, 34 R, 6 HR, 28 RBI, 1 SB, .250 AV
Jam or Cram: Has our fantasy season actually come to this? We're seriously discussing Jordy Mercer? Perhaps the turban is wound a bit too tight today, but despite hitting .167 in March and April he's managed to get the average up to .250 by hitting .330 over the last month and a half. Hey, shortstop is not a pretty position this season outside of Tulo and he's worth a look in NL and deep leagues, but you're not getting any power or steals. If the season has really come to this the whole season is a CRAM.
Jam it or Cram it: Outfield, James Jones, Seattle Mariners
Availability: 88% Yahoo, 77% ESPN
First Half Stats: 244 AB, 37 R, 0 HR, 8 RBI, 17 SB, .287 AV
Jam or Cram: SAGNOF alert! The pop is not there as Jones has yet to go deep this year, but he did hit 14 at High-A ball a couple years ago so he has the ability. If we're picking up Jones it's for runs and of course steals. When all is said and done this season he could finish with 30-35 stolen bases and not be a drain on your roster. JAM.
Jam it or Cram it: Starting Pitcher, Tanner Roark, Washington Nationals
Availability: 46% Yahoo, 51% ESPN
First Half Stats: 113.2 IP, 8 W, 85 K, 3.01 ERA, 1.13 WHIP
Jam or Cram: Roark has been a nice surprise in Washington, has more wins and a better ERA than teammate Stephen Strasburg. Among healthy NL starters with at least 160 innings pitched over the last two seasons, Roark has the third lowest ERA behind Kershaw and Cueto. You also have to like the option of being able to slide him into a RP slot. JAM.
Jam it or Cram it: Relief Pitcher, Jake McGee, Tampa Bay Rays
Availability: 56% Yahoo, 43% ESPN.
First Half Stats: 41.1 IP, 3 W, 7 S, 50 K, 1.72 ERA, 0.87 WHIP
Jam or Cram: It looks like McGee is the Rays closer for the foreseeable future. McGee had four saves in the two weeks leading up to the break and should be in line for more – that is until Joe Maddon sees Brad Boxberger walking around with his Nana. The velocity has increased this year, his K/9 are the second best of his career and he's yet to give up a homer this season. When it comes to saves you just grab what you can and hope the SAGNOF gods smile. JAM.
 Thanks for the playing along, Razzballer's. Questions, comments, reasons you hate the All-Star game welcomed below. Follow The Guru on Twitter @TheGuruGS and check out my blog thedirtyturban.net.