With the All-Star Break stealing the next half a week from us, there are obviously no two-start pitchers. So, in place of Two Startapalooza this week, we're going to take a look back at the first half that was. We'll take a look at our own fantasy All-Star teams of Studs and Duds and prognosticate whether their production (or lack thereof) will continue in the second half. For the Duds I'm aiming for guys who have sucked without too much of an injury excuse. For the Studs, I'm considering their preseason ADP relative to the production they've given you. When I do reference said ADP, it'll be the Fantrax preseason ADP I'm talking about. There are a ton of guys to get to here, so without further tomfoolery or balderdash, let's rock.
The Studs
Catcher: Wilson Ramos – I was big on Ramos coming into this year because he was stupid cheap as the 12th catcher off the board. To date, he has the second more homers (14) and RBI (51) among catchers, bested only by Evan Gattis (18/62). Ramos's 41% hard contact rate is his career best, and his batted ball profile lends to an elevated BABIP such as his .330 mark even though he's a plodder. Regression will come for his 23.3% HR/FB rate, but he could still end the year around 22-25 homers with a nice average. He's a definite hold.
First Base: Jesus Aguilar – First base has been a minefield this year, making this choice rather easy. Aguilar has been one of the true breakouts of 2018, hitting over .300 with 24 HR and 68 RBI. Not only has he cut 4% from his strikeout rate, he has eliminated his bad splits against right-handed pitching. He's been absolute gold considering his ADP in the late 600's, meaning he was a free agent pickup for most everyone. Don't be tempted to sell high.
Second Base: Jed Lowrie – Someone tell Jed Lowrie that middle infielders are supposed to age poorly! Nothing like having your career year at age 34. Lowrie actually had a weird resurgence last year, but nobody was buying into a repeat, myself included. The K% has spiked, but so has his wOBA (.370), and his 38.6% hard% is the second-best of his career. I could see home run regression coming as his 13.2% HR/FB rate is nearly double his career rate, and even last year's rate when he was quite good. I wouldn't be afraid to sell high, but he's been doing this for a year and a half now, so you can't say it's entirely unsustainable.
Third Base: Max Muncy – You can't have a first-half Studs list without Maximum Muncy. Perhaps even more crazy than his 21 homers in 71 games is his incredible 19.2% walk rate. That's third in baseball (min. 250 PA) behind only Harper and Trout. Clearly home run regression is coming for his 30.9% HR/FB rate, but that OBP is here to stay. He makes a ton of great contact and whiffs very little. I'd hold.
Shortstop: Asdrubal Cabrera – This one is maybe even weirder than Jed Lowrie. Cabbie's got 17 bombs already and is pacing towards breaking his career-high of 25. He doesn't appear to have sacrificed any contact ability for his newfound power (42.4% hard%, raise your hand if you're seeing a trend here). His 17% HR/FB rate is nearly double his career 9% rate though, and he isn't pulling the ball with more frequency or hitting more fly balls than before. It's hard to imagine the power continuing at this pace, so he's a sell-high candidate for me.
Outfielder #1: Matt Kemp – Fatt Kemp is gone, and Matt Kemp is back, baby!! Alright, it's not quite the Kemp of yore since he's still not stealing you any bags like he did back in the day. Still, Kemp was a free agent find for most who own him, and he has 15 HR with 60 RBI and a .316 AVG in 89 games for the Dodgers. You might say the BABIP is juuuust a touch high at .368, which is the fourth highest mark in MLB. Even with a 44.7% hard contact rate, that's gonna come down. He's probably more of a .275 hitter the rest of the way with another 8-10 HR in his bat, which is pretty solid and has a place in all but very shallow formats.
Outfielder #2: Shin-Soo Choo – A lot of veterans here, and Choo is the oldest one yet at 36 years old. He's just five homers short of his 2017 total of 22, and has a ridiculous .399 OBP. The steals have really fallen off, which is sad but unsurprising. He's made up for the lack of steals with more hitting prowess though, with a 47% hard contact rate that is just plain loony. He hasn't posted a sub-18% HR/FB since 2014, making his 21.5% mark look more sustainable than it would be for most. Injury is always a concern with him, but he's going to be a plenty useful mixed league commodity over the second half.
Outfielder #3: Brandon Nimmo – Hey, someone who isn't old! Nimmo has remade himself, putting far more balls in the air to hit for power. It would be great if he would pop-up less to help that BABIP out, but he should hit 20-25 homers and 10 steals come years' end, and that's quite nice from someone who was free. Now just learn to hit lefties and we'll be golden.
Starter #1: Blake Snell – Snell has finally got the attention he deserves with all this All-Star snub talk. Snell has pitched like an ace, with 12 dubs, a 10.13 K/9, and 2.27 ERA. He still walks too many guys (3.55 BB/9) though, and his .243 BABIP and 86.3% strand rate are of concern. He's a great pitcher, but if you have other needs, now is a great time to sell.
Starter #2: Ross Stripling – Stripling might be the most befuddling name in a first half full of befuddling names. In 80 innings as a starter, Stripling has a a 2.36 ERA with an ace-like 25.9% K-BB%. His ERA estimators put him under a 3.00 ERA as well, so it's not like he's been lucky. I'd probably try to buy if the resident Strip owner in my league was wary of him keeping up this pace.
Starter #3: Mike Foltynewicz – Folty has a shiny 2.66 ERA and a bunch of K's, but doesn't have the command of someone like Stripling. He's been a bit fortunate to have a .254 BABIP and 80.4% strand rate, and I'd expect a sizable regression in the second half.
Mascot: The Freeze – Not only is this man incredibly fast, but he looks awesome. Here he is humiliating his opponent. Awesome stuff The Freeze, well done.
The Duds
Catcher: Gary Sanchez – Sanchez is on the DL, and while I have tried my best to not include players who are Duds just for getting hurt, Sanchez has been injured and ALSO disappointed. The power is there (14 HR; .242 ISO) but the .190 average is a killer. I have little doubt he can return to form over the second half, but even with all of this it may be hard to pry Sanchez from whoever drafted him.
First Base: Anthony Rizzo – A buy-low if there ever was one, Rizzo has somehow hit just .236 with 12 HR. The shift will continue to hurt his average, but it'll still rise substantially over the second half. Everything else here is perfectly fine. Buy buy buy.
Second Base: Brian Dozier – I recommended Dozier as a buy-low a couple weeks ago, and that window may have already closed. Doz has four homers already in July with a 1.047 OPS. He's been a crazy second-half hitter for years now, for whatever reason, so if you can still buy him at a discount I would.
Third Base: Miguel Sano – The warning signs were all there. Coming off knee surgery, dealing with the off-field sexual harassment issue, showing up overweight to camp…there's a ton of power in that bat, but there has always been way too much swing-and-miss. Now he's in High-A and not even hitting for power off of a bunch of 19 year-old's. He's got attitude issues as well, if you can believe that, so I wouldn't be surprised if the Twins keep him in the minors for a while to make a statement. Maybe he really does get fixed, who knows, but I'm not going to wait around to find out.
Shortstop: Orlando Arcia – The big loss at short was Corey Seager, but that was because of the elbow (which we knew about in Spring Training). Otherwise there aren't a lot of non-injury busts here, but whereas most expected Arcia to take a step forward, he's regressed badly. He could very well spend most of the second half in the minors, making him an easy drop in most formats. I don't see any major turnaround here.
Outfielder #1: Marcell Ozuna – Ozuna hasn't been atrocious, but 10 home runs in 87 games is the real killer. Despite hitting the ball harder than ever (45% hard%) he has a mere 11.1% HR/FB rate. I'm all over a second half rebound.
Outfielder #2: Byron Buxton – Alright, so this one is largely injury related, but a lot of folks don't realize it. When he came back from his first DL stint, which was due to a concussion, he had fractured his toe during his rehab stint. He tried to play through it, and it clearly didn't work. So after another trip back on the DL he's been slogging through the minors, still not hitting. That's where the Duds aspect kicks in. There's still a chance he can come back and be a real difference maker in the stolen base category in the second half, but it's hard to stash him in standard mixers given how little we've seen from him all season.
Outfielder #3: Billy Hamilton – Billy! Why you no steal? Your 22 steals are tied for fourth in baseball! He's also hitting just .233 and giving you no power, as predicted. Billy has seen more red lights since Jim Riggleman took over managerial duties, so that could be part of the steals issue. Sadly, that isn't set to change over the rest of the season, making B-Ham a non-elite rabbit for our purposes.
Starter #1: Dallas Keuchel – All of the aces who have been underwhelming this year have injuries to thank for their issues, so we'll start with Keuchel. He's given us a 3.95 ERA with just 6.89 strikeouts per nine innings, far from justifying his ADP of a #2 fantasy SP. Through 14 July innings he has a 1.93 ERA, so perhaps he's coming around. It's still a low-ceiling buy-low though due to the lack of strikeouts.
Starter #2: Luis Castillo – Nothing punches you in the pants like a 5.58 ERA over 98.1 innings. His velocity is way down from his rookie season, and he just isn't looking any better these days. He's only a hold in very deep leagues, and I wouldn't be attempting a buy-low.
Starter #3: Sonny Gray – Nothing punches you in the pants like a 5.46 ERA over 90.2 innings. That's a double pants-punch for me personally, as I drafted Gray and Castillo on the same team. Woof. The only reason Gray has been less damaging to his owners is that he's pitched 7.2 fewer innings. He's completely out of whack, and I have zero interest in buying him for the second half.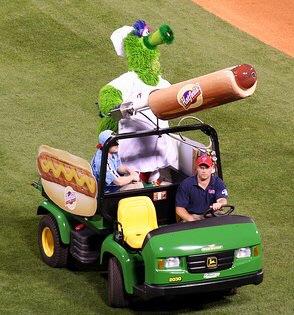 Mascot: Phillie Phanatic – This dude shot a hot dog in a lady's eye so hard that she was bleeding. Just look at this Hot Dog Death Machine!! Not cool, bro.
You can find Dokken on Twitter @NathanDokken