Baseball Twitter is one of my favorite things in the world. It's often full of interaction between analysts and fans, even analysts and other analysts, but every so often, we're graced with the thoughts of major league players. Those we covet for their statistical production on our fake baseball teams sometimes descend from olympus to dwell amongst us fans. Sometimes that interaction is jovial, leaving us all with fuzzy feelings of joy and hope for a better world. Other times it's between Trevor Bauer and Lance McCullers.
Last week, the topic was spin rate, and how one can increase it. I'll do my best to plot this spat out as concisely as possible, with links to tweets.
We need more of this. We need all of this, all the time. Dam, I love baseball.
You're here for fantasy content, however, so why does spin rate matter for your fantasy baseball team?
For this column, I want to stay on the topic of fastballs and fastballs only. More spin on curveballs suggests a greater chance for a swinging strike – the holy grail – but the components are more complex, given that the spin out of a pitcher's hand on a curveball is inherently different and trying to achieve a different goal (downward break) than the spin produced on a fastball ("rise" or "fade").
For four-seam fastballs, higher spin means the ball "rises" more than expected. This isn't actual rise, like a Jenny Finch fastball, it means the pitch drops less than a batter expects, which can throw off a hitter's barrel alignment with the incoming ball as his decision to swing and where to swing is made.
Explaining complex points is achieved by boiling down a concept into an easily interpreted form.
Real cool from @jeffwzimmerman: SwStr% on FB, spin v velo. For Ks, high everything is good. https://t.co/AgRrLLl66W pic.twitter.com/crmT4Ajump

— Mike Petriello (@mike_petriello) September 12, 2016
If you struggle to get anything out of this article, even as I navigate to specific pitchers, just try to understand the picture in Mike Petriello's tweet above. It's a plot of velocity and spin rate of fastballs, the colored boxes representing swinging strike rates at the intersection of the two points. Sitting in the bottom right of that plot is ideal. More spin and higher velocity are good things.
Intention with spin is also important. Low-spin fastballs aren't bad if you're trying achieve sink – think two-seam fastballs. A lower amount of spin causes the pitch to drop more than expected, implying an elevated rate of grounders.
On top of that qualifier, I'll say that other factors matter on top of spin rate as well. If you read some of the comments within the Petriello tweet above, you'll notice the clamour for another axis in the tweeted chart above, showing location of fastballs and if that has an effect on swinging strike rate (spoiler: it likely does).
Pitching is about putting together various pieces of a puzzle and coming to a hypothesis predicting what image will be produced. We will never have all the pieces, but working with what we have allows for better hypotheses. Better hypotheses means better fantasy baseball decisions.
2,445 RPM, +225 from last season
I intentionally start with Glasnow. He's the human form of the qualifiers I – mainly via my understanding of Mike Petriello's work – placed on how to interpret spin data. His fastball spin rate has jumped considerably this season, he's using the pitch more (+9%), yet it's getting beat up to the tune of a .298/.447 slash (BA, SLG). You can attribute some of this to luck, as the BABIP against his four-seamer is near .400. But the majority of worry stems from his 15 percent walk rate.
On the point of location, one of the things Glasnow is doing aligns itself with a trend in baseball to elevate high-spin fastballs to create even more of a likelihood for swing and miss. Below is Glasnow's four-seamer location from 2017 (small black spot) compared to 2018 (larger black spot).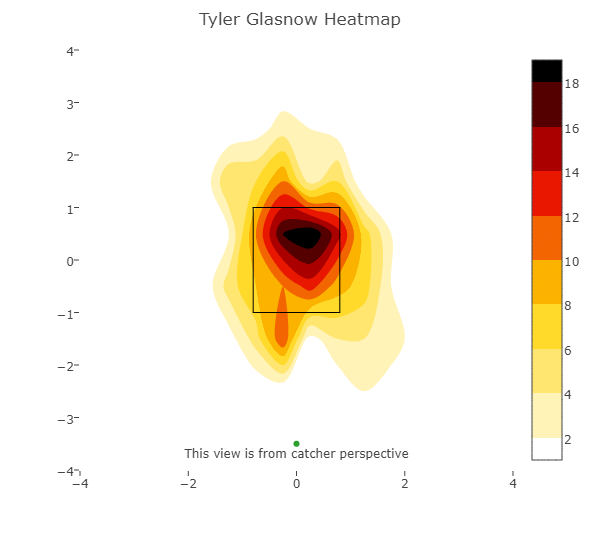 Glasnow's 6-foot-8 frame also allows his 97-mph fastball to tick even higher up in terms of "perceived velocity," which per BaseballSavant, gives Glasnow nearly an extra two miles per hour of heat.
While his frame can be considered integral to any flashes of his success, it's also the common knock when he hits a rough patch. I wrote about how larger-framed pitchers can often have trouble honing their mechanics, specifically in reference to Alex Meyer, and a lot of the thoughts I presented there can apply to Glasnow. In very simple terms, control can stem from repeatability of mechanics and when a pitcher has more mass to sync up, with a higher center of gravity, minor tweaks can do wonders in positive and negative directions.
There is a lot to unpack with Glasnow. We know he continually stands out on various metrics like spin rate, and others, both good and bad, and we can even say he's gotten a bit unlucky this year. I'm a huge proponent of him elevating his four-seamer in combination with his wicked curve, but he needs time to suppress the negatives in favor of the positives. To anybody saying we've given him enough time, the righty is only 24 years old, drafted out of high school in 2011. The fact that he is present at the major league level is impressive, even if the results have not been.
If you're in search of the next Josh Hader, I think a nice, longshot bet is the two-pitch mastery of the Human Qualifier, aka Tyler Glasnow. The rest of season Player Rater has Glasnow outside of the top 300, near names like Robert Gsellman and Chris Stratton. Irrelevant in most leagues, but one of my favorite adds in deeper or dynasty leagues if you like targeting outliers. We just need some dark magic to expedite the development of his control.
More to come on the topic of spin rates. Next week's column will likely be a look at multiple arms and their spin rate changes year to year.
I can be found roaming the pasture of Twitter and Instagram. All baseball, all the time…
T:@LanceBrozdow – IG:@LanceBroz
More of my work…