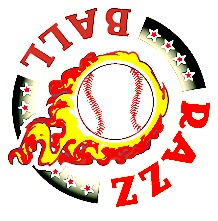 Fantasy Razzball is the game where the goal is to manage the worst fantasy baseball team possible. You hope to find terrible players who don't get sent to the minors.
As in the RCL, a team's points are multiplied by the League Competitive Index. The LCI is based on the total points of the top 8 teams per league. The overall standings can be found below. Points are credited as follows:
Hitters (AB = +2, H = -3, R = -4, HR = -6, RBI = -4, K = +2)
Pitchers (IP = -1, HR = +4, L = +8, K = -1, ER = +1.5, H+BB = +1).
You can find links to the six Fantasy Razzball leagues (along with the 64 RCLs) here.
The Mendoza Mashers have moved into first place, led by Rickie Weeks, Trevor Plouffe and Phil Hughes. But, the Mashers lost both Weeks (out for the year injured) and  Mark Reynolds (designated for assignment) this week, two of their top 5 hitters.
OVERALL STANDINGS
| | | | |
| --- | --- | --- | --- |
| Rank | Team | League | Points |
| 1 | Mendoza Mashers | Razz On | 4562.10 |
| 2 | Reading Rainbows | League of Bad | 4413.84 |
| 3 | Facepalm United | Sons of Jim Essian | 4366.41 |
| 4 | Baltimore Scorioles | Razz On | 4339.04 |
| 5 | Don Drapper | League of Bad | 4204.00 |
| 6 | Chuck Norris's Beard | Razz On | 4094.99 |
| 7 | JeffLoria's FireSale | Razz North | 4075.50 |
| 8 | Losing | League of Bad | 4006.58 |
| 9 | The Buddies Quaid | League of Bad | 4000.96 |
| 10 | Anthapologists | Razz On | 3998.89 |
| 11 | Freaks and Geeks | Razz On | 3987.95 |
| 12 | Revenge of the Lawn | Razz North | 3965.55 |
| 13 | Ugly Dickshot | Sons of Jim Essian | 3958.09 |
| 14 | Tecmo Ballz | Rotisseriously Awful | 3749.56 |
| 15 | The wrong Mcguires | Razz On | 3732.27 |
| 16 | Sandlot Kids | Rotisseriously Awful | 3730.67 |
| 17 | Cold comfort | Razz North | 3725.53 |
| 18 | 2013 NY Mets | Aztec 2 Step | 3716.56 |
| 19 | Vin Loss | Razz On | 3707.94 |
| 20 | Stinky | League of Bad | 3678.69 |
| 21 | The Joaquin Deduno | Aztec 2 Step | 3670.03 |
| 22 | Ron Swansons | Sons of Jim Essian | 3668.87 |
| 23 | The Civilians | Rotisseriously Awful | 3666.85 |
| 24 | Jr. Spivey Fan Club | Rotisseriously Awful | 3658.54 |
| 25 | ManwichMen | Razz On | 3627.17 |
| 26 | G-astros-enteritis | Razz North | 3624.57 |
| 27 | hannover bohemians | Aztec 2 Step | 3620.88 |
| 28 | Wampa Masters | Razz North | 3609.27 |
| 29 | Inge All-Stars | Aztec 2 Step | 3603.68 |
| 30 | Scrubs and Schlubs | Aztec 2 Step | 3595.16 |
| 31 | Newark Diseased Eels | Aztec 2 Step | 3464.26 |
| 32 | Terra Bulls | Razz North | 3459.40 |
| 33 | Yunibombers | League of Bad | 3434.94 |
| 34 | Mountain Dew Kid | League of Bad | 3333.94 |
| 35 | 81 Mariners | Rotisseriously Awful | 3296.40 |
| 36 | Mr. April | Rotisseriously Awful | 3279.62 |
| 37 | Booms-ya! | Sons of Jim Essian | 3253.01 |
| 38 | Houston Lastros | Razz On | 3153.02 |
| 39 | Cheese Stands Alone | Rotisseriously Awful | 3088.62 |
| 40 | Razzball's jaywrong | Aztec 2 Step | 3077.28 |
| 41 | Jedd Gyorkoff | Sons of Jim Essian | 3063.78 |
| 42 | Snafu Larry | Razz North | 3035.09 |
| 43 | Limp Wrist All-Stars | Razz North | 3010.14 |
| 44 | Bowels of Sucktitude | Razz North | 2949.92 |
| 45 | Twisted 'Roid | Aztec 2 Step | 2909.36 |
| 46 | Eff the Goat | Sons of Jim Essian | 2877.44 |
| 47 | Kings of Failon | Aztec 2 Step | 2859.06 |
| 48 | Baker's Toothpick | Rotisseriously Awful | 2850.56 |
| 49 | uyufkfkfk | League of Bad | 2824.47 |
| 50 | exactly | Aztec 2 Step | 2796.96 |
| 51 | Joaquin on Arias | Sons of Jim Essian | 2693.67 |
| 52 | Kermit's Hermits | Sons of Jim Essian | 2674.57 |
| 53 | Natty O's | Razz North | 2541.24 |
| 54 | Dulce Maldonaldo | Sons of Jim Essian | 2186.81 |
| 55 | Hit bombs bone moms | Sons of Jim Essian | 1395.87 |
| 56 | Cannonball Titcomb | Rotisseriously Awful | 830.45 |
| 57 | what the hellicksons | League of Bad | 775.87 |
| 58 | Chuck Norris | League of Bad | 729.71 |
| 59 | Dalmore Rangers | Rotisseriously Awful | 631.46 |
| 60 | Longboard Brewery | Razz On | 13.57 |