Last week's article was frustrating, but that's common in the trade deadline week. Our top hitter was actually part of the most significant trade of the season, while our favorite pitcher landed on the IL. You can't predict those things, but the process has been on point, and I'm ready to keep the streamers rolling in. With that said, we have one of the smallest slates of the season, with only 26 projected two-start pitchers. We're usually close to 40, which has us with one of the riskiest groups of streamers all year.
Pitching Streamers
Roansy Contreras, PIT (at ARI)
This youngster has been mowing down hitters in the minors, and it's finally time for the Pirates to unleash him. The right-hander registered a 2.93 ERA, 1.04 WHIP, and 26 percent K rate across 283 minor league innings and has shown glimpses of that at this level. He's actually allowed three runs or fewer in 11 of his last 12 starts, surrendering seven runs in one nightmarish outing against Milwaukee. If you take out that dud, Contreras has a 2.31 ERA, 1.24 WHIP, and 9.4 K/9 rate since his debut. We love that form in a matchup like this, with Arizona ranked 20th in runs scored, 24th in OBP, and 25th in wOBA.
Jake Odorizzi, ATL (at MIA)
Jake had a rough outing in his Atlanta debut on Saturday, but this dude was acquired for a reason. The former Houston righty allowed one run or fewer in six of his nine starts before that trade, providing a 2.82 ERA and 0.90 WHIP in that stretch. It's not like this guy has been a gas can throughout his career either, amassing a 3.94 ERA and 1.24 WHIP across a decade of action. He should be able to add another solid outing to his tally in this matchup, with Miami sitting 25th in runs scored, 26th in OBP, and 27th in OPS. They're also missing their two best hitters in Jazz Chisholm and Garrett Cooper, making this easy matchup look like a little league lineup.
Kyle Gibson, PHI (vs. MIA)
This one scares me to death, but a veteran like this should power right through this horrific lineup. We just discussed how bad Miami has been recently, and we love using experienced pitchers against inexperienced lineups. Gibson is undoubtedly that, generating a 3.96 ERA and 1.20 WHIP since the start of last year. His recent form is even more intriguing, allowing two runs or fewer in four of his previous five starts. He's got a 2.87 ERA and 0.80 WHIP in that stretch, throwing six one-run innings against this Marlins team amid that stretch. Don't be afraid to use these crafty veterans against one of the worst lineups in baseball!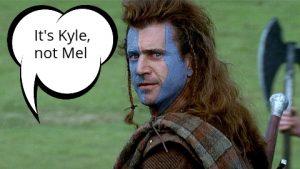 James Kapreilian, OAK (vs. LAA)
This week's streamers are full of volatile options, and Kap is another one of those guys. The simple fact is, this guy has been too good to avoid in a matchup like this. Let's start there, with the Angels owning the worst K rate in baseball. They also sit 24th in runs scored, 27th in OBP, and 26th in OPS, struggling mightily without Mike Trout and Anthony Rendon. That's bad news against a pitcher this hot, with Kaprielian compiling a 2.45 ERA and 1.09 WHIP across his last eight starts. He's allowed three runs or fewer in all of those, holding this LA team to one run in their most recent meeting just last week.
Streamers to Consider
JT Brubaker, PIT (at ARI)
JT had a 3.00 ERA and 9.0 K/9 rate in six starts before a dud last week, and we'll trust that form against one of the worst offenses in baseball.
Jose Suarez, LAA (at OAK)
Outside of one flop against the Dodgers, Suarez has surrendered four runs or fewer in every appearance this season. He also threw five shutout innings against this Oakland team last week, and it's no surprise since they rank bottom-three in every offensive category.
Nick Lodolo, CIN (vs. CHC)
Lodolo has a 3.41 ERA and 13.1 K/9 rate since his debut and should keep that going against a 23rd-ranked Cubs offense. This is The Streamonator's favorite play of the week, projecting Lodolo to provide $26.1 worth of value.
Hitting Streamers
Alek Thomas, ARI (vs. PIT, at COL) 7 Games
This kid hasn't quite found his stroke at this level, but he just looks like a star in the making. Alek has looked comfortable in the box all year and has been doing work in the field. The skillset is there for him to be a fantasy-relevant player, and he's shown that in his splits. In fact, Thomas has a .272 AVG, .337 OBP, .472 SLG, and .809 OPS, with the platoon advantage in his favor this season. That makes him one of our favorite streamers this week, facing seven righties! These aren't right-handers we're scared of either, squaring off with Antonio Senzatela, Jose Urena, Chad Kuhl, JT Brubaker, Zach Thompson, Roansy Contreras, and Mitch Keller. While we have two of those guys in here, you couldn't ask for better matchups, with both clubs ranked bottom-five in ERA and WHIP.
Dylan Carlson, STL (at COL, vs. MIL) 6 Games
The Cardinals wouldn't trade Carlson to acquire Juan Soto, which is a good indicator of how high they are on this kid. High is probably the right word because that's a stupid decision, but we have to trust an organization like St. Louis. They've really shown their trust with his lineup placement, hitting him leadoff for two weeks now. He's been playing well for months, maintaining a .264 AVG, .336 OBP, .458 SLG, and .794 OPS over his last 65 games played. The reason we love him here is that he gets three games in Coors Field and three games against lefties. Not only is Coors the best park in baseball, but Carlson has collected a .332 AVG, .386 OBP, .522 SLG, and .908 OPS against left-handers since 2020.
Aledmys Diaz, HOU (vs. TEX, vs. OAK) 6 Games
Diaz has been one of the hottest bats in Houston, and it has them batting him in the heart of their order. That alone would make anyone an intriguing option around studs like Yordan Alvarez, Jose Altuve, and Alex Bregman, with the Stros possessing one of the best lineups in the game. It's no surprise when looking at the averages, with Diaz donning a .318 AVG, .383 OBP, .624 SLG, and 1.007 OPS over his last 23 games. We've seen stretches like that before from this guy, making him an excellent pickup since he's eligible at almost every position.
The matchups are also fantastic, with Texas ranked 22nd in ERA and 21st in WHIP while Oakland sits 23rd in ERA and 22nd in xwOBA. We also don't mind that he gets six games at home, posting a .851 OPS in that righty-friendly ballpark. We didn't even mention that three of the six arms he faces this week pitch from the left side, giving him the platoon advantage as well!
Feel free to comment here or reach me on Twitter @Bartilottajoel if you have any questions!