Last night I took part in my third mock draft over at Mock Draft Central.  Going into this mock draft, I figured I'd try to draft a mock team to mock win.  Pretty out there, I know.  That's how I mock roll!  I didn't necessarily follow my 2009 fantasy baseball rankings to a T.  What fun is mocking if you don't take some (mock) liberties. This mock's participants were some of the finest fantasy baseball 'perts in the fantasy baseball bidness.  Below the pretty picture of my drafted team is, as always, the notes I took while mock drafting: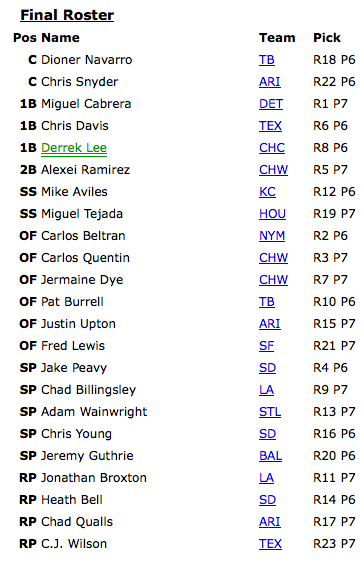 1st Round – Miguel Cabrera.  Two Mets off the board with the 1st two picks.  Obviously Ralph Kiner paid off some of these 'perts.  Hey, no illusions of grandeur here.  I can be bought too.
2nd Round – Carlos Beltran.  I'm eyeing Chase Utley.  Oh, he looks real nice at the 17th pick.  Scooped!  The 'pert right before me grabbed Utley and I was left with Beltran.  Some picks I didn't like in this round were Pedroia, Manny and Ichiro.
3rd Round – Carlos Quentin.  Wow, Santana held around for a while. I think that's just a sign that this is a mock draft.  I doubt that has much real world significance, but if you see Johan in the third round by all means grab him.  Honestly, I didn't like my choices in the 3rd round.  I almost took Lincecum, but didn't want a pitcher yet.  I don't want Morneau or Bay this early.  I considered Phillips long and hard and almost took him.
4th Round – Jake Peavy.  I have a whole post coming up about Peavy.  This is just another sign of this "What have you done for me lately?" attitude.  Sure, Peavy wasn't incredible in 2008.  Guess what, ya'll?  It's 2009.  Picks I didn't like in this round were Ortiz, Furcal, Vlad and K-Rod.
5th Round – Alexei Ramirez.  I've suddenly become a South Sider with these picks.  Usually I'd hold off on a MI, but I'm trying to zag on my own usual zigging at times to see what I come up with.  Picks I didn't like in the 5th round — Mike Jacobs.  Zoinks!
6th Round – Chris Davis.  During this pick, I went to the bathroom and Bill James drafted for me.  Atkins, Zimmerman, Huff and Cantu were staring me in the face.  I went with an upside pick, as I did with my last three picks.  I don't think I can go with an upside pick for the next five or so rounds.
7th Round & 8th Round – Jermaine Dye and Derrek Lee.  The kind of safe picks I was talking about in the 6th round.  I've just about righted the ship from my upside picks.  Now I'm looking for a pitcher.
9th Round – Chad Billingsley.  Guess who's staring at me in the face?  Billingsley.  My pre-preseason Cy Young pick, who I'm slightly worried about because of his increase in innings in 2008.  He's not the absolute safest pick like I was thinking about, but this value is way too great.  Some other pitchers I could've drafted here were Lackey, Burnett, Lester and Dice-K.  I think this is just 'perts telling their readers to not draft pitchers and then them showing everyone how they don't draft pitchers.  I don't draft pitchers early either, but this group of mockers is extreme.  In your league, you're going to have to draft some of the pitchers that went in the 9th and 10th rounds before then if you want them.  A pick I didn't like in this round, Polanco.  Think about the difference in value between Billingsley and Polanco.
10th Round – Pat Burrell.  There were a lot of great picks in this round.  Soria, Joba, Dice-K and Burnett.  Admittedly, I probably did the worst this round, but I wanted safe power.
11th Round – Jonathan Broxton. Ignore the previous year's saves when drafting your closer.  Just make sure he has the job for the upcoming year.  Broxton had 88 Ks last year. He could easily be the number one closer in 2009 and I just drafted him in the 11th round.  K-Rod went in the 4th round.
13th Round – Adam Wainwright.  Honestly, I think I have the best pitching staff right now, but pitching is unpredictable so this staff could blow up in my face.
15th Round – Justin Upton.  Looking to head back to the OF after taking some pitchers.  My choices here aren't great, but I'll take my chances with Krispie Young – Scooped!  I end up taking his OF-mate.  I'm not thrilled with this pick, but Upton's upside is huge for the 15th round.  A pick I really liked this round was Conor Jackson.  I wasn't crazy about the Posada, Huston Street or Mark Reynolds picks.  Not that I wouldn't draft them, just not here.  Not now.
17th Round – Chad Qualls.  My pick is pretty self-explanatory.  At least I hope it is.  The Diamondbacks are saying Qualls is the closer.  Don't worry about who you think should be the closer, just go with who the club puts in the role.  You'll save yourself lots of headaches (pun was noted and groaned at).
18th Round – Miguel Tejada.  I realize he's not juicing anymore but him falling to the 18th round is kinda ridiculous.
21st Round – Fred Lewis.  Actually kinda of surprised to still see him on the board when I was drafting in the 21st round.  My team was also lacking steals, so this was the smartest pick left for me without having to grab Juan Pierre.
22nd Round – Chris Snyder.  Not a huge fan of Snyder's, but Jeff Clement went in the 16th round.