I'm so freaking excited to be back and writing about baseball. After months of dealing with stupid, unpredictable football variances, we're back at it with some much-needed fantasy baseball! This is the real fantasy sport and I can't wait to get started. My first articles of the offseason are going to be deep-diving on potential busts. We actually did this last season and had pretty good results aside from one guy.
I actually had Christian Yelich as my Top 10 player to avoid last season and obviously, that was incredibly stupid. The other busts I had included Craig Kimbrel, Edwin Diaz, German Marquez, Lorenzo Cain, Javier Baez and Miguel Andjuar. The only other guy I got wrong was Baez but he still scares me to death with his horrendous plate discipline. I'm honestly not too disappointed with the Yelich one either because it's hard to predict any Top 10 player to bust (according to me). We're going to go with a similar approach here, so let's get into some of our Top 50 busts!
Gerrit Cole (NYY)
Ok, we need to get something out of the way. Bust is a term that is relatively overused in fantasy circles and it needs to be taken into context. This doesn't necessarily mean that the guy is going to have a bad year. A bust is a player who doesn't live up to his draft price. That's the only reason Cole is in here because he should still be one of the 10 best pitchers in baseball. The thing is, he needs to be the best pitcher in baseball at this price tag. You're probably paying a Top 6 pick to draft him this season and, honestly, how can you trust any guy who pitches in Yankee Stadium to do that?  
While I expect Cole to lead the league in strikeouts, it's going to be a tough task for him to match his ridiculous 2.50 ERA and 0.89 WHIP from last season. Not only is Yankee Stadium one of the worst ballparks to pitch in, the rest of that division has nightmare ballparks as well. That's why Steamer has him projected for a 3.15 FIP, 3.25 ERA and 1.04 WHIP. Those are superb numbers but it's not worthy of a Top 5 pick with all of the other arms available later in the draft. We're talking about a guy who had a 4.12 ERA and 1.32 WHIP in his final two years with Pittsburgh before joining Houston in 2018 and that scares me too. No one is doubting that Cole is a stud but is it really worth a Top 5 pick? For me, NO! 
Fernando Tatis Jr. (SD)
I want to preface this by saying that I love Tatis as a player. This kid is exciting and great for baseball but his recklessness truly frightens me. The dude is just a wild child, flying around the basepaths and making ridiculous diving plays on defense. While it makes for great sightseeing, that's the sort of thing that scares me to death in fantasy baseball and makes him one of the most likely busts in the first two rounds. Being on the field is arguably the most important factor when taking someone with a Top 20 pick and it would be hard for me to imagine Tatis getting through a full season without hitting the IL with his reckless abandon. That's certainly been the case in the last two years, playing fewer than 90 games in each season. I mean, look at this!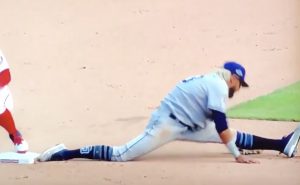 It's not all about missing time either, as Tatis has some serious red flags at the plate too. The biggest being his discipline, posting a 29.6 percent K rate last season. That's unfortunately on par with his minor league averages and it's scary to think that his K rate could rise with pitchers figuring him out. What also worries me is the fact that he had a BABIP north of .350 in the minors and an ISO below .200.
That's not a recipe for an elite hitter and one has to wonder if that 82-game sample size last season it a bit of a fluke, especially when you see his 32 percent HR/FB rate and .259 xBA. Not to mention, his 53-point difference between his wOBA and xwOBA was the biggest negative correlation among all regulars in MLB.  There's just a lot of red flags and that's the last thing I want to see from a player who's projected to go 18th in drafts.   
Jose Altuve (HOU)
Altuve is impossible not to like but he's one of the easiest busts of the season. Seriously, how can you hate a 5'2" dude who just mashes baseballs? It's hard to argue with what the little man did last season but there were some things that really scared me. The biggest thing is his speed. Injuries and age have limited his stolen bases over recent years and that was crystal clear last season. In fact, Altuve set a career-low with just six steals and that's a trend that's common for an aging player like this.  
Losing that speed is really tough when evaluating a player like this, as most of Altuve's value has come through his ability to run and his consistent average. That brings up yet another point, his average. Altuve hit .298 last season which happened to be his lowest mark since 2013. That's really no shock when you see that he set a career-high with a 15 percent K rate and it's really distressing to see all of these numbers head in the wrong direction. The expected numbers back up the fact that he was fairly lucky last season too, generating a .282 xBA and .350 xwOBA. That's still a good hitter but with the decline in speed, it's certainly not worth a Top 30 pick like ADP says he is.  
We'll be back next week to knock out some busts sitting between 50-100 in ADP. If you have any comments or questions, comment me here or reach me on Twitter @Bartilottajoel