Hey deep leaguers! Last week I went through why Odubel Hererra ain't worth your time.  In the comments, people asked for me to take a look at Wilmer Flores, which as a Mets fan, I consider a tasty treat of an assignment.  I feel like I ought to have some sort of a disclaimer, like stock analysts that hold the stock their writing about; I own Flores in a couple of leagues, and as a Mets fan, I can't help but hope he does well, so just in case you think I'm a biased SOB, you're probably right!  Then again, I don't know Wilmer personally, so there is no reason to root for him versus any other Mets player. And if I thought he sucked, I'd be clamoring harder than anyone for the Mets to trade him while they can.  Then again, you're reading Razzball on a Friday afternoon, so I figure a contributor's potential bias might not be high on your list of worries.  Aaaah, I should really stop writing about bias and get on with the analysis already…
I like Wilmer Flores's approach.  I like it lot (said in my head like Lloyed Christmas).  Briefly, it's short and sweet, he utilizes radial deviation, which I discussed in previous articles, perfectly positioning his bat in his stance and trigger to split his noggin.  Also his approach exposes itself to extremely little risk – his stance is barely different than his trigger keeping his head on a level plane while not throwing himself off balance.  He doesn't have an accentuated hip rotation or shoulder load either, limiting himself from the risks I mentioned Preston Tucker and Hererra expose themselves to in their trigger positions.  From his trigger he goes directly to the ball without any funky stuff like a late hitch and generally stays balanced.  The only issue I've seen in the past with his swing is that sometimes he doesn't finish it – he gives up, or doesn't follow through and I'm not sure why.
Now for the fun, in terms of comps, I actually see him as a nice hybrid of two outstanding middle infielders we've seen over the past few decades – Miguel Tejada and Ian Kinsler.  Let's take a look: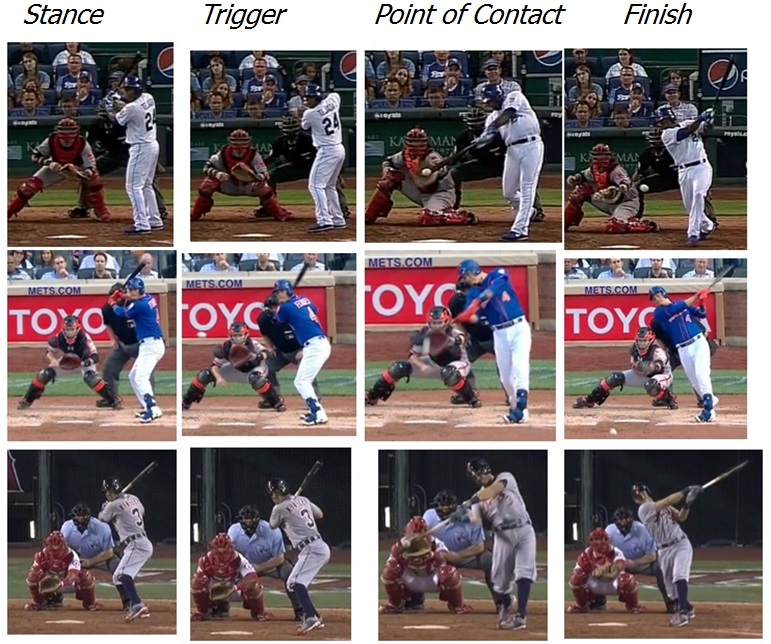 Let's analyze this by column.  In looking at the stance, Flores uses Tejada's hand/bat positioning with healthy radial deviation as described above, and also has a similarly slight bend to his knees; meanwhile he mirrors Kinsler's foot positioning with a minimally open stance whereas Tejada is closed.
At the trigger, and here is what I like a lot, he really shows a correlation to Kinsler in that there is minimal change from the stance.  The main thing you'll notice that Flores does is take his hands from in front of hs body to the classic trigger on his back left shoulder, but you don't see him raising his back elbow, or commencing a pre-swing hitch like Tejada does, minimizing risk similar to Kinsler's approach.  Notice however that his bat is still relatively vertical.  This is important because it still allows him to snap down on the ball, whipping the bat through the zone, with a little less bat speed than Tejada had due to less momentum from no bat wiggle, but with much less risk and a better chance of getting the beloved back spin that Kinsler is less likely to enjoy with a slightly more horizontal bat angle.
Normally I get into swing path next, but  I didn't have space for it in this graphic, so you'll have to trust me that Flores is incredibly efficient, similar to Kinsler.  Tejada had to pull the bat back from the far forward angle he used in his trigger, but he's not bad either and actually looks eerily similar to the Colabello swing path I looked at a few weeks ago.  At point of contact each player gets to a very similar position on a pitch out over the plate, well balanced, with slight torso bends.  Flores probably has the least forward weight transfer of the three, again showing a low-risk approach but due to his excellent hand positioning and appropriate rotational movement, he doesn't compromise much power.  Speaking of his hand positioning, I found a unique angle of one of his at bats on Youtube that nicely shows him splitting his head with the bat and rotating through just fine at contact: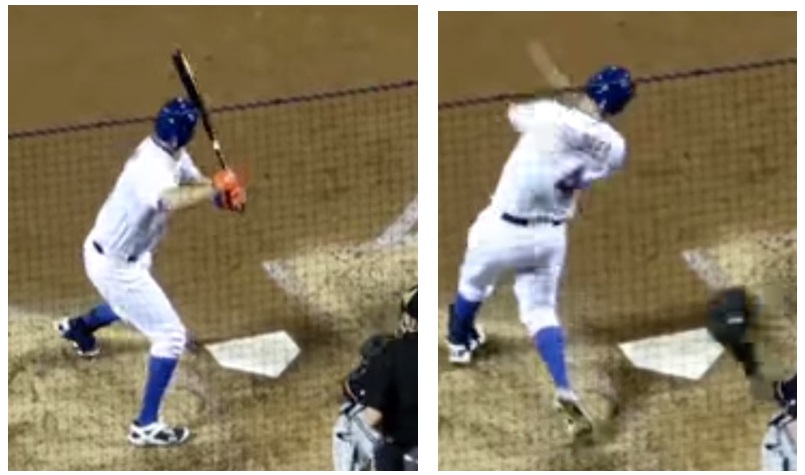 Now as I mentioned above, for some reason Flores has shown a propensity to give up on certain pitches – maybe he's not recognizing them well out of the pitchers hand and is just giving a conciliatory wave in an attempt to not strike out, but from watching a lot of his at bats, these wafty-like swings are becoming less frequent.
Conclusion: Flores is a very operable player for deep leagues and I like him as a keeper.  His Kinsler-esque low-risk approach should prove that he has a very high floor and should rarely slump.  With excellent Tejada-like hand action, he could continue to pleasantly surprise with middle infield power into the future especially as he gets more accustomed to MLB pitching.  I estimate he'll finish the season somewhere around .270/20/2.  I doubt that shortstop will be his long-term position though as he lacks similarly refined mechanics in his throwing motion, but for this year and next, he'll be one heck of a hitter at short.