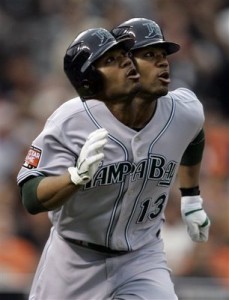 Guess what, ya'll? Carl Crawford is going to hit 40 home runs and steal, like, 60 bases and hit over .350. Carl Crawford will also win the Roberto Clemente Award and the Rolaids Relief Man of the Year Award for his relief work off and on the field. Or so went the many years of 'pert predictions for Carl Crawford. Then each season came and went and Crawford's respective home run tallies look like this: 11, 15, 18, 11 and 8. Not exactly the development of power that people expected. (Show you care, take 'roids!) So can Crawford be relied on as a keeper? Definitely. (Of course, depending on the circumstances.) Will Crawford develop the power that has been lusted after for so long? Doesn't look that way. 20 home runs might be his ceiling, but ten to fifteen home runs with forty steals gives him solid keeper value. Now for this week's keeper post I'm going to look at some guys that are more or less Carl Crawford. Anyway, here's some more fantasy baseball keepers to keep and not keep for next season:
Psyche! Before we get into that, I wanted to point out a scheduling adjustment. Fridays used to be our weekly Buy/Sell. Well, that's gone for the offseason and keepers will now be on Friday. As they say in Jamaica — carry on (your head)!
KEEP
Jacoby Ellsbury – Profiles as a Cheap Carl Crawford, which can also be expressed as, "No way, Longoria! You ate so much more than me. We're not splitting the check evenly."
Matt Kemp – Can be what the 'perts always thought Carl Crawford would be, so Matt Kemp is a Best Case Scenario Carl Crawford — a number three hitter who hits twenty-five home runs and steals forty bases. Otherwise known as "Carl Crawford wearing his big boy pants."
Alexis Rios – Rios performed almost exactly like an Underperforming Carl Crawford. Though next year, Rios could easily produce more home runs and less steals making him a candidate for the Looked Like an Underperforming Carl Crawford Last Year and This Year He Looks Like Corey Hart. (If you don't have to read that last sentence more than once, then you've smoked too much pot in your life.)
DON'T KEEP
Ichiro Suzuki – A Japanese Carl Crawford. I don't think Ichiro will be completely unusable, but he stole 9 bases in the 2nd half this year and hit 3 home runs. Imagine if he hits ten home runs, steals twenty-five and hits .320 next year, would that be something you'd be interested in?
Milton Bradley – An Angry, Injury-Prone Carl Crawford that will stick a hot poker into your eye if you say anything bad about him, then he will burn his little pinkie with that same poker and miss a month of the season without ever going on the DL.