So the title has a bit of superlative in it.¬† What was I gonna say, the most kinda good fantasy baseball team?¬† You'll get over your scoffing, I have faith in you.¬† This is the best 2013 fantasy baseball team that I can put together when drafting from my top 100 for 2013 fantasy baseball and top 400 for 2013 fantasy baseball.¬† Honestly, I could draft another 25 teams from those lists, and they'Äôd all be different, but equally terrific… Well, one of the twenty-five would only be almost terrific, but it would be really hard to tell which one that is.¬† If I took Votto in the 1st round, everything after it would change.¬† For this exercise, I'Äôm taking Swiggy first, because, well, I have him first overall.¬† Until pick 100, I'm taking one guy somewhere in every twelve picks.¬† It would be nice if I was in a league where someone drafted Strasburg, Verlander and Kershaw in the first round and I was able to take Votto in the 2nd round, but since Miggy and him are in my first 10 picks, according to the rules I'Äôve set up for myself, I can'Äôt take them both.¬† Then, as we all know, once you get into the 100's, there'Äôs wide gaps between ADP and where players are actually taken.¬† People tend to look at team need over value.¬† So for this exercise, once I get to pick #101, I'Äôm going to pick two players every twenty picks.¬† Finally, because there is so much latitude in the last 200, I gave myself free reign to fill up my team.¬† Throughout the draft, I also gave myself the ability to reach to a lower draft pick, but not reach forward.¬† It should still be my ideal team'Ķ Or not.¬† Let'Äôs see, shall we?¬† Bee tee dubya, this team is 5√ó5, one catcher, 5 OFs, MI, CI, 1 UT, 9 P, 3 Bench, just like the Razzball Commenter Leagues that are signing up still.¬† (Yes, we need commissioners.¬† I'm shooting for 60 leagues, but we need your help!¬† Wow, I just sounded like FDR.)¬† Also, if you're feeling especially industrious, VinWins started a thread of War Room teams in our fantasy baseball forums.¬† Anyway, here'Äôs the best 2013 fantasy baseball team: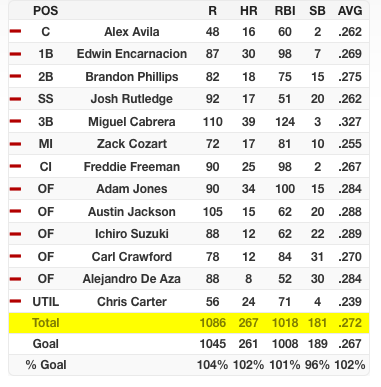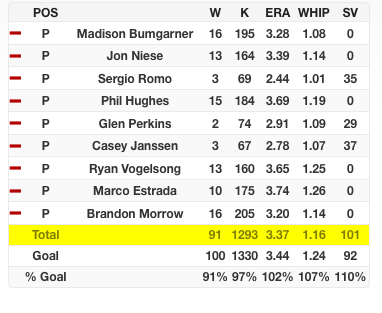 As you can see I used our Fantasy Baseball War Room, but I didn't add in bench spots.¬† For bench spots, I'd take some closer handcuffs or anyone with huge upside like Wil Myers and Dylan Bundy.¬† You can take a 7th starter if you want, but you'll probably drop him in most 8 to 12-team leagues.¬† You can switch Estrada out of there for Harvey too, because I love both.¬† As I'Äôve said in the past, I may not know a damn thing, but I can pick a pitching staff.¬† Seriously, Bumgarner, Morrow, Niese and Hughes were all you needed.¬† Then you throw in the rest of the staff and you have Revenge of the Nerds hairpie at the bottom of a pie tin.¬† It's pretty funny that the War Room is saying that I'm short on Ks since I'm such a K-whore.¬† Not funny haha, but funny, "Hmm, I'm gonna twirl my mustache and think about that one."¬† I'm not too worried; when starters have a day off, I usually throw in a middle reliever or two and that pushes me way above on Ks and Wins.
This shows you that you need to really load up on hitters early, because, as much as you like that late-round-flyer in the 18th round for your corner, it'Äôs probably not gonna work out for you.¬† Make sure you have at least two outfielders, a 2nd baseman, 3rd baseman and 1st baseman in the first ten rounds.¬† In my team above, I even reached down for Rutledge in the 9th round because he's my novio (don't tell Giancarlo).¬† Also, I tried not to go too wonky with my rankings compared to ADP.¬† I probably could've took Yadier Molina at 180-something overall, but he'll be off the board, so I didn't cheat and say, "Well, I have him crazy late!"¬† I find myself grabbing quite a few light-power/speed outfielders this year.¬† I think everyone will because there's just so many of them.¬† We never landed on a term for these guys for the glossary so I think I'm gonna just call them Chipotles.¬† They're all over the effin' place and they are a perfectly good option…until you see something better.¬† No one'Äôs getting anything from catcher, so I took a late flyer on Avila.¬† I like him; I am not reaching for him.¬† Finally, I was a bit low on power through 20 rounds, according to the War Room, so I grabbed Carter late.¬† I could've grabbed Ludwick or Soriano there instead, but then I would've had to walk into traffic on the Boredom Highway where everyone is driving 7 MPH.¬† Whoever you grab for utility, take some upside.¬† In the end, this really is just an exercise.¬† It'Äôs fun though!¬† For me.¬† So what do you think of my fantasy fantasy team?¬† Don'Äôt like it?¬† Go to the top 400 and make up your own fantasy fantasy team and post it in the comments.¬† Or not.¬† Decisions, decisions!