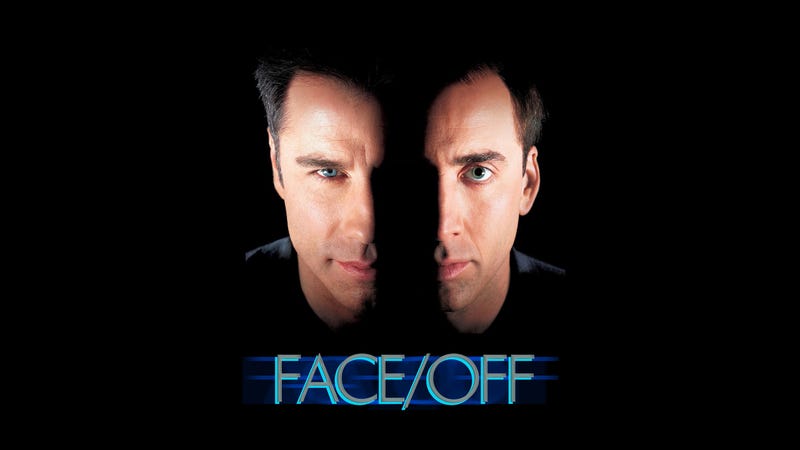 Face Off, an American classic. If you haven't watched it, [email protected]#! off. Your life is incomplete. I was going to write a brief synopsis of the movie, for those that haven't seen it, but I don't want those folk reading my piece anyway. Go watch the damn movie!!! For those of you on tilt and want to rip my head off, I do love you guys…especially since you actually took the time to read what I just wrote. Seriously, though, the Razzball community is the best thing out there.
So, why Face Off  for this week's Bear or Bull?
In the most brilliant maneuver since the Greeks infiltrated Troy with a wooden horse, the Dodgers infected a division rival while keeping one of their top pitchers. Here's how it went down:
11/4/15 – Zack Greinke elects for free agency
11/16/15 – Dodgers sign RHP Luis Pasen to a minor league contract
12/8/2015 – Arizona Diamondback sign Greinke to a six-year, $206.5 million contract
1/7/16 – Dodgers sign Kenta Maeda
Who's Luis Pasen? Exactly. If you say his name fast enough, it sounds like "patsy." If you say it doesn't, please refer to the 11th word in the intro. Anyways, right after Pasen was signed, both he and Greinke were whisked away to the secret underground surgery room underneath Chavez Ravine, where Jamie McCourt would allegedly "work out." Farhan Zaidi and Andrew Friedman both spent hours debating whether they should go the superficial Hollywood way or go 100, as the kids say. The surgeons were called in and Greinke's face was removed and melded onto Pasen's. During that process, Zaidi and Friedman were informed that a sushi chef in Little Tokyo had committed seppuku after learning that he had been serving fake salmon to his customers. His face was removed and put onto Greinke.
Now, according to medlineplus.gov, face reconstruction surgery takes about 6 weeks to heal. I couldn't find information on total face removing and melding onto another person, so I'll just go with the status quo here. If you look at the time from when Pasen was signed to when Kenta Maeda was signed, that's around 6 weeks. Hmmmmm. The topper to the whole caper was getting the Diamondbacks to take Pasen…I mean Greinke…and pay him $206 million. For those wondering, Pasen does get his base salary plus a face replacement fee. The rest goes into the Dodgers war chest. Hey, the US government has a black budget. You think that shit doesn't happen other places as well?
So, if you're keeping track at home, Pasen turned into Greinke, who turned into Maeda. But…for you Hardy Brothers out there, that leaves a minor league roster spot open. So, the Dodgers "drafted" Andre Scrubb in the 2016 MLB Draft. C'mon man!!! Scrubb? Really? Dude doesn't even have a Wikipedia page. Gotta give credit to Zaidi and Friedman, though, because the back story and pictures plastered on the internet are of first-rate quality.
Oh, Son!!! You are one crazy Korean man!!! Am I? Let's break it…break it…break it down.
They both throw from the right side. Both have similar arsenals: fastball, slider, curveball, and change. Both throw their fastball in the 89-92 mph range. When with the Dodgers, Greinke had a K/9 in the 8-9 range. Maeda was 9.17 last year. The batted ball and plate discipline numbers were all very close to each other. The only difference was that Maeda gave up more walks and home runs. Is the Son still crazy now?
Ok, let's get serious. NFBC ADP has Greinke as the 21st pitcher off the board and Maeda the 22nd. That seems kind of crazy to me. I'm guessing people are betting on a bounceback from Greinke and the league figuring out Maeda the second go around. Makes sense. But didn't you just read the above!!! That ain't Greinke!!! Ok, my bad. Back to serious mode. Chase Field, where Greinke pitches half of his games, was the second-most generous stadium in all of baseball last season for homers. Any wonder why his HR/9 was 1.30 last season? In fact, the last time it was at 1 in the major leagues was back in 2011. The most troubling things for me regarding Greinke are that his fastball was rated as one of the worst in all of baseball last year (20th-worst to be exact), which correlates to the swinging strike rate going down and contact rate going up. Batters made contact on 90.5% of pitches in the strike zone last year, after being in the 85% range the prior three years.
Pay for the real Greinke. It's up to you to figure out who that is, though.
VERDICT: