Why did I choose to preview the Marlins? This team is terrible. The good news is that they appeared to hit rock-bottom last season and might see some improvement this year. They made some interesting signings to fill their lineup and have a talented, young pitching staff to work around. The shortened season is actually a perfect thing for an organization like this too because it speeds up their development period and it allows them to get free agents on the cheap next season. With that in mind, let's take a look at some of their statistics from last season.
If you have any comments or questions, write me here or reach me on Twitter @Bartilottajoel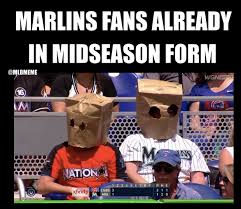 2019 Recap:
Record: 57-105
Runs Scored: 615 (29th) 
Runs Allowed: 808 (19th) 
Stolen Bases: 55 (24th) 
ERA: 4.74 (20th) 
WHIP: 1.35 (17th) 
Saves: 27 (29th) 
Strikeouts: 1,378 (21st) 
2020 Win Total Projection: 64.5 Wins (This has obviously changed but that would equate to 32-33 wins in the projected 82-game schedule)
Strengths
Young Pitching
Man, imagine what this young pitching staff would look like with Jose Fernandez toeing the rubber once every five days. That has taken away a number-one for this rotation but they still have some fun guys to build around. Caleb Smith is probably the best option among the five options but guys like Sandy Alcantara and Pablo Lopez have some serious promise themselves. Jordan Yamamoto also got off to an unbelievable start last season in his rookie campaign and it's very likely that he'll improve this year as well. This team will be only as good as its pitching staff and it seems very possible that one or two of these guys will have a breakout season in a spacious stadium like Marlins Park.
Weaknesses
Offense
This offense has seen some major growth this season but it's still not a good one. Adding Jonathan Villar, Jesus Aguilar and Corey Dickerson is a nice boost for the 29th-ranked offense but it's not good enough to make them scary. It takes a little bit of the load off of the shoulders of guys like Brian Anderson, and Garrett Cooper but those guys will still be in formidable spots in the lineup. They do have some fun youngsters like Jorge Alfaro and Isan Diaz as well but they also have a ton of flaws in their respective swings as well. So, while the ticker is up on this offense, don't expect them to be anywhere near the top half in the MLB in runs, homers, or OBP.
Starting Lineup
(2019 Stats)
Starting Rotation  
Bullpen 
| | | | | | | | |
| --- | --- | --- | --- | --- | --- | --- | --- |
| Role | Player | IP | W | S | ERA | WHIP | K |
| Closer | Brad Kintzler | 57 | 3 | 1 | 2.68 | 1.04 | 48 |
| Setup | Ryne Stanek | 77 | 0 | 1 | 3.97 | 1.30 | 89 |
| Setup | Yimi Garcia | 62 | 1 | 0 | 3.61 | 0.87 | 66 |
Bench
| | | | | | | |
| --- | --- | --- | --- | --- | --- | --- |
| Player | Position | R | HR | RBI | SB | AVG/OBP/SLG |
| Jonathon Berti | UTIL | 52 | 6 | 24 | 17 | .273/.348/.406 |
| Lewis Brinson | OF | 15 | 0 | 15 | 1 | .173/.236/.221 |
| Matt Joyce | OF | 32 | 7 | 23 | 0 | .295/.408/.450 |
Sleeper Pick
Caleb Smith (SP)
Smith is about the most boring name possible but this dude is far from ordinary. He's a talented lefty with some nasty stuff and it's why he found himself in my streamer article a ton last season. While a 4.52 ERA and 1.23 WHIP is nothing to write home about, the other numbers tell a different story. A 26 percent K rate matches beautifully with his .221 average allowed. Those are spectacular numbers from a blossoming southpaw and we absolutely love that he gets half of his starts in a pitcher's haven like Marlins Park. For his career, Smith has a 3.53 ERA, 1.16 WHIP and 10.2 K/9 rate at home.
Smith actually pitched a career-high 153 innings last season and that's probably a major reason why his numbers fell apart in the second half. In his first 18 starts last season, Smith posted a 3.35 ERA, 1.05 WHIP and 10.9 K/9 rate across 102 innings of action. If he can maintain that sort of stuff for what's likely to be an abbreviated season, he could be one of the biggest steals in fantasy drafts past pick 150
Bust Pick
Jonathan Villar (SS/OF)
Villar is actually the only Miami player being taken in the top-150 and is going right around pick 50. That makes him a de facto bust pick because he's really the only guy with serious fantasy value on this roster. The 24 homers, 111 runs scored and 40 steals last season has earned him every bit of that lofty price tag but it's going to be tough to maintain that in a place like Marlins Park. That is arguably the hardest ballpark to homer in and this is a guy who had just 54 combined home runs in his first six seasons. It would be hard to imagine him reaching 20 in a place like Marlins Park.
The stolen bases are the thing that keeps him extremely valuable but it's simply not worth the high price tag. A .336 OBP and 27 percent K rate since 2016 is a bad sign for someone being drafted this high and taking him this high seems silly with the speed being his only major asset in his skillset.
Outlook
To put it nicely, the Marlins are a rebuilding team. To put it realistically, the Marlins are arguably the worst team in baseball. There are a couple of other teams who could be worse but this club will definitely contend for the worst record in the MLB. What makes that even more amazing is the fact that they've improved exponentially this season. Adding Villar, Aguilar and Dickerson to the offense is a huge boost and this young pitching staff obviously has a ton of potential. They're definitely a team to keep an eye on but don't expect too many wins despite the improvement in personnel.
I also want to take this opportunity to say what a privilege it was to watch a guy like Jose Fernandez do work. He was easily one of my favorites players in his prime and it's sad that we couldn't see the stud that he was surely going to develop into. Could you imagine a team with Giancarlo Stanton, Christian Yelich, Marcell Ozuna, J.T. Realmuto and Fernandez for the past five years? Wow, that would be something. His passing has altered this franchise in such a big way and this is the inevitable process of a rebuild after an unpredictable and devastating loss.