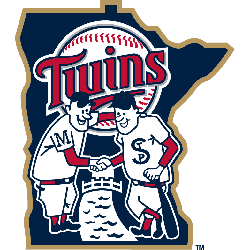 Not since  Jack Morris threw 126 pitches in a 10 inning masterpiece and Dan Gladden scored the winning run to give the Twins the 1991 World Series title has there been such excitement in the twin cities. Believe it or not, the land that gave us Hulk Hogan, "Ravishing" Rick Rude, The Road Warriors, "Mean" Gene Okerlund, and the backpack turned "dad rap" stylings of Slug and Atmosphere MAY also give us one of  this year's A.L Wild Card teams…or maybe, just maybe, the A.L Central Champs?
The Minnesota Twins have made some pretty interesting moves and stand poised to contend this season and you can reap the fantasy value.
The Twinkies have the youngest manager in the league in Rocco Baldelli, and he should have some fun tinkering with this lineup and applying some newfangled strategies. As of now, the lineup is projected to look like this:
This lineup has a lot of fantasy value.
Jorge Polanco could be a 15HR, 15 SB guy at the top of this order and he wont hurt you that much with average as he's projected to hit .280. He could be a catalyst and an integral part of a young core in Minny.
C.J. Cron is projected to hit in the neighborhood of 25 HR's w/ about 75-80 RBI, he should collect about 25 doubles and hit around .260. He will strikeout roughly 120 or so times.  Cron and Baldelli are buddies from Tampa and that may lend itself to Baldelli moving Cron up and down in the order to find the perfect fit for the right handed slugger, he is not a bad value at the position from the 2 hole- at all.
Eddie Rosario is a fun player to watch in my opinion. He is projected for approximately 25 Hrs, 80+ RBI , he'll hit between . 275-.280 and strikeout about 110 times, but if you look at the projected lineup, he is protected greatly and that could serve for an uptick in offensive production.
Boom stick! The acquisition of Nellie Cruz has many fans excited and for good reason. In the last 5 seasons, Cruz has hit a total of 203 HR's, for all my math majors that averages out to 40 HRs a season. "Whoa, Nellie" is projected to hit 37 HR's , but in that park this number could easily be 40- or more . He will drive in 100 runs or so, hit .275ish and strikeout 130 times. What you won't see in the projections is Cruz' impact on Miguel Sano. If Cruz can serve as a mentor and a leader on this team everyone will benefit, especially Sano.
Max Kepler. I love him. I am excited to pursue shares of Kepler in a lot of leagues this season. Max is on a one year deal, he avoided arbitration and is looking to get paid. (Aren't we all ?)  The projections for Kepler are 20-25 HR's, 75-80 RBI, he'll whiff about 100 times all while hitting in the mid .250's. Again, I feel the protection in this lineup for the middle of the order really lends itself to the potential for a nice increase in everyone's projected numbers.
Miguel Sano. Oh boy. I'll admit, I have owned shares of Sano in the last two seasons and I've lived and died by the 25 yr old corner infielder. I wont lie, he will strike out 200 times this year, unless Cruz can show him plate discipline, but when Sano connects it's going to be fun to watch. He is projected to hit 30 HR's with about 85-90 RBI. His average will hurt you but if you're in a league that doesn't penalize average well then, swing away.
The next guy that I am paying attention to is Byron " I've put on 20lbs. of muscle" Buxton. Like the rest of us, I have been waiting for Buxton to arrive in this league. If he does, he is a great asset for speed. Buxton could be a 15/25 guy, but if he breaks out we're looking at 20/30 – MAYBE.
There is a lot of buzz surrounding  Willians Astudillo, and I would love to see him as the #1 catcher on this ball club. I've even seen him being drafted in some early drafts. He can play third as well. Depending on what Sano and/or  Jason Castro do, "Willy A-Stud" could see about 270 AB's. He is an interesting  player, at 5 ft 9 and 225 lbs he's fun to watch and he has shown the hit tool with an uncanny eye at the plate, he doesn't strikeout much… at all. Astudillo has had 435 AB's at the  AAA level and has struck out 19 times. Read that as many times as you have to.  As perspective, in 1998, in his age 38 season, Tony Gwynn had 461 AB's and struck out 18 times. So, there's that.
Hot take : If Johnathan Schoop or Polanco falter, keep an eye out for  Nick Gordon to get called up and contribute. The 23 yr old  lefthanded middle infielder has some speed, it probably runs in the family (he's Dee Gordon's brother). He did experience a drop off once he made it to AAA but if he can find his hit tool at the major league level, he becomes another weapon for the Twins.
Other names : Royce Lewis is 19 and I don't think we'll see him up this year , Alex Kiriloff is closer to the majors but also, not there quite yet.
As we know, pitching wins championships so let us look at the projected rotation:
This season only 15 guys are projected to get 200 or more strikeouts (you can check out my last article where I break down pitching strategy for strikeouts) Jose Berrios is on the cusp of this elite group.
Berrios is the obvious stud of this rotation; Projected to give you 12-14 wins and 192 K's , while pitching to a 3.8(ish) ERA. Berrios is a sexy pick.  With a fourseam fastball, a curve, a sinker, and a change that can all miss bats, Berrios should be a targeted as a top 25 pitcher.
I like Kyle Gibson, he's a throwback in an ever changing game where guys don't give you 200 IP anymore, Gibby may be one of the last of a dying breed in baseball. He'll get you 12 or so wins , his ERA is a little high (4.8 ish) but he will get u some K's (163) w a nice blend of a two seam, four seam, slider, change and curve in his repertoire.
I honestly don't know what to make of Jake Odorizzi. He has a career winning % of just under .500 and has never won more than 12 games in his career. I can think of plenty of other pitchers to draft. Do I make a "Less than Jake" reference here ? If I do, does anyone get it ?
Michael Pineda. A lot of guys in the league have started using the slider more and more and I think it lends itself to IL stints. (See, I'm already using the new terminology, no more DL) Pineda was the poster boy for this, so I am curious to see how he utilizes his pitch selection coming back from the injury. Pineda has a cutter, slider and change at his disposal. He isn't a guy I would draft but I'd look at splits and batter v. pitcher match ups and consider him as as a possible streaming option at times if need be.
Hot take: Fernando Romero could slip into this rotation should help be needed, he has a 95+mph fastball, he may also see some time in the bullpen.
Speaking of the bullpen…
Well heck, I'm stumped. I can't tell you if Trevor May or Blake Parker will close in Minnesota. (In my first draft of the season I handcuffed them just to be safe.)  May did a good job for the Twins last season and Parker was effective in Los Angeles for the Angels.  If you miss the run on top tier closers then there is value here. Keep an eye on this very fluid situation. For all we know, Baldelli could play match ups every night as he does have some options in Addison Reed and Trevor Hildenberger as well. As Spring training rolls along this situation should become a bit more clear.
Well, that's my break down of the Minnesota Twins. Feel free to tweet me @Matt_Striker_
Good luck, be safe, have fun and I'll see you out there.