It is better to be lucky than good. It is best to be lucky and good.
That is how I would describe the charmed 4-year run I have had in the 15-team ToutWars Mixed league where I have finished 2nd/2nd/1st/1st. I take a lot of pride in those finishes but it is not faux modesty that stresses the 'charmed' and 'lucky' aspect. All it takes is one or two big injuries to torpedo an otherwise strong draft – ESPECIALLY in a competitive league with weekly vs daily lineup format where there are less 'grind' points to gain by using Streamonator or Hittertron. I would feel even more special/lucky about it if the Nadal to my Federer (Adam Ronis) hadn't gone 1st/1st/5th/2nd in those same years. At least I know I will have good company when the fantasy devil takes my soul and forces me to play in a 4 catcher 13 category H2H NL-only league for the rest of eternity.
Last year, everything broke right for me. As I describe in this season's draft write-up, that was the 'dream' season where drafting, in-season pickups, trades and good fortune conspired together to run away with a competitive league (137 points out of 150 – 19.5 points ahead of #2).
You cannot really follow that up in any grand way. You just keep learning, refining the process of leveraging our preseason rankings and in-season tools, and show up for next year's draft.
What Were The Final Standings This Year?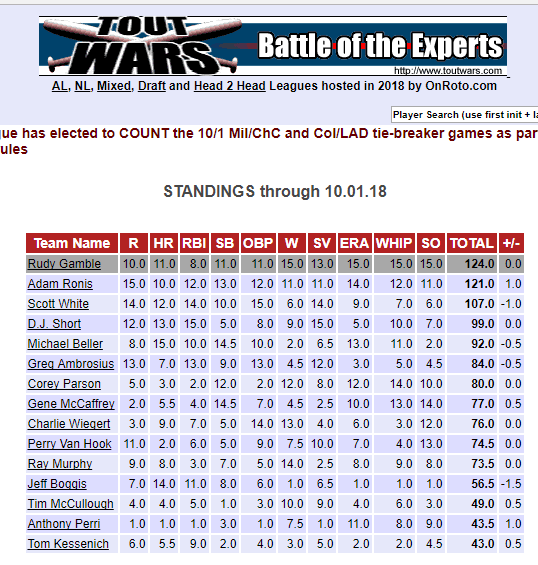 The Draft
One nice feature in this league's OnRoto.com set-up is a 'Toy Box' which has the projected standings based solely on the draft. Looks like "Draft Rudy" was the genius and "In-Season Manager Rudy" was like a wealthy man's son who just needed to not f*** things up too much. My draft is here. In summary, I had pick #1 (spoils of winning in 2017), took Trout, and then leveraged the surplus hitting value he provides (even more so in 5×5 OBP) to invest a little heavier in pitching (62% H /27% SP /11% RP vs typical 67/23/10).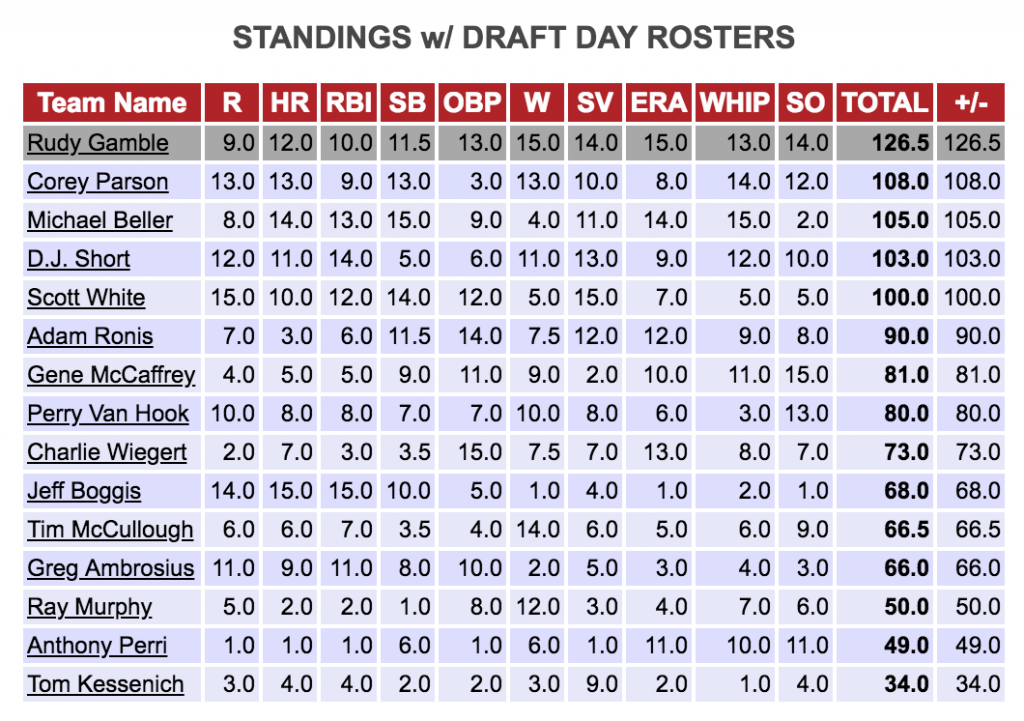 The picks that mattered most (besides Trout) were: Christian Yelich (3.1), Aaron Nola (5.1), Charlie Morton (13.1), Blake Snell (15.1), Shin-Soo Choo (16.15) and Michael Brantley (19.1).
The picks I had to overcome were: Kevin Kiermaier (10.15), Steven Souza (11.1), Jon Gray (12.15), Jorge Polanco (14.15).
The overwhelming factor was great health and performance from my drafted pitchers. Besides Nola/Morton/Snell, I had Thor, a very reliable closer duo in Rivero/Iglesias, Eduardo Rodriguez, Tyler Skaggs, and Hyun-Jin Ryu. Only Jon Gray could be considered a disappointment and the pitching depth allowed me to minimize his damage (In Lineup: 21 GS/123 IP/9 W/4.769 ERA/1.3043 WHIP/124 K's, On Bench: 10 GS/50 IP/3 W/5.980 ERA/1.4497 WHIP/59 Ks). This was great as two of my other expert league teams had massive injury issues so I could focus the Streamonator's laser beam eyeballs at those rosters.
In-Season Management
Last season, I hit on Whit Merrifield and Tommy Pham AND traded high on McCullers for Dee Gordon. No such brilliance this season.
I had plenty of holes to fill with garbage at 2B/MI (Harrison, Jorge Polanco) plus the injury/awful years of Kevin Kiermaier and Steven Souza. Looking through my team stats, the only free agents with more than 100 PAs were: Niko Goodrum (296/36/10/32/6/.317 OBP), Mitch Garver (248/32/5/41/0/.343), Daniel Palka (121/15/6/16/0/.348), and Curtis Granderson (111/21/5/17/1/.381). All generally productive but supporting characters at best.
Same for pitching. The only non-drafted pitchers that pitched 30+ IP for me were Andrew Suarez (57 IP) and Blake Parker (31 IP).
Conclusion
While I led for a good chunk of the season, Adam Ronis made a hard-charging run and made me sweat out the last week. His 121 points are actually the 3rd highest standings points in the 6 year existence of this league.
Thanks to ToutWars LLC for letting me participate and for wisely not becoming a full-fledged corporation with massive liability exposure.
Some people say the second time is sweeter. Those people are lying. The first time is sweeter. The second time is still sweet though.
Now I have an offseason to work with Foley's to figure out what kind of honorary sandwich I want on next March's Champions Menu.