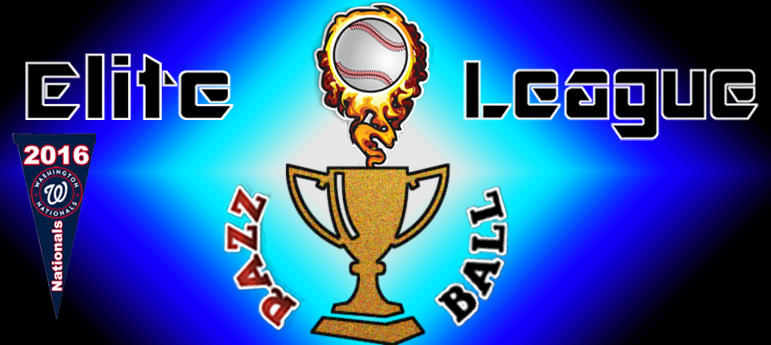 You know how they say "banners fly forever"?  Well in the REL, it's true!  The 2016 Nationals have won the inaugural 2016 Razzball Elite League season, in a truly epic 4-4 final over the AL champion The Tribe, winning on the second tie-breaker, RBIs.  You can see how close the standings wrapped up in this link, as the Nats won on a Sunday homer and Tyler Thornburg blowing a save.  Congratulations to the Nationals for posting such a dominant 2016, as us other 29 peons try to gather ourselves for a run at immortal legacy, by having our banner fly in the logo in 2017.  Here's what our AL and NL champions had to say about the first REL World Series:
What a World Series! The categories were always pretty close, but we definitely felt like we stole the championship from the Indians, as they led for almost all of the series. Who knew that a Danny Espinosa home run and Tyler Thornburg blown save win would be the deciding factor for the championship?
Trea Turner carried our offense, stealing bases left and right. We also got some surprisingly solid games from late-season acquisitions Tucker Barnhart, Brandon Phillips, and Miguel Montero, which helped offset the losses of Wilson Ramos, Bryce Harper, and Daniel Murphy. It was a great matchup between us and the Indians and we hope to see them again in the championship next year!
The Tribe
Congratulations to the Nationals on a great win.  It was a fantastic league and a really fun year.
Now on to my thoughts.  Most people who play fantasy for a long time will have stories like my this past week.  The tragic loss.  This one will definitely count as one for me.  Me stumbling around my house Sunday evening literally sick to my stomach with regret and shock.  My wife asks me what's wrong since it's so clear that I'm upset.  I hesitate but needing to get it out I tell her about how I lost my fantasy baseball league in crazy fashion.  She, of course, shakes her head and walks away from me like I'm a crazy person. So I'll try again here and write it down for our final REL post of the year.
8-1-1.  That was the score going into the final day.  The categories are all close so I know it's not a safe lead but still it's better the being on the other side.  I honestly feel pretty lucky to be in that spot going in.  The Indians had the rain out earlier in the week and I thought that would be it.  With so many of our players tied to our parent team and the categories so close I thought that would cost me and ultimately it did.  But we were still up going into the last day.  That morning I did some looking and heard that the Tribe was going to start Gomes.  It didn't matter too much to me because I have Gattis and was worried about putting Gomes in anyhow.  I was protecting a lead in BA and didn't want a guy who hadn't played in a while tanking me there.  This was the wrong decision and one that haunts me the most.  I should know to go for the AB's when I can with all the other close categories.  I end up with and empty spots with catcher and UT, Gomes goes 1 for 2 with 1 run, 1 HR, 2 RBI.  I lose the run cat by 1, RBI by 3, BA by .002, and tied in HR.  This decision cost me the title.  But the story of my afternoon doesn't end there.
So I watch the Indians win and I start to get excited.  In spite of my blunder with Gomes I'm still up.  I pick up a win with Tomlin and 2 more saves/holds with Miller and Allen.  His Nationals are in the 7th inning.  I'm up in all 5 pitching categories and with the win I'm know that fact that Scherzer is going to get lucky with a win shouldn't matter as I'll still be up 1 win.  I'm thinking all I need is for him not to hit another HR the rest of the way.  Espinosa got him one already to tie but I'm still up 5-4-1.  Then I notice it.  Thornburg blows a save and it's a tie game going into the 10th.  I click on the game and see base runners on for Milwaukee and I believe nobody was out.  I honestly closed my computer, turned the TV off and walked away.  Being a Cleveland fan for so long really does something to you.  You can see these things happening.  I try to go outside to find a chore to do.  I'll check back later I tell myself.  I mess around in the garage for a few minutes until I can't stand it and I check my phone.  There it is.  Thornburg gets the BS and the win.  The score is now 4-4-2.  First tie breaker is HR and we are tied, second tie breaker is RBI's.  I lose.  I stagger inside and have my wonderfully consoling talk with my wife and decide to take the dog for a walk.  The agony of defeat.
Now a couple days later I feel better.  Still stings a little but it was a great year.  We came back from 10+ points down to win the AL.  We are in a good spot with the 5 year prize.  I would like to thank JB and Slim for a great job with this league and allowing me to play.  It is a very unique set up which adds some interesting twists.  We'll get them next year!
Go Tribe!
Thanks again to all of our REL owners and dynasty readers over this season, and looking forward to 2017!  Sorry Indians, I think you meant 'Go Brewers'!