We here at Razzball take a perverse, Nelson Muntzian joy in pointing out the failures and shortcomings in fantasy baseball and baseball in general – whether it be identifying overrated players (see Grey's Fantasy Schmohawk series),  highlighting historically bad seasons (see my Historical Spotlight series), or just talking general smack about players in our daily roundups.
We consider it a byproduct of all the player rooting and hyping that comes with the production of a fantasy baseball blog.  And much like the molasses that's a byproduct of sugar production, this joy may be darker than the main product but it tastes just as sweet.
So with that acknowledgement, we sadistically ring in the 3rd annual installment of Fantasy Razzball – the game where the goal is to manage the  worst fantasy baseball team possible.  In 2008, we started with one 10-team league of bloggers.  In 2009, we grew to 90 teams composed of bloggers and commenters.  In 2010, we're planning to grow even more.
One big change from last year is the grand prize.  Last year, we reached into our shallow pockets to give out $50 of Taco Bell coupons.  This year we found a corporate sponsor in DreamMaker Spas who, in partnership with SpaDepot.com, will be awarding the winner of this year's challenge a free Dreammaker Fantasy Spa which retails at $3,199.  Think about it guys – winning our challenge can be the first time in your life where fantasy baseball helped you get laid!  (See bottom of the page for contest details.  Please feel free to read them in a sped-up announcer voice like they do in radio commercials).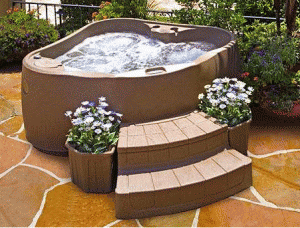 We have a few changes in the game rules that we think we'll make for an improvement:
1) We're going to cap Innings Pitched at Yahoo!'s default level of 1,250 IP to avoid the rampant streaming of 2-start pitchers.  This will get crappy relievers some roster space too.
2) We're creating two bogus teams per league that will be assigned the top 54 players (36 hitters, 18 pitchers) based on regular fantasy baseball rules.  The reason?  Well, it's inevitable that 1-2 players might no-show the live draft.  If they didn't adjust their pre-draft rankings, you end up with teams drafting Albert Pujols and Hanley Ramirez in the first round.  This gives the other teams an advantage in snapping up the crappy players.  By taking 54 of these candidates out of the running, this should minimize the impact of this happening.
3) We're decreasing the penalty of HRs from -10 to -6.
League Rules
10 Team Leagues, MLB universe, uses Yahoo! position eligibility
Weekly Roster Changes (leaves you time to lavish on your Daily Leagues)
C / 1B / 2B / SS / 3B / CI / MI / 5 OF / 9 P
1,250 innings cap.  No minimum IP.  No AB mins/maxes
We'll be commissioner of all leagues and will designate one person per league to help arrange a draft date that works for everyone.
Leagues will be filled on a first come, first serve basis.  If you want to play in the same league with a couple friends, no problem.  Just submit the e-mail addresses at the same time.  It's a cap of 4 though to avoid any major collusion.  (Note that we also adjust points based on League competitiveness)
1 team per person.
Blogs/sports sites may have multiple participants but one team per writer.  These blogs will be noted in the standings and during periodic standings posts.  It is expected – but not required – for some quid pro quo mention of Razzball on your site.  We appreciate it if you mention our generous corporate sponsors (DreamMaker Spa & SpaDepot.com) as well.
Hitter Stats

AB = +2
H = -3
R = -4
HR = -6
RBI =  -4
K = +2
Pitcher Stats

IP =  -1
HR = +4
L = +8
K = -1
ER = +1.5
H+BB = +1
The point structure makes it so that about 2/3 of the league's hitters as well as just about every pitcher has positive value.  So leaving a roster spot open or filled by a guy who plays once a week will hurt your team.
Contest Rules
You need to be 18+ and live in the Continental US to have the spa shipped to your address.  If you are 18+ and live outside the Continental US, you can 'gift' it.  Full-time bloggers on Razzball are ineligible (even for gifting).  In the case that a Razzball blogger wins, the prize will be awarded to the next highest ranked non-Razzball affiliated participant.  Shipping is included.  Installation will need to be paid for by the winner.
Any sign of collusion among league owners for the intent of giving a team an unfair advantage – including highly dubious trades – will disqualify the winner and the spa will be awarded to the next highest ranked non-Razzball affiliated participant.  Running 2+ teams are also grounds for disqualification.
How To Sign Up
Please e-mail me at [email protected] with the e-mail title of "Join Fantasy Razzball 2010".  Within the e-mail body, note either your site in the e-mail or your Razzball commenter handle.  Otherwise, we'll just use the name attached to your e-mail.