In prepping for 2010 fantasy baseball draft day, I read that one wants/needs reliability at the top of the draft. Got me to thinking about which players and teams have the best records for durability. I selected any player that had 150 GP for any one season from 2006 through 2009, four years. There were 10 players who achieved ironman gold (at least 150 GP for all four years), 31 garnered silver (three years), 43 got bronze (two years), and 19 new players hit the magic number their first full year in 2009.
GOLD: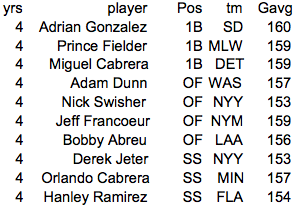 Not one 2B or 3B held together for four years.
Adrian Gonzalez, Prince Fielder, Miguel Cabrera and Hanley Ramirez: "Thanks for the validation."
Jeff Francoeur:  "Reminder to self.  Make sure it is productive time."
Bobby Abreu and Derek Jeter:  "You know I was thinking he was getting old, but will the fall be that far? Maybe he slides far enough in the draft to be a value pick?"
SILVER: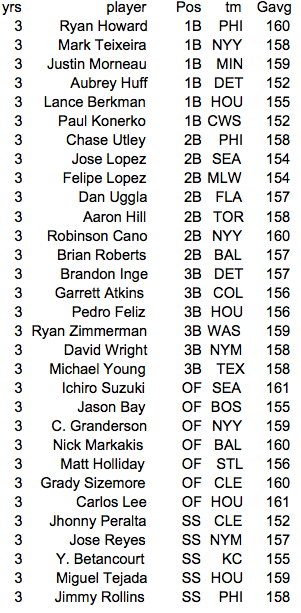 8 1B and 8 SS made the top two groups.
11 OF. ONLY 11? Aren't there a lot more of those guys? Is it their heads banging against the walls?
Finally, thought it might be interesting to take a peak at the team track records (count of 150 GP seasons over the four years, per team):

When I look at the list, I kind of think about prospects. "What is the likelihood of Jake Fox getting 150 GP  in Oakland?"
Inadvertently ran into an interesting twist. When I first ran this, it was against a database that assigned the current team to all previous years for a player, regardless of where he actually played. This artificially gave NYY a total of 22, with credit for games played on another team. The spin I put on this is, "The Yankees are buying players and building their team with the thought in mind that durability is important. They are buying players that have a track record of staying on the field."
Maybe I should too…