We'll get to the team, as they say on the the Little Chocolatiers, shortly.  First, this was my least favorite draft I've done this year and maybe in the last two years.  For the first time in a while, I'm not sure if this team has what it takes to win.  So, because of that, it'll probably end up being my best team.  As William Goldman says, nobody knows anything.  I can look at a team and tell if it should struggle or should excel.  In the end, shoulds turn to unicorns and guys like Cliff Lee win a Cy Young, though not this year.  So should this team I just drafted do well?  Forecast:  cloudy.  Could?  Sure.  All this second guessing might just come from owning Figgins for the first time in four or five years.  Anyway, here's my 2010 fantasy baseball team:
13 teams, roto, 5×5, C, 1B, 2B, 3B, SS, CI, MI, OF, OF, OF, OF, Util, Util, P, P, P, P, P, P, P, P, P, BN, BN, BN, DL, DL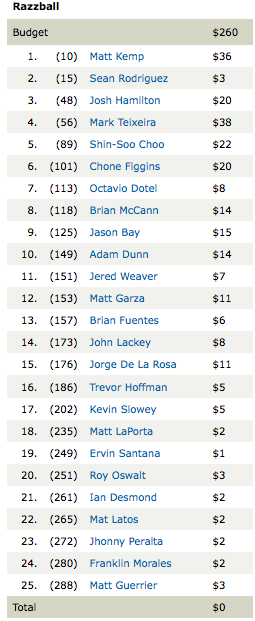 Matt Kemp and Mark Teixiera and My Own $30+ Rule Squashed
I hardly ever break $30 in an auction. People spend like crazy in the beginning and you end up with incredible values later.  Well, there goes that.  Honestly, I think it's because I'm in too many leagues this year, I just had to mix it up.  Usually when you spend over $30, your team ends up unbalanced.  Speaking of unbalanced…
Damn, Dawg.  This Team is Pitchy

Sometime after I drafted Shin-Soo Choo, I started to think to myself.  We're about 100 picks in, maybe I should get a pitcher.  About 20 picks later.  I found myself thinking I really should get a pitcher.  Then I grabbed Dotel and I thought cool, but maybe I might like a starter.  About 40 picks after that I found myself battling for starters with one other team that needed pitching.  After I lost out on Bills and Hamels, I got my first starter, Jered Weaver.  I think I then vomited and grabbed Garza.  Then I sat in my own vomit and drafted Lackey.  Then I just started throwing SPs on my team in hopes if I grabbed 8 — that's right, 8! — maybe I'd have 6 good ones.  There is a low max IP limit (1250) so I might be able to sneak by with 5 SPs and good closers.  Not that I have good closers.  Cust kayin'.
Chone Figgins and Brian McCann and a Teaspoon of WTF
Let me set the scene.  Victor Martinez just went for $17.  Brian McCann gets nominated and he's sitting there at $13.  Clock starts ticking and I refuse to let him go for $13, so I raise it one dollar assuming someone will take him to $15.  Well, I just bought myself a $14 McCann.  This is actually one of my favorite picks of this draft.  $14 for the guy I believe can be the number one catcher.  Like I've always maintained.  I like McCann, just don't like drafting a catcher in the 5th round.  Well, there are no rounds here.  Now, for the Figgy scrolls. Robinson Cano went for $24 a few picks before and, at 2nd base, I have Figgins right after him.  So when someone bid $19, I went to $20.  I thought someone would go to $21 and I'd let him go, but at $20 and at 2nd base, I gave Figgy one more chance.
I Punted MI.  Like, as in, I Didn't Even Draft One
That's right.  No MI.  Take that establishment!  Okay, technically, I didn't punt it.  Sean-Rod didn't have 2nd base eligibility when I did this draft, so rather than draft from the Valbuenas and the Izturii of the world, I grabbed two MRs at the end hoping to get vulture saves.  Worked for Morales, not so much for Guerrier.  Guerrier's now gone for The Duke of Duchscherer.  Right now, I'm rocking Kelly Johnson at MI and this has been one of my best performing teams so far.  Go figure.