Note: Besides providing advice and news on fantasy baseball, we at Razzball created and now sponsor a game where the goal is to manage a team and compile the worst stats. These Historical Spotlights honor those players who would've excelled in such a format. See here for more info. See here for the summary of the inaugural 2008 season.
The 1998 HR race between Mark McGwire and Sammy Sosa has received credit for many things:
Getting America excited about baseball again after the long shadow of the 1994 strike.
Showing that man hugs are in no way gay.
Allowing sports journalists to master the art of triflection – genuflection at the time of McGwire and Sosa's feats, reflection after the painfully obvious fact that they were 'roided up became inarguable, and deflection of any responsibility for their uncritical hype in the matter.
Popularizing andro, backne, and the chest tap.
Inspiring Barry Bonds to conduct an experiment to see if multiplying the negative of his natural dickishness with the negative of artificial 'roid rage would turn out positive (answer: in short term, yes. long term, no)
But the McGwire-Sosa race also succeeded in inspiring the envy of the American League. Despite a 2nd World Series win in 3 years by the Yankees, the National League dominated the headlines thanks to McGwire and Sosa. And, adding insult to injury, both were ex-ALers that had been fleeced in trades with a pre-Beane Oakland and a harbingerific Dubya-owned Texas. How can you top a race to break the cherished single-season HR record? The same way you topple any top-heavy competitor – you aim low.
And no one aimed lower in 1999 than Brian L. Hunter of the Tigers/Mariners and Darren Lewis of the Red Sox as they competed in….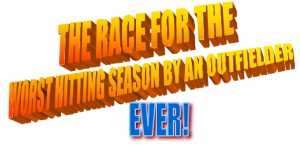 First a little background on our participants:
Brian L. Hunter was a speedy outfielder who raced through the Astros system, making the big leagues in 1994. He wasn't fast enough to claim a middle initial-less name, though, as a Brian (R.) Hunter made the majors in 1991 for Atlanta. You know what the L stood for? Lee. What, you thought I was gonna say Loser? That's just mean. But if ever there was a sign that BLH had potential for Razzball Spotlightdom, it was his trade to the lowly Tigers in 1996 that included past honoree Jose Lima.
Darren Lewis was a somewhat speedy, no-hit CF who became a full-time starter with the Giants in 1993 and was best known for his glove and nearly being traded to the Yankees in 1995 for a struggling Bernie Williams (Gene Michael ignored Steinbrenner's impulsiveness). By the time the 1999 rolled around, he had been traded by the Giants and bounced around 3 other teams.
So you may ask "How do you determine offensive ineptitude?" (I gave you credit for a big vocab word.) We're going to use Adjusted OPS (OPS+) which is a player's OBP + SLG adjusted for the park and the league in which the player played. Dorky but effective.
To add some perspective, we're going to use two poor-hitting outfielders as reference points
Gary Pettis – a speedy 1980's defensive outfielder that played primarily with the Angels. He managed a .236 BA and an 80 OPS+ over his 11 year career, hitting about 3 HRs per 500 ABs. (Rumor has it that Gary Pettis, Rod Carew, and Angels 78-year old owner Gene Autry once held a home run hitting contest on a Monday night. It was ruled a zero-zero-zero tie four nights later as Carew had to go home for Shabbat dinner.)
Pete Gray – a light-hitting outfielder who played in the WWII era and had a 48 OPS+ in 234 career ABs. It's worth noting, though, that he only had one arm (see adjacent photo). Gray had good speed and was a surprisingly deft bunter but he suffered from an inability to hit curve balls (aka Serrano Syndrome) and difficulty hitting HRs due to the topspin generated by his tennis forehand-like swing. (He finished with the second highest average amongst one arm players, ahead of Jim Abbott but well behind Johnny Damon.)
Let's take this race month-by-month. Since neither Hunter and Lewis are great photo subjects, we've replaced them with the Crocodile Hunter and Jerry Lewis in the below line graph.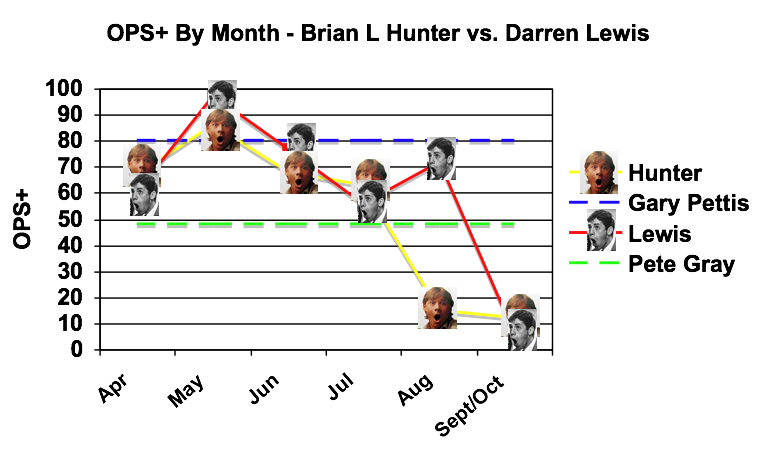 April – Both players fell within the Razztastic Pettis/Gray hitting range with Lewis slightly in the lead (with the lesser OPS+). Towards the end of the month, Hunter gets traded to the Mariners where he's placed at the head of the lineup followed by A-Rod, Griffey, and eDHgar Martinez. Fans christens it the 'Butter Face' lineup. Lewis hits #2 for the first 10 games but for the rest of the month he, like ham on a pig, occupies the back third.
May – Like Dave Winfield, Hunter and Lewis had their best months in May – both topping Pettis' career average. Highlights included a .312 average for the month by Lewis (Hey Lay-dee!) and a massive 1 HR / 10 RBI power display by Hunter (Crikey!)
June – Hunter finishes below Lewis for the 2nd month in a row as they both nestle within the safety of the Pettis/Gray zone.
July – As the temperature started to rise, Hunter and Lewis's OPS+ started to plummet. Hunter's 2 HR month catapulted him ahead of Lewis despite an OBP of .271 (guess it's hard to work a walk when A-Rod and Griffey are behind you). Neither invited to the All-Star game.
August – Lewis has a slight rebound while there is no Rhyme for the Ain't Shit Mariner. Aided by Pinella's decision to wedge David Bell b/w Hunter and A-Rod in the lineup, Hunter receives a few less meatball pitches and manages a .171 AVG and an astonishing .190 SLG. Note that going 1-for-5 with a single nets a .200 SLG. Hunter couldn't manage that pace for 105 August ABs.
September/October – With the season on the line, Lewis turned it off big time in September/October with a .160 AVG over 81 AB. A lone double boosted his SLG to .173. All while in a pennant race with the Yanks during which Jimy Williams inexplicably batted him second 16 times. Hunter didn't flinch – he managed to lower his monthly average to .170 although his SLG crept over the .200 mark. But that was enough to win the battle….
The final stats…
Hunter – 539 AB/79 R/4 HR/34 RBI/.232 AVG/.280 OBP/.301 SLG/.581 OPS/ 48 OPS+
Lewis – 470 AB/63 R/2 HR/40 RBI/.240 AVG/.311 OBP/.309 SLG/.620 OPS/ 57 OPS +
As if these stats aren't Razztastic enough, 1999 was a huge offensive year. The AL SLG and OPS averages were the 2nd highest in the 20th century (first was 1996). Combine awful stats with strong league hitting and you've got an offensive performance by Brian L. Hunter that is the worst by an OF with enough ABs to qualify for the batting title since 1904 (granted not ever but still…). It was bad enough to tie the career OPS+ of the aformentioned mono-armed Pete Gray.
Darren Lewis' 57 OPS+, while higher than that of the hitting cripple and Pete Gray, tied for the 2nd worst offensive performance by a qualifying OF.
While September/October hinted at lesser things from Hunter & Lewis, they never got more than 250 ABs in a season to plumb further. Hunter played for four more teams in the next 4 years. Lewis hung around the Sawx for two years and then a last year with the Cubs.
While we can never truly know whether Hunter and Lewis records are on the level vs. tainted by performance-enfeebling drugs, we will give them the benefit of the doubt. Because even Razzball can be guilty of triflection now and then.