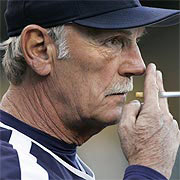 Today, Verlander is buying the next round of Camels for Leyland and his fantasy baseball owners. If it wasn't for a great catch by Joyce and Big Papi swinging on 3-0, Youk's home run would've been of the grand slam variety. As I told a frequent commenter who lurks off the homepage, "Everything on (Verlander's) charts is wrong. His walks up, fly balls up (metaphorically and literally), BABIP (showing he's not just getting unlucky), etc. I'm worried, frankly. I would not trade for him, but I also don't think you can trade him away. His value is too low." What a pickle! So what do you do with Verlander? Well, you have to start sending out feelers to see what he can garner in a trade. If offers come back for Renteria and Sherrill, you pass and hope Verlander steps his game up. If you get offered Votto, you have to seriously consider it. Otherwise, you and Leyland may be talking with a tracheotomy soon. Anyway, here's what else I saw yesterday:
Brett Myers – I'm officially worried about Myers. Maybe moving him to the bullpen last year wasn't such a great idea (not that anyone besides Charlie Manual's closest family actually thought it ever was a good idea). I wouldn't drop him, but you can't start him at this point.
Jo-Jo Reyes – I saw nothing that would tell me to drop him. Then again, I didn't see much because he was pulled with a blister. No word if he misses his next start.
Carlos Villanueva – Two runs in the first should've been unearned. Bill Hall pulled a Ryan Braun and let a Hanley grounder get past him. Bad official scorer, bad. Then in the third inning, Braun pulled a Braun and slid for a blop single and turned into a double. Then Treanor hits the foul pole with a three run homer. I know, all of this is little consolation, but Villanueva wasn't as bad as the line. On a separate but related note, I'm actually really annoyed with the Brewers in general. Okay, whether you asked or not…
Joe Dillon – Is Ned Yost stupid? Seriously, just because he sits Fielder he has to bat Dillon in Prince's spot in the lineup? This might be the dumbest thing I've ever seen (and I've seen some dumb things, remember I watch reality TV).  I mean, Dillon's not an awful player, but Yost bats him third? Why not put names into a hat? This would be reason enough for me to fire a manager. I don't even like Braun and I think it's absolutely whatupid (whack/stupid). People in Milwaukee, put down your frozen custard and rise up! Dillon could go 4-for-3 (if that were possible) with six home runs and 30 RBIs in this game alone and it would be whatupid. /rant
Ryan Braun – .257 after an 0-for-5. Didn't like him coming into the year, still don't like him. And I like the Brewers. I like their announcers. I like Milwaukee. Great city. Good people. Okay, I'm ranting again, but this is really frustrating me. If I were the type to do emoticons, and if I knew the emoticon for frustrated, I would do it. Argh.
Edwin Jackson – I like Jackson to a certain extent. He was a big name prospect that floundered in the Dodgers organization for a while. He's been pretty uneven this year, so unless your leagues deep I'd be careful.
Doug Davis – He's been cleared to begin rehab. Good for Doug. Stay away in fantasy baseball.
Ryan Ludwick – Vincent aka The Queen's Assassin hit two home runs yesterday. Whatever, I guess you don't need that on your team. Now I must kill… the Queen.
Dioner Navarro – Okay, so I'm the only one talking about him. That's reason to not pick him up? Seriously, what are you people doing? Are you looking at the fact he's only owned on 2% of all teams and saying, "Grey's effin' bonkers. Nobody wants this guy. I'm grabbing Pudge."  Is it because you don't know how to pronounce his first name? Dioner (for lack of any nickname) hit a grand slam yesterday.
Shane Victorino – Last five games, batting .363, 8 runs, 2 steals. Werth, one start and that was against a lefty, which makes sense.
Nick Markakis – I'm going to touch on this in the next week or so, but in ESPN's 'new' rankings they've moved both Markakis and Rios up to 21 and 23 respectively. Maybe they've crawled out of their caves over there in Bristol, Conn.
Miguel Tejada – I'll be the first one to admit that I'm really hard on guys that are suspected of steroids, but Tejada I love. I can't give you a reason why. I just thought you needed to know that.
Wilfredo Ledezma – He looked fine, until he was pulled after 63 pitches. The Braves announcers said he might have hurt himself going after a popup. (The Padres didn't broadcast the game. Word on the street is they're contemplating not showing the Padres when they're batting either.) I couldn't get confirmation on this injury, so, ya know, stay tuned. Or not. You do what you do.
Troy Percival – The most surprising thing to me is that he's still the closer. Okay, the most surprising thing is these were his first earned runs all year.
Eugenio Velez – He's 1 for his last 19 with two steals. He could end the year with more steals than hits. He could go 30/30. Thirty hits, thirty steals. On any other team, he's platooning with Willie Mays Hayes.