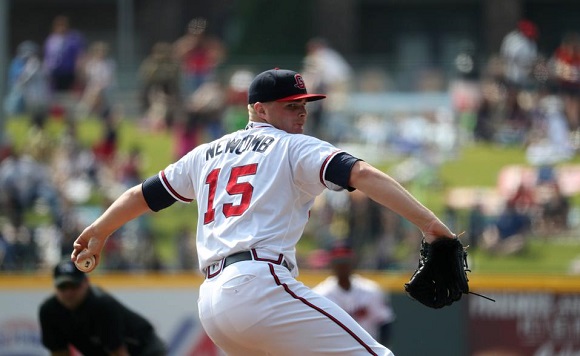 Welcome to Week 5 as we scurry along and try to figure out which low-to-mid tier pitchers are actually good and which ones are all smoke and mirrors. You'd think we would have come up with an updated phrase for "smoke and mirrors". Nobody has really used smoke and mirrors since, like, 1920. I have no idea if that's accurate. In any case, there is plenty of two-start action to go around this week. Here they are, tiered for your pleasure. Let's have a gander at some of the more interesting options as we go through those tiers as well, shall we?
Tier 1 is as no-brainer as no-brainers get this week. You don't even need a brain to start these guys!! Take out your brain and just let it rest on a comfortable pillow for awhile. It's been working hard. Give it a break. I shall choose to place my brain on my wife's pillow, which cost well over $100 but contains some sort of self-cooling sorcery that keeps your head cool for 8 hours. You no longer need to search for the other side of your pillow to remain cool throughout the darkness of night.
Eduardo Rodriguez – Rodriguez weasels his way into Tier 2 this week thanks to a pair of favorable dates with the Royals and Rangers. E-Rod has posted a 24.5% K% himself through 22.1 innings, and with these whiff-heavy opponents you should easily get yourself a strikeout per inning this week. He's also been limiting opposing batters to 27% hard contact and getting more ground balls (49.2%) than ever. He still doesn't have plus control and he nibbles too much so he doesn't ever go too deep into games, but if you can get 5-6 innings from him in each start, that could be a pair of wins.
Tanner Roark – I really considered Roark for Tier 2 with a pair of friendly matchups against the Pirates and Phillies, but I just couldn't do it. He's too middle-of-the-road to not be in Tier 3. He's the Tier 3-iest pitcher I can imagine. He's just good enough to roster everywhere and at the same time just not good enough to really be a difference maker. Give him the nod this week as the most average pitcher in existence.
Chase Anderson – Anderson gives me the heebie jeebies. You might say he's Chase-ing me away. If you've been starting him you've been rewarded with a 2.86 ERA and 1.01 WHIP over 34.2 IP, and you're loving life. Take the money and run, friend – he's the ultimate sell high. His K% is down 6.5% from his breakout 2017, his whiffs are gone (7.1% SwStr%), and he's not getting any reaches out of the zone (25.7%). It's going to be mighty hard to maintain that just ever so slightly elevated 95.9% strand rate with a well below-average strikeout rate. He's got friendly matchups this week so maybe you can get away with using him for a couple more starts, but be warned that the correction could hit hard.
Sean Newcomb – Man, I've been using this crusty old hair comb for so long now, I really need a …well hello there, Sean Newcomb! What are the chances I'd run into you here. Not only can you help organize my flowing golden locks, perhaps you can assist my fantasy teams as well. I've never actually been particularly infatuated with Newcomb due to the awful control. However, this week his strikeout upside pairs with two favorable matchups to suck me in. If he didn't have such blow up potential because of the walks (4.55 BB/9) I'd toss him up to Tier 3. Maybe I should have anyway.
Cole Hamels – Hole Camels…sorry, Cole Hamels (I can't stop doing that) is nowhere near the pitcher he once was. He's getting smoked for a 45.9% hard contact rate, and he's lost about two ticks off his fastball. Even his changeup has a negative pitch value on the season. He's no more than a back-end starter at this point, but this week he gets the Indians and Red Sox. Both are strong offenses, but both have struggled against lefties here in the first month of action. He's a sneaky option here in Tier 4.
Now this…this is ugly. Unless you're in a points league where you get big rewards just for getting as many innings as possible, you should avoid everyone in this tier. Avoid it like a spider's nest. No one likes spiders, and if you say you do, you're lying. Even Spider Man creeps me out a bit just because he makes me think of spiders. *shudders*
*All pitchers are projected for two starts as of Friday evening.
You can find Dokken on Twitter @NathanDokken