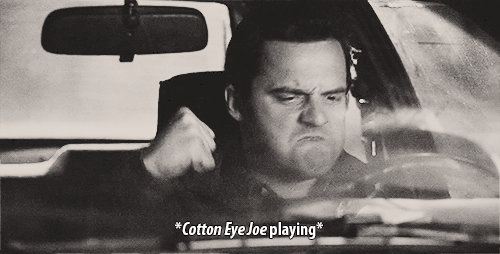 I almost began this by calling each of you a cotton-headed ninny muggins. For those of you still paying attention, and still in contention, I wasn't speaking to you. Trust me, this isn't a jab to the heart of your fantasy fandom, but rather a jab to the heart of those dad blam stats I extract every. single. effing. week. Haha, yes, they're what carry this article, outside of these little intro words that a grand total of four three of you read, and they matter greatly when determining which starters should get the nod in the two-start realm. But…this week, and maybe others in September, some of the numbers may not add up to the prettiest math on paper. And I just may get salty if you say the numbers next to the name I'm bout to highlight does over the next seven days. So, deep breath. No need to name call. We can keep it rockin' and ready to rage like when the song in the gif above hits the radio. And by the radio, I of course mean the loudspeakers in a baseball stadium in between innings with some annoying dancer and the team's baseball girls doing a country jig. Which name? Ol' Cotton Eye Jha.
The Athletics rookie Jharel Cotton comes in with a strikeout rate as strong as Brock Holt's attempt to fit into the Boston Outfield celebration following their win Friday night. (Oh, Brock…keep staying white, brotha.) For those of you struggling to understand…that would be not very strong. 4.26 K/9 is like Martin Perez level of suck. It's even worse than perpetual 'avoid him' Doug Fister. But in order to know how good Cotton can and should be, you have to look past the 4.26/2.84 numbers below. This is actually a picture of the only negative to this article. Innings. Cotton's thrown only 6.1 innings in one start, and he K'd 3 guys. So, who really is this Cotton Eye Jha if that's not indicative of what he should do? Well, let's look at some numbers from the minors that keep showing up in double digits:
9.90
9.81 (126.2 IP in A+)
10.67
16.20
11.28
10.20 (62 IP in AA)
11.05
11.00 (97 IP in AAA for Dodgers)
8.45 (38.1 IP in AAA for A's)
Let me translate. Those are his K/9 numbers at every stop through the minors over the past three seasons. In other words…Cotton's gonna K. As the gem of the Rich Hill/Josh Reddick trade for the A's, we should expect to see Cotton's name in fantasy for years to come. As a floor he could become Robbie Ray. As a ceiling, this 24 year old could bust out how Danny Duffy and Dylan Bundy have (in spurts for Bundy) this year. And with at least one of his opponents as a solid matchup , I'd be a cotton-headed ninny muggins this week if I didn't get Cotton into the lineup.
Here's how the rest of the pitchers stack up for Week 24.
—
Pitchers are listed in order by rank. Colors represent worst 8 or best 8 opponents according to team wOBA for last 14 days.
THE BEST
THE REPLICAS
THE STANDARDS
Player
Team
Opponents
ERA/FIP
K9/BB9
Ivan Nova
PIT

@PHI

, @CIN
4.13/4.45
6.70/1.69
Jeff Samardzija
SF

SD

, STL
4.00/4.05
6.94/2.93
Jason Hammel
CHC
@STL,

MIL

3.50/4.38
7.54/2.91
Jake Odorizzi
TB
@TOR, @BAL
3.86/4.29
8.04/2.72
Anthony DeSclafini
CIN

MIL

, PIT
2.93/3.82
7.88/1.84
THE KNOCKOFFS
Player
Team
Opponents
ERA/FIP
K9/BB9
Trevor Bauer
CLE

@CWS

, DET
3.86/4.02
7.68/3.43
Andrew Cashner
MIA

@ATL

,

@PHI

4.77/4.59
7.62/3.85
Robbie Ray
ARI

COL

,

LAD

4.46/3.51
11.30/3.48
Drew Smyly
TB
@TOR, @BAL
5.05/4.54
8.79/2.55
Dan Straily
CIN

MIL

, PIT
3.88/4.79
7.49/3.50
Matt Boyd
DET

MIN

, @CLE
3.89/4.62
7.67/2.84
Doug Fister
HOU

TEX

, @SEA
4.14/4.65
5.66/2.99
THE 

Player
Team
Opponents
ERA/FIP
K9/BB9
Mike Leake
STL

CHC

, @SF
4.61/3.84
6.39/1.44
Ross Stripling
LAD
@NYY,

@ARI

4.12/3.82
6.39/2.58
CC Sabathia
NYY

LAD

,

@BOS

4.27/4.42
7.60/3.27
Miguel Gonzalez
CWS
CLE, @KC
3.81/3.86
6.79/2.73
Jaime Garcia
STL

CHC

, @SF
4.58/4.30
7.67/2.93
Shelby Miller
ARI

COL

,

LAD

6.89/5.29
6.21/3.95
Albert Suarez
SF

SD

, STL
4.37/4.51
6.43/2.83
R.A. Dickey
TOR
TB,

@LAA

4.60/5.13
6.63/3.40
Anibal Sanchez
DET

MIN

, @CLE
5.69/4.86
7.65/3.15
Ricky Nolasco
LAA
SEA, TOR
4.90/4.31
6.59/2.00
Martin Perez
TEX
@HOU,

OAK

4.25/4.54
4.61/3.54
Wily Peralta
MIL
@CIN,

@CHC

5.47/5.27
6.51/3.30
Wade Miley
BAL

@BOS

, TB
5.49/4.77
7.03/2.84
Kyle Gibson
MIN
@DET, @NYM
5.34/4.91
6.29/3.29
Ross Detwiler
OAK
@KC,

@TEX

5.15/4.43
6.14/3.44
Rafael Montero
NYM

@WSH

,

MIN

4.63/5.38
7.71/8.49
Ariel Miranda
SEA

@LAA

, HOU
4.79/5.45
6.81/3.79
Alec Asher
PHI
PIT,

MIA

0.00/3.65
0.00/1.50
Jason Vargas
KC

OAK

,

CWS

0.00/0.00
0.00/0.00
Alex Meyer
LAA
SEA, TOR
7.71/5.58
12.86/10.29
All pitchers are projected for two-starts as of Friday night.
DROP THOSE COMMENTS! Good luck in Week 24 for those of you still going. Just three more weeks! Hopefully that song's stuck in your head for the next few hours. You're welcome. Haha.