This is the first part in what will be a very special mini-series covering the fascinating history of "The Gas House Gang". Join Paulie over the next few weeks to uncover not just a story about baseball, but one about ourselves… -Jay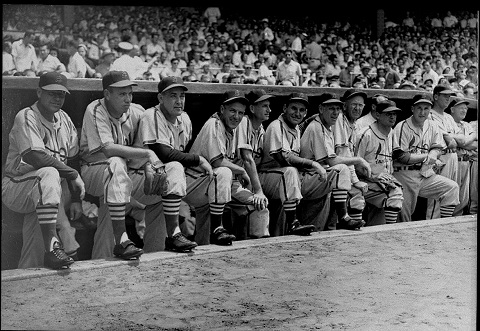 There have been many memorable teams in the storied history of baseball: McGraw's feisty Baltimore Orioles squads of the Gay 90's; his NY Giant teams which dominated the early decades of the 20th century; the powerful Cub squads of the first decade of the 20th century; the several dynastic periods of Connie's Philadelphia Athletic Mack-Men; the immortal Yankee dynasties of Ruth, DiMaggio, Mantle, and Jeter; the Bums of Brooklyn in the 40's-50's; the Big Red Machine; Earl Weaver's Orioles of the late 60's-early 70's; and, of course, Charlie O's mustachioed masters of the diamond, also of the early 70's. All of these teams were powerful; some were awesome; and, many were endearing. But, none of them were as colorful as the St. Louis Cardinal's Gas House Gang of 1934.
The Cardinals, a perennial losing team, both in the standings and at the box-office, were owned by Mrs. Britton. She was rumored to be looking into selling the club to buyers in another city. A local insurance executive came up with the idea that local merchants would invest in the club by buying stock. In 1917 Mrs. Britton agreed to this arrangement. Each investor who bought $50 worth of stock would receive one ticket which was to be used for one kid during the season. These were called Knot Hole Tickets, and an entire section was set apart for what was to be called the Knot Hole Gang.* The consortium of businessmen agreed on Miller Huggins as manager and, by a unanimous vote, agreed to pursue Branch Rickey as Club President; at that time Rickey was business manager of the St. Louis Browns. The head financier of the group was Charles Breaden, a notorious skinflint. He later became President of the Cardinals and worked closely with Rickey.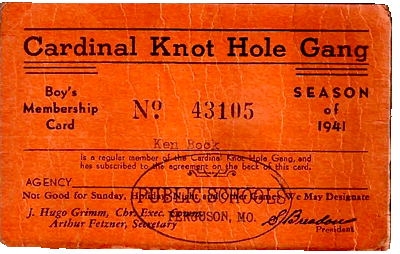 The Grand Architect of the Gas House Gang was the eminent Branch Rickey, a.k.a. "The Mahatma" for his Bible-preaching, church-going ways (also sometimes referred to as the Maharaja, for his preference for opulent surroundings). Not only was Ricky the prime mover of the most important social movement in baseball of the century – the integration of the Major Leagues, but he was also the one who was responsible for the greatest administrative innovation – development of the Farm System. As described by Rickey, the Farm System was "A chain of minor league teams of various classifications – a kindergarten, grade school, preparatory school, and a university of baseball – which would graduate Phi Betta Kappa students of the game – Hornsbys, Frisches, Sislers, Cobbs, Speakers and Mathewesons". Rickey was responsible for other innovations – including digging pits to practice sliding, as well as plays to catch a runner off base. He was also, perhaps, the first baseball manager who saw the value in keeping statistics; Rickey was always writing and recording data in his notebook in the dugout. Later, as General Manager, it was Rickey who was always working behind the scenes with quiet, patient, yet relentless, efficiency in building a contender. Likely there has never been anyone who was a better judge of raw talent. Ironically, it was the pious Rickey who assembled perhaps the rowdiest, most arrogant, irreverent, rebellious, and flamboyant squad since the 1890s.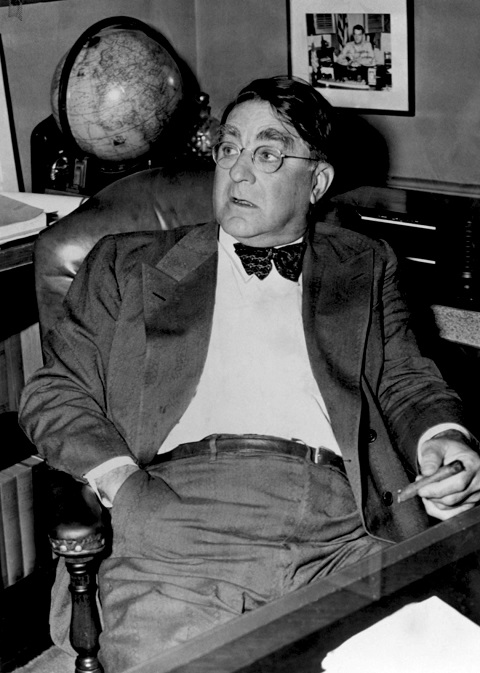 Branch Rickey
Slowly Rickey worked his magic. In 1918 the Cardinals finished in last place. In 1919 they improved slightly, moving up to 6th. In 1920 Breaden sold Robison Field and moved into Sportsman Park; with the proceeds from the sale, Rickey was able to fulfill his dream and establish his Farm System. The idea appealed to the frugal Breaden, as it would prevent poaching by other major league clubs. The Cardinals made a trade for Hall of Famer Rogers Hornsby. They moved up to third place in 1921 and then third place again in 1922. Finally, in 1926 the Cardinals won their first ever National League Pennant. They won a thrilling seven-game Series over the NY Yankees against overwhelming odds, with an aging, and, perhaps, intoxicated, Grover Cleveland Alexander winning the deciding game in relief. In 1928 they again won the NL pennant, but this time were swept in four games by the Yankees. In 1930-31, the Cardinals won back-to-back NL pennants, and played Connie Mack's Philadelphia A's in both Fall Classics; they split the duo, losing in 1930 by 4 games to 2, but achieving revenge in 1931, also by 4-2. Thus, the Cardinals had won four pennants and two World Series in six years.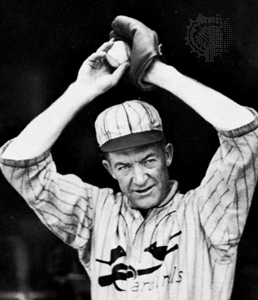 Grover Cleveland Alexander
Through the previous decade, Rickey had slowly been reaping the fruits of his Farm system. One of the first "graduates" was Flint Rhem, a great pitching prospect, with an unfortunate fondness for moonshine. In 1930 in the midst of a pennant race, he disappeared playing the first game of a crucial series against Brooklyn. He showed up the next day, appearing bleary eyed and disoriented, and came up with, according to Frederick G. Lieb, "one of baseballs weirdest tales." Rhem claimed that he had been standing in front of the hotel where the Cardinals were staying when two armed men pulled him into a waiting cab and then took him to NJ where they "compelled Rhem to guzzle cups of raw whiskey." This tale was believed by Branch Rickey, a teetotaler, who asked the police to investigate. This became front page news in the NY tabloids. The story was that this was a plot by gamblers to cripple the Cardinals chances against the Dodgers. Nothing was found of this, and the Cards took the series anyway.
1930 culminated with the 19-year-old Dizzy Dean making his Major League debut on the last day of the season, pitching a three-hitter for his first major league win. When he arrived on the team, his bags were bereft of clothing and filled with Wild West books. The Deans were migrant sharecroppers of cotton, barely making a subsistence living in the depression. Jerome (Dizzy's birth name) started in the fields at age four. He picked 500 lbs of cotton a day, the same amount as a grown man. He enlisted in the Army and soon joined the Ball Team. The manager, Master Sgt. Jimmy Brought, recognized his talent and summoned a scout whom he knew to observe Jerome pitch. Dean was excited and was pleased to demonstrate his favorite pitch, which he called the "Fogger", a fastball that the batters couldn't see, just the wisp of fog that was in its wake. Sgt. Brought stated, "I told the scout that you were the dizziest kid I ever had in my outfit." Dean loved the nickname. He now was a professional pitcher with the San Antonio Public Service Team. He was seen by a "bird dog," a regional baseball scout, who contacted a Cardinal Scout. When Rickey had gone to scout Dean, Dizzy introduced himself, "Hello, Branch, I'm Dizzy Dean, the fellow who's going to win you a lotta ball games." The rest is history.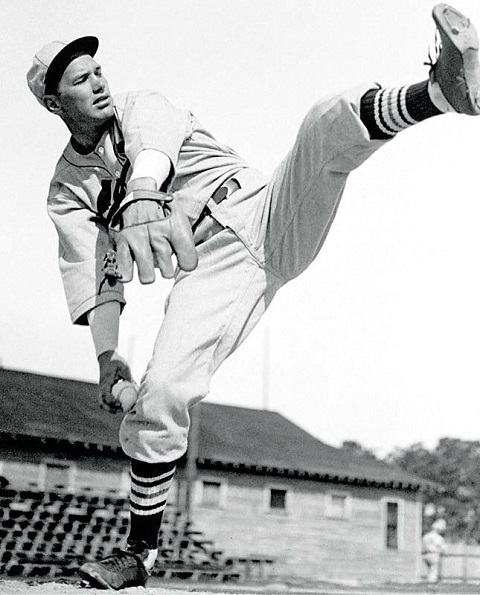 Dizzy Dean
The next season (1931) Dean came to spring training. He had no money and signed off all receipts to the Cards. He bought all manner of items, including cigarettes, pens, sunglasses, key chains, comic books, expensive meals, sodas, cigars, and all sorts of novelties. In less than a month, he had spent the staggering sum of $2,700. Rickey went apoplectic. When Dean told Rickey to take it out of his pay, Branch told him that he had spent almost his entire salary for the season. He was then given an allowance of $1.00 per day. Every day, he reported to the club secretary and signed a receipt, "received $1.00 – Dizzy Dean".
That year Rhem stated that his poor showing the year before had been due to poor tonsils, not because of his drinking. Sure enough, after examination, he had a tonsillectomy. He then told Dean that after his tonsils had been taken out, his arm got well. Dean then went to the Cardinal brass requesting the same operation and stating, "I ain't been swallowing right lately, and it's affecting my pitching." He too was examined by the ENT, and, much to their amazement, the recommendation was made that his tonsils come out as well.
Much to his chagrin, Dean was sent back to the Minor Leagues for more schooling in 1931, missing out on the Championship Run. That year Player/Manager Frankie Frisch, the Fordham Flash, was the National League MVP and Rookie Pepper Martin was the star of the World Series.
The Cardinals had disappointing seasons in 1932-33, finishing in 6th and then 5th place. The one encouraging sign was the emergence of Dizzy Dean as a premier pitcher. Diz had already developed his famous cockiness. Dean often mocked batters when they came to the plate, made funny faces, and laughed at them when they struck out.
"He (Dizzy Dean) shouldn't have lost more then 12 games in the four year period (1933-36). That's how good he was. But, he loved to experiment, to fool around with the batter. He enjoyed getting a man out pitching to his strength, and he did it many times. But, naturally, the good hitters surprised him now and then." – Frankie Frisch
In 1933 Dean paid a visit to the Brooklyn clubhouse. Max Carey, manager of Brooklyn, was going over the strengths and weaknesses of the Cardinal hitters. After he was finished, he asked Dean, "Was I right about how to pitch to you fellows?" "Yep," said Dean. "And, now I'll tell you how I'm going to pitch to these mugs." He then went right down the batting order, telling each batter what their strengths and weaknesses were, with absolute accuracy. The batters knew that Diz was not kidding around. "Now that I have told you how I'm going to pitch, come on out and let's see you hit it." He picked up his glove and left the dugout. That day he shut the Dodgers out.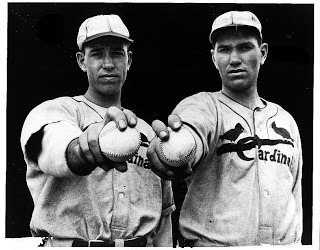 Dizzy and Daffy
Prior to the '34 season, Dizzy's brother Paul had been brought up from the minors. Paul, although he loved and admired his brother, was absolutely devoid of charisma, hated the limelight, and especially despised the nickname of "Daffy" that was bestowed upon him.** Dizzy immediately began telling all who would listen that "Me and Paul will win the pennant." He also predicted that he and Paul would together win 45 games. This was a constant source of irritation to the other Cardinal starters and was part of the friction that exacerbated the formation of cliques on the club.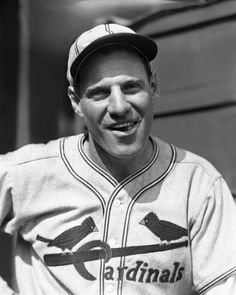 Leo Durocher
In a sense, there were three different Cardinal Teams that year. There was the Hillbilly Brigade, led by Dizzy. Then there were the Slick Dandy Sophisticates, headed up by Leo Durocher. Finally, there were the followers of Player/Manager Frankie Frisch, the crusty Disciplinarian. The three cliques struggled for dominance all season.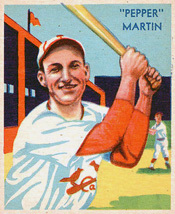 Pepper Martin
Next to Dizzy, the most colorful of the Hillbilly Brigade was center fielder Pepper Martin. Martin grew up in a sod house and picked cotton like the Dean Brothers. At one point in his life he was, virtually, a hobo; he hitched rides on trains, literally owning the one shirt he had on his back, which he washed in a creek. His hobbies included hunting rattlesnakes, which he would donate to the St. Louis Zoo. He was a motor head and would often arrive at games all greased up, uniform and all. He also organized a Washboard Band called the Mississippi Mudcats; their two favorite tunes were "Buffalo Gal" and "Possum Up a Gum Stump."
Martin was, without a doubt, the fastest runner on the team. Rumor had it that he could chase down a rabbit on foot. According to Bob Chiegar from Voices of Baseball, "Martin ran like a 'berserk locomotive' and swore at pitchers in his sleep." A great anecdote, according to Cardinal Historian John Devaney: Pepper Martin came running to the clubhouse late for BP before the game. When asked by Frisch for the reason for his tardiness, he stated that he had made a bet that he could beat a guy in a two mile race and that his racing partner was late in showing up. Frisch replied, "That's great. We are trying to win a pennant, and you're trying to win a racing bet." A highly agitated Frisch stormed off but turned around in mid-stride. "How much was the bet?" Pepper replied, "Two quarts of ice cream. And I won, too." Frisch could do nothing more than shake his head, muttering to himself, "No, we're not crazy. We're perfectly sane, all of us." Overhearing him, Dizzy murmured to Martin, "The manager is going out of his mind!"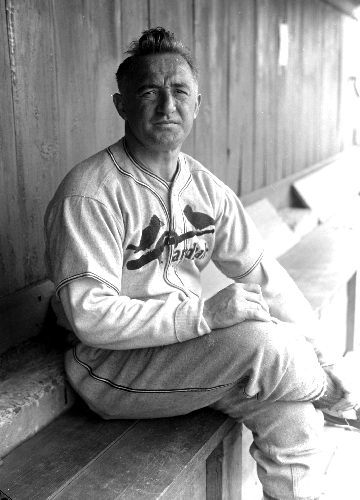 Frankie Frisch
To add extra spice to the mix, an aging Dazzy Vance came to the team in mid-season, pitching primarily in a relief role. Previously a member of the Brooklyn Trolley-Dodgers, Vance had been involved in one of the most famous base-running boners of all time. In a 1926 game against the Boston Braves, Dazzy stood on second base with Chick Fewster on first. Babe Herman clouted a deep drive and began chugging around the bases. As Herman rounded second, the third base coach screamed for him to go back, since Fewster had not yet passed the 3rd-base bag. Dazzy, having rounded third, thought that the coach was referring to him and headed back to the bag. Fewster arrived at third at the same time as Vance, and Herman, typically ignoring all signals from the coach, joined them several strides later. The third baseman, somewhat baffled by events, tagged all runners; Herman was declared safe according to the rules. According to a contemporary, Dazzy Vance, while still lying on the ground after sliding back into third stated, "Mr. Umpire, fellow teammates, and members of the opposition, if you carefully peruse the rules of our national pastime, you will find that there is one, and only one, protagonist in rightful occupancy of this hassock – namely yours truly, Arthur C. Vance."
Of course, plays like this were what brought about the loving nickname "Daffiness Boys".
Allied with the Cornpone Crowd – none other of whom had more then a second grade education – was utility outfielder Burgess Whitehead. This was perhaps one of the more peculiar friendships in baseball, as Whitehead was the only Phi Betta Kappa scholar in the Major Leagues.
Top Sophisticate was Leo Durocher, the shortstop. He was slick, sophisticated, the big spender, an inveterate gambler, dressed to the hilt, always seen in tailor-made suits, a night clubber. Durocher was also baseball's premier bench jockey, which was to become a formidable Gas House weapon. "Show me a guy who takes his time on the mound and I'll show you a damned loser." – Leo Durocher
Formerly, Durocher had been roommate to Babe Ruth during his stint with the Yankees. He was despised by Ruth, who accused Durocher of cheating at cards after ball games. Ruth also suspected that he stole his jewelry and cash. He once caught him with previously marked bills and proceeded to beat him up. Leo was also known to have passed bad checks on occasion. Ruth derided him as "The All-American Out."
One of Durocher's sidekicks was center fielder Ernie Orsatti, who, in the parlance of the day, was a "swell" dresser. In those politically incorrect times, he was dubbed "The Dashing Dago".
"Your Holiness, I'm Joseph Medwick. I, too, used to be a Cardinal." (When asked by the Pope, during a WWII visit to the Vatican by US servicemen, about his vocation in civilian life.) Ducky Medwick was something of a misanthrope; he was aloof, highly critical of other players, and didn't get along well with teammates. He often ridiculed opponents in a mean-spirited way, unlike Dizzy, whose ribbing was always playful. Medwick, dubbed by the local papers "His Duckiness" or even sillier "Wucky-Ducky", and Leo vied for the most disliked player on the team. He and Durocher shared their mutual loathing for the bumpkin brigade. On one occasion, Diz and Paul made a threatening move towards Ducky when he failed to run down a fly; Ducky picked up a bat and stated, "Come on, I'll break up the brother act right now." Later in the game, he hit a homer to put the Cards ahead, spat at Dean's shoes and said, "OKAY, let's see if you can keep that lead, gutless."
Join us next week as the story continues…