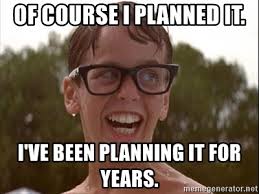 Just like Michael 'Squints' Palledorous, you too can start preparing for your big move to the top of the standings in 2019.
Here we are at the trade deadline for MLB and starting to get to them for fantasy leagues as well, and teams are making their last attempts to bolster their rosters for the playoff push. Unfortunately for some of us, the season has not gone as planned and we're selling and preparing for next season in keepers/dynasty formats. In the words of the great philosopher, Lil' Wayne, "The more time you spend contemplating what you should have done….you lose valuable time planning what you can and will do."
With that in mind, it's time to look at what you can do to start planning and helping build your roster for 2019 in those dynasty and keeper leagues. It's here at the end of the season where you can start building your squad for next year by trading for or picking up some players who may be free agents entering new situations next year or guys that faced an injury or suspension this season, which lowered their value.
Please, blog, may I have some more?