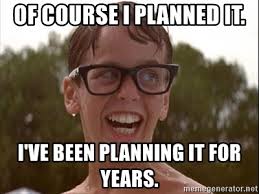 Just like Michael 'Squints' Palledorous, you too can start preparing for your big move to the top of the standings in 2019.
Here we are at the trade deadline for MLB and starting to get to them for fantasy leagues as well, and teams are making their last attempts to bolster their rosters for the playoff push. Unfortunately for some of us, the season has not gone as planned and we're selling and preparing for next season in keepers/dynasty formats. In the words of the great philosopher, Lil' Wayne, "The more time you spend contemplating what you should have done….you lose valuable time planning what you can and will do."
With that in mind, it's time to look at what you can do to start planning and helping build your roster for 2019 in those dynasty and keeper leagues. It's here at the end of the season where you can start building your squad for next year by trading for or picking up some players who may be free agents entering new situations next year or guys that faced an injury or suspension this season, which lowered their value.
2019 Free Agents
There are a number of players, okay closers, that could benefit from a new landing spot in 2019 as it may open the opportunity for them to be more useful contributors next season than the rest of this one.
Jeurys Familia
We saw Familia re-establish himself as a trustworthy closer this season for the Mets prior to being traded over the As to be the setup man for Blake Treinen. The move to bullpen support rather than closer has dropped Familia's value in leagues that don't count holds, but he is a free agent after this season and at 28 years old, has youth (compared to some other potential closers on the market) and a track record of success in the closer role. While I don't particularly value the latter, we've seen it does matter to certain managers and front offices in baseball.
Familia owns a 28.4% K rate along with a 7.8% BB rate to go along with his 2.51 ERA. He also has done an excellent job this season limiting the long ball with a 2.4% HR/FB ratio which is second best among relievers with at least 40 IP.
Kelvin Herrera
After a disappointing 2017 season, Herrera bounced back in 2018 to post a 2.06 ERA with 15 saves in 39.1 IP. Herrera was traded to the Nationals to backup Sean Doolittle, and has seemingly inherited the role during Doolittle's injury absence. Doolittle himself is a free agent next season, and likely could have taken Kelvin's spot on this list given the current injury, but may be a bit more costly to trade for as he's supposed to come back and take back the closer gig.
There are some concerns on Kelvin that this bounce back may not be completely legitimate. He has a 94.7% left on base rate and is giving up 30.4% hard hit rate per Fangraphs (36.4% per Statcast). Compared to his sparkling 2.06 ERA, the 3.77 FIP and 4.25 xFIP along with some of the underlying numbers show that he may be getting a bit lucky this season.
Andrew Miller
You already know that Miller is one of the best relievers in the game, lefty or otherwise. It's been a disappointing season for Miller who hasn't thrown in a game since the end of May due to an injury and subsequent setback due to a knee injury. However, Miller is a free agent next season and could easily take over a closer role somewhere around the league. You could also look at Miller's new teammate in Brad Hand as a potential 2019 pickup as well. With both Cody Allen and Andrew Miller potentially leaving town as free agents, Hand could inherit the closer role for the Indians in 2019. Hand arguably has a better case than Miller to be on this list as Cleveland likely doesn't have or won't spend the money on bringing back either of their relievers with the acquisition of Hand.
Adam Ottavino
The last of the potential future closers that I'm going to talk about here has put together the best season of any of them. Ottavino is currently sporting a 1.40 ERA with an other worldly 39.5% K rate, which is behind only Edwin Diaz and Josh Hader with a minimum of 50 IP, and he's doing it with Coors as his home park. The 10.3% BB rate is not ideal, but with the strikeout numbers off the charts like that you can find your way to forgiving a few free passes. Ottavino and Hader may very well be the best relievers in the game that aren't currently closing for their respective squads. At least in the case of Ottavino, I can see that changing next season. Maybe you can send a temporary closer like Tepera, Strop, Fry, Diekman, etc. and wrangle yourself a top shelf closer for 2019.
Injury/Suspension
Players that sustained a long term injury or were suspended in season can offer a chance for a buy low or a useful piece that can be had with a simple waiver claim. Below are a few names that I would potentially be rostering if I'm out of it for this season and looking toward improving my chances in 2019.
Michael Pineda
Pineda has long been a source of both optimism and anguish. He has tempted us with very impressive, but short lived runs of excellence. And then can be quick to remind us that he is Michael Pineda as he bounces back to earth. He started the 2017 season like gangbusters with an April and May of a 3.32 ERA to go along with a 27.5% K rate and a 5% BB rate. Controlling the free passes has always been a strong suit for Pineda. Of course, in June, he came back to earth posting a 5.35 ERA with the strikeouts dropping to 16.5% before hitting the DL in July. There's a chance that we see Pineda in the majors for the end of September just to get some work in, and his cost in a trade or from waivers may be worth the upside.
Drew Smyly
As with Michael Pineda, he was signed in the offseason despite the MLB team knowing that there might be little production from him in 2018. It sounds like Smyly, who was thought to possibly be ready for a comeback in August, is looking more towards September (potentially in the pen) or 2019. Smyly has put up some nice seasons, but has had his own share of injuries that may have derailed his growth. Through his 5 seasons of work, Smyly has a 23.5% K rate and a 6.9% BB rate, which are nice to see. While the general consensus on Smyly has varied, there is definitely the potential for a nice SP4 or even SP3 that is likely just sitting on waivers right now that you can stash away in your DL with the rest of the players you expected to perform this season.
Robinson Cano
This one may be a bit time sensitive as Cano is scheduled back on August 14th and could still help teams down the stretch. If you own Cano and are not in the running for this year, you could shop him around to a team in competition. Or if you're out of it, he might provide you with a nice upgrade at 2B in 2019 that can be grabbed from waivers or cheaply in a trade. While Cano is 35 and coming off a PED suspension, he still has 5 years left on his contract with the Mariners and still provides consistency at 2B that few others can match. Especially a nice target in points where the lack of HRs keeps him from being elite at 2B, but will likely keep him as a top option in that format for 2019.
Jorge Polanco
If you haven't noticed that Jorge Polanco is back, and judging by attendance, you haven't, he's actually playing most days and is hitting .281 with three stolen bases. My good buddy, The Itch (@PartyLikeMayans), was all over Polanco coming into the season and for good reason. In the 2nd half of 2017, he hit .293 with ten HRs and seven SBs. However, the ride came to an abrupt halt when he was handed an 80 game suspension for PEDs before the 2018 season began. While you have to wonder if the 2nd half push was PED related, there's some upside here with Polanco as somebody that can be a cheap middle infielder for you in 2019.
Julio Urias
Urias is on his way back from anterior capsule surgery on his shoulder where both he and the Dodgers are taking the recovery slowly. Urias threw his first rehab assignment on Monday, 7/30/18, and is on his way back. Assuming he makes it back this season, it will likely be in a pen role for the Dodgers, but they have said he will remain on the starting pitcher track. Julio Urias is still only 21 despite it feeling like he's been a top pitching prospect for a lot longer. The biggest risk to Urias is how he recovers from the shoulder surgery. Only about 40% of pitchers make it back to their pre-surgery level of production, although, the majority of that data was with older pitchers as the average age of pitchers with this surgery is over 30. There's hope that with his age, and thus a better ability to recover, that all is not lost here. I'm not saying that Julio Urias will be everything we were once promised, but you may find him sitting on waivers or available on the cheap in your dynasty league.