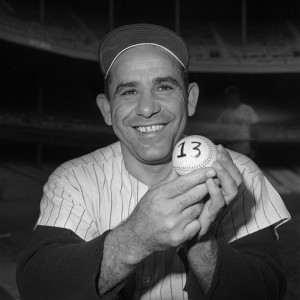 "YOGI"
When he was in his late teens, Lawrence Berra, or Lawdie, as he was called by his friends and family, went to the movies, and saw a film with an Indian fakir and a yogi; his friends thought that he was the spitting image of the yogi. The nickname caught on immediately.
Berra's family lived on "The Hill", or as it was sometimes affectionately called, Dago Hill, an Italian neighborhood in St. Louis, renowned for its superior cuisine, bocce performers and soccer athletes. Baseball was frowned on as a useless endeavor. This, of course, didn't discourage Yogi and his pals, including Joey Garagiola, from sneaking out of school and playing ball.
On one occasion, St. Louis Cardinal GM Branch Ricky came by in order to observe some of the local boys perform. He was quite impressed with Garagiola, offering Joe a $500.00 bonus in order to sign a contract to play ball for the Cards. He then offered Yogi a $250 bonus. Berra, who realized that he was the far-more skilled player than his friend, reluctantly turned it down. Rickey, who later stated that Berra, due to his ungainly body, would never amount to more then a Triple A player, adamantly refused to increase the offer.
Now, most baseball scholars would agree that Branch was perhaps the best judge of baseball skills in the history of the game. He had literally discovered scores of Hall of Fame talent in his long career; Jackie Robinson and Roberto Clemente are only two of a very long list. What's more, Rickey had been a catcher himself. One needs to ask at this point – how did he make this incredible error of judgment? He certainly had seen many players, especially catchers, with peculiar body types, become stars in the Major Leagues.* But there is a converse theory. Was Ricky attempting to pull off a complicated ruse? There is some circumstantial evidence that seems to give credence to this idea. Rickey knew that his time with the Cardinals would soon be coming to an end; his plan was to join the Brooklyn Dodgers front office.  Was his real intention to "hide" Berra until he made the move? If not, why did he make an offer of the same amount of cash – $500.00, a short while after moving to his new post of GM of the Bums, an offer that was made only a hairbreadth after Berra had signed a contract with the Yankees; an amount that Rickey was so intractable about spending a short while previously? Rickey was known to keep prodigious files on players that he was interested in. If he thought that Yogi was nothing more then Minor League fodder, why did he keep his file on Berra? Later on, Branch Rickey would state that Berra and Campy were two of the greatest catchers in the history of baseball, and that Berra was the greatest clutch hitter he had ever seen.
Berra made his debut with the Yankees at the tail end of the 1946 season, after serving two years in the US Navy (Berra was involved in top secret duty in a rocket boat involved in the invasion of Normandy Beach). He hit a home run his second time at bat. Many years later, Joe DiMaggio commented on the blast:
"I will never forget this; he hit a pitch, a ball so far out of the strike zone. Not only was it a ball, I don't think that I could have hit it. I mean hit it, not out of the park like he did. I mean that, I couldn't have put my bat on the ball."
The next season, the Yankees won the pennant, and then beat the Dodgers in the World Series 4-3. This was the first of 10 World Series rings that Berra was to win in his active career as a ball player, a major league record. However, the Dodgers stole 7 bases off of Yogi, humiliating him behind the plate. In 1948, the Yankees hired Casey Stengel. The Stengel/Berra alliance was to be the most successful manager/player duo in the history of baseball. Soon, Casey would begin referring to Yogi as "Mr. Berra, my Assistant Manager", or as "My man." Casey would often state that he hated to go into a game without "My Man" behind the plate.
In 1949, former Hall of Fame Yankee catcher Bill Dickey was brought in to assist Yogi in improving his catching technique, and how to best utilize the "tools of ignorance." As Berra later put it, "Dickey learned me all of his experience." 1949 began what was to be the greatest dynasty in the history of baseball. The Yankees won five successive pennants and World Series titles between 1949-'53, a feat that has never been duplicated. They had an even better season then the prior five in 1954, but that was the year of the great Cleveland Indian team which won 111 games. The glue, or rather the cornerstone, that held together those great teams was Berra. Those years marked the decline of DiMaggio as a great player, and Mantle was just starting to make his mark. In 1950, perhaps his greatest season, Yogi's vital statistics were .322/28/124.  Starting in 1950, Berra had an incredible seven year run that has never been duplicated by any catcher in ML history. During those 7 years, Yogi won 3 MVP awards; during that period he also finished 2nd twice, 3rd once and 4th once in the voting. By the time his playing career ended in 1963, and the dust had settled, Yogi placed in the top ten in the AL 9 X's in RBI's, SLG %, and HR, 6X's in Runs Created, 7 X's in TB, 7X's in Extra Base Hits, 5 X's in OBP + SLG, and appeared in 15 All Star appearances.  Berra led the Bronx Bombers in RBI's for 7 straight seasons, something that Ruth, Gehrig, DiMaggio, and Mantle never duplicated. As a catcher, he made a record 148 games without error. Without a doubt, an awesome resume.
Yogi was named VP of Yoo-Hoo Soft Drink in '56. When asked if it was hyphenated, he replied, "No ma'am, it's not even carbonated.
However, despite having the most recognized nickname on the planet, Yogi's talents as a ballplayer are strangely unappreciated. ESPN Sports Analyst Jason Stark, in his book "The Stark Truth" concerning overrated and underrated ballplayers, states that in his opinion, Berra is the most underrated ballplayer in major league history. The reason for this is not hard to fathom. Yogi has become a cartoon caricature; first, there was the animated cartoon, Yogi Bear, then the development of a minor industry based on Yogi-isms, and more recently, the AFLAC commercials; of course, Yogi has played along with this perception, and by doing so, has done well for himself financially, and has become a household name, but he is perceived more as an inscrutable buffoon rather then the peerless catcher; perhaps the most intelligent backstop of the 20th century, Casey's "Assistant Manager."
"Why has our pitching been so great? Our catcher that's why. He looks cumbersome but he's quick as a cat." – Casey Stengel
"…some things we lump under the heading of intangibles might simply be things we have not yet found a way to quantify – or which do exist and which can't be quantified." – Allan Barra
As Yogi might put it, if there were such a thing as intangibles, he would have discovered them. But there is no doubt that Berra was uniquely gifted in working with pitchers, passing on experience to what Casey called the "Youth of America", clutch hitting, having leadership qualities, and being a positive influence in the clubhouse. But there is something beyond all that; a thing that it is impossible to quantify, that defies belief, but is nevertheless the truth – where ever Yogi went, baseball magic occurred. Yogi was in many ways the Forrest Gump of Baseball. Almost without fail, magical, miraculous events occurring on the baseball diamond between 1947 and afterwards, when he retired from the game always seemed to have Berra associated in some capacity. Yogi or the teams that he played with, managed, or coached were involved in more incredible plays and memorable games then any other individual in the history of the game. No one else is even close. Hitting a home run in his first Major League game. Bill Bevins losing first a no-hitter, and then the game to the Dodgers in the World Series when Cookie Lavagetto hits a double with two outs. Don Larsen's perfect game. Allie Reynolds's two no-hitters; the second one, where Yogi blew the last out, a pop-foul off the bat of Ted Williams; then Williams proceeding to hit another pop-foul – this one caught by Berra. Hitting the first pinch hit home run in a World Series game. The controversial steal of home by Jackie Robinson in the '55 World Series, the only Series ever won by the Bums of Brooklyn. Two home runs blasts off of MVP Don Newcombe, as well as a total of ten RBI's in the '56 World Series. The Bill Mazeroski Home Run in the 7th game of the 1960 World Series, giving the Pirates the win over the Yankees. The Miracle Mets of '69. Manager of the 1972 Mets "You Gotta Believe" Squad. Berra comes back to coach the Yankees in '76; they win their first pennant since '64, and then win back-to-back World Series victories over the Dodgers. Of course, the day Yogi and George Steinbrenner reconciled (due to Kaiser George firing Berra after managing a mere 16 games in 1964), and George honoring him with "Yogi Berra Day at Yankee Stadium, David Cone pitching a perfect game. And that is just a very small sample…
He'd fall in a sewer and come up with a gold watch." – Casey Stengel
So either Yogi Berra is the luckiest man who ever stepped on a baseball diamond, or he is the possessor of gifts that currently remain beyond our ken. It is up to you, gentle reader, to decide.
*Bill James, in Baseball Historical Abstract, does an interesting analysis of what he describes as the "Hack Wilson" body type – basically short, squat, with a low center of gravity, and not very graceful – and states that this type seems to be disproportionately successful in baseball.  Perhaps, a short, powerful physique is actually the best body-type for a baseball player. Roy Campanella, Kirby Puckett, Smoky Burgess, Roger Bresnahan, Ducky Medwick, and Tim Raines – all of these great players are of this type.  If you were to look at them, you would never at first glance picture any of them as The Natural. Yogi is, of course, the most famous, and thus the prototype, of this particular body type. No one who first laid eyes on him ever thought that he was even a ballplayer. At least not until they saw him with a bat.