Given I dole out advice on this site, it is only fair that you see how well I do in my public leagues. I'll try and provide updates every fortnight or so…
March 25th – April 12th
Fantasy Baseball Writers League (Brock4Broglio) – 12 team mixed league – currently in 8th (63 pts, 16 pts out of 1st)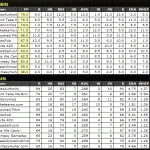 This was my first draft of the year, all the way back in late February. Aside from compounding the regret I had over taking Juan Pierre in the 9th round, I haven't been adversely affected by the early draft date (whew on Lackey).
My pitching is doing just fine at this point with about 40 points. This was expected since I drafted pitching higher than most in the league. My offense is sucking in the early going with 2nd catcher Mike Napoli my HR leader at 3 and Mark Ellis my SB leader at 2. I've got a number of notorious slow starters like Teixiera and Atkins so I'm trying to stay patient.
Kudos to Tim @ RotoAuthority for his early lead, fueled by a 50 point offense with quick starters Derrek Lee, Nate McLouth, and Rick Ankiel.
Fantasy Baseball Experts League (Greener on the Other Side) – 12 team mixed league – currently in 1st place (91 pts, up by 4.5 pts)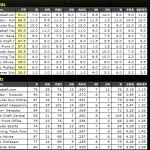 I didn't think my draft for this team was much different than the BrockforBroglio league and still don't. The pitching is pretty similar as I have Santana and Haren on both. The difference is that I've had a lot of luck so far with early season power numbers. Mike Jacobs was a late round 2nd UTIL slot pick and his 5 HRs are followed by Torii's 4, and 3 from Francouer and Peralta.
My starting pitching is a bit shallow in this league but I lucked out having the 1st waiver pick so I was able to replace Pedro with Johnny Cueto. But I'm pretty lucky to have 7 wins so far as my bevy of relievers have contributed three (Betancourt, Okajima, Rauch).
Kudos to me for the early lead and here's hoping for better luck to league host Greener on the Other Side.