Note: If you play fantasy football, our rankings are being released as we speak. Well, not really as we speak, as I'm typing. But you get the point. Not really the point of a spear, this isn't Game of Thrones. But you get the idea. Unless it's running. Okay, I'm just going to stop now.
We are officially now somewhere near the half-way point of the baseball season. I say somewhere, because giving an accurate number would force me to do what the experts call "math". That's a NOPE if there ever was one. And while taking the time to open my calculator thingamajig in Windows, along with some sort of webpage that tells me how many games teams have played so far may seem so simple to you, well, I don't really blame you. You probably think it's just as simple and easy to hit on your mom. And that's actually hard. I'm serious. Look at how the crotch of my jeans resembles a castle with a moat. It's like a map of Italy making an emergency landing on an apple. I have no idea what is happening, and there's no segue to put here… But let's just say we got tools. Fantasy tools. And while most in the RCL Universe know what I'm talking about, maybe there are a few lost souls out there that have no idea how much the Razzball website can help you win your league. Or maybe there are a few readers out there who showed initiative, but a slow start dashed their motivation. Well, we still have another half ahead of us, so use Razzball to get yourself out of the ditch. Because what you're doing in a ditch… I don't know man. Why would anyone go into a ditch? Unless there's a tornado, then studies show that your survivability rates are better in said ditch. So good job bro. Unless the ditch has a mountain lion. Then you dead son. Hey, am I too old to lay down a Ghost and the Darkness joke? Yeah. Way too f*cking old. Let's just go over the tools… TO FANTASY SUCCESS! [Plays air guitar, eats a Cheeto].
Stream-o-Nator — You want to know which pitchers to stream? Yeah, we got that.
Hitter-Tron — Want to know which hitters to stream? Yeah, we got that too.
DFSBot — Let's say you like Daily Fantasy. Mine has more to do with stuff I can find on Redtube, but to each his own. If you play something like Draftkings, this is the tool for you.
Buysellatops — This is an interesting one. Want to know who to buy low and sell high on? Ask no further, for that link has everything you can dream of. Well, in the context of buying and selling.
SB Rates Against SP — Mike touts this one all the time for SAGNOF… the tool for all those needing to stream steals.
BABIP vs. AVG — A basic but very informative indicator, offering a simple analysis that will allow you to better focus on players who might have found new skill-sets or are just hot/cold.
FIP vs. ERA — Same as above, but for pitchers.
PlatoonyTunes — Projects season-long platoon splits to help guide your roster decisions.
The RCL Top 10
Why the top-10? Because they're the top-10 teams out of 1,000+? And that's pretty amazing? I'm Ron Burgundy? Simply put, they're the best of the best of the best, and I think they deserve a little bit recognition. BUT NOT TOO MUCH. Just a taste.
– That's no typo. Someone should check to see if it's legal to have two RCL teams in the top-10. Also, while you're at it, check to see if it's legal to name your team Colicky Fuddruckers. Just sounds soooooo, I dunno, it's almost like an eccentric take on poop jokes. The presence of Grey Poupon is usually a determining factor in such things.
The RCL Round-Up
So we're going random yet again, because that's so random of me. Well, I mean, at this point, it's not, but I'm not sure what else to say. Except that I want a taco.
– Today's first random team are the Sin City Hoes, from the Razzblurry RCL. And we won't focus on the fact that I now have a sudden urge for an Icee, but more at the fact that Sin City was a terribly overrated piece of sh*t movie. I don't understand the need for a sequel, unless it's just a day in the life of Eva Green's boobs (possibly NSFW). But I'm guessing there are other parts to the story, like more corny acting, stiff and monotonous monologues, and using egregious amounts of gore as a vehicle to keep the audience engaged. So I guess what I'm saying is, I'd rather just stare at that picture for two hours than actually watch that movie.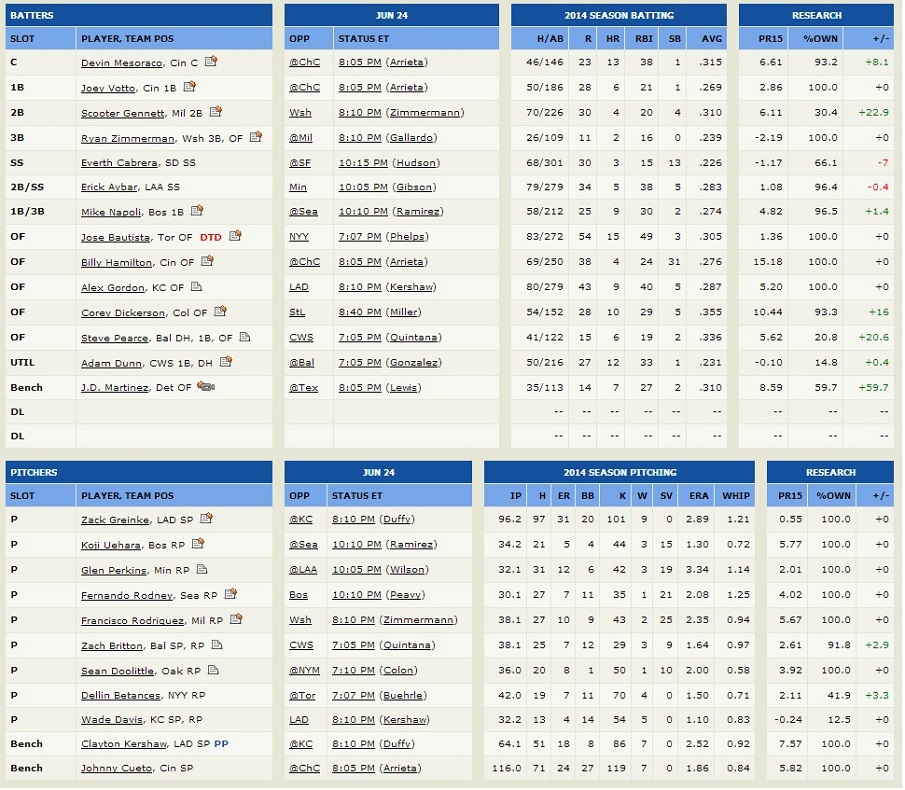 – So, no one on the DL?
– The second team in today's random spotlight is Still Paying Bonilla, brought to you by the Kid Cuddyer's Magical Palace RCL. And this is great that the Mets have a fantasy baseball team in our league. Probably not so great that they are still paying Bobby Bonilla, but that's the way it goes sometimes. Oh, for context, the 47-year-old Bonilla is making almost three times as much money this year as Mets catcher Josh Thole.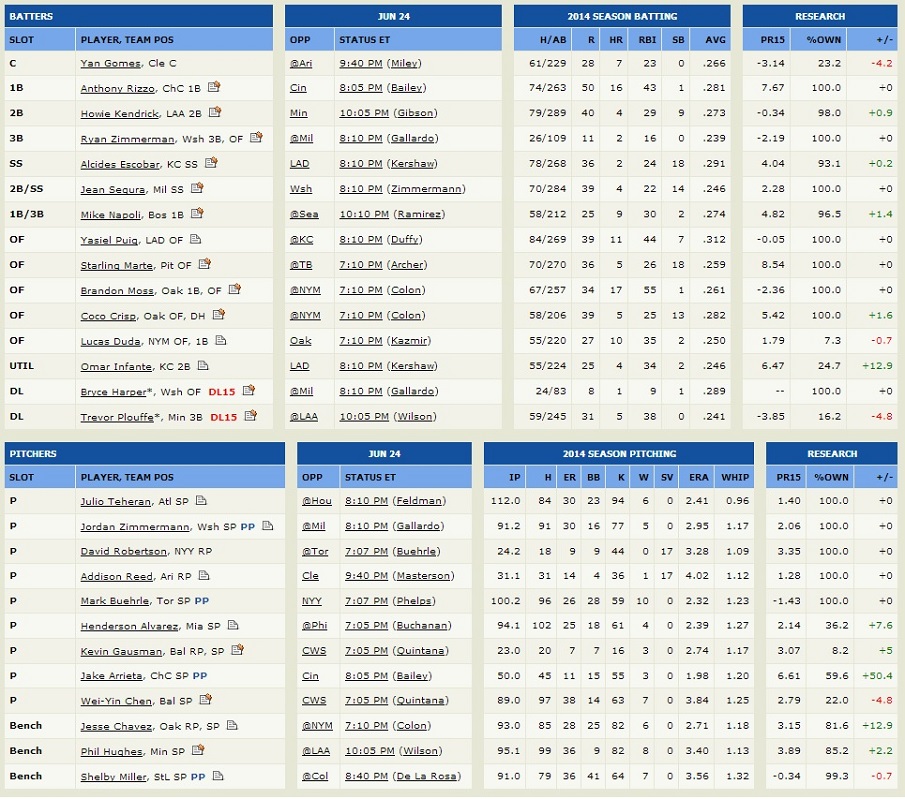 – See, I told you it was the Mets. Why else would they own Lucas Duda?
The RCL #1
The RCL #1, which sounds like a RCL made for 2001: Space Odyssey (Grey notified me that RCL #1 isn't related to a space shuttle, but is meant to be said like The Iron Sheik.  RCL #1! RCL #1! RCL #1!), is the Friends & Family league that Grey created so we could all be his fantasy baseball punching bags. Actually, maybe not so much punching bags as mustache combs. Seems more Grey-ish to me.
Regardless, this league stars myself, Rudy, Tehol the Elder God, Prospector Scott, Paul, the Sing(ing)man, Nick the Podcast Host, and Sky… err, the Blue? We need to find you a better title buddy. But that's us, that's the family. Which, I can assure you, I'm already filing paperwork to gain emancipation. The friends are Dalton Del Don from Yahoo, Brad Johnson from FanGraphs, Ryan Carey of Mastersball, and Tim McLeod of RotoRob.
The Standings: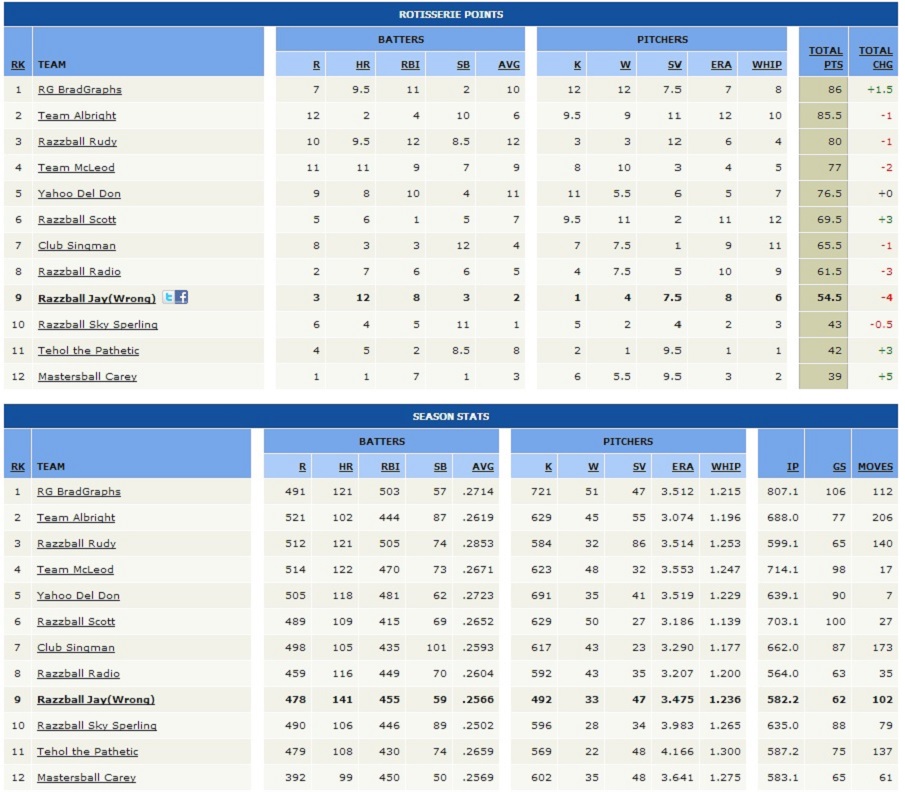 Want more of the Jay? Don't we all folks? Don't. We. All. Well, you, in fact, can have more. AMAZING. I know. You can find Jay enjoying his new dig's running the Football side of Razz.