Start the drum roll!  Twenty-six weeks down and now we have twenty-six more until the start of next year's fantasy baseball season.  It's perfect symmetry, because fantasy baseball is the perfect fantasy sport. Before we turn our eyes to next season we first have to recap this past season and with that, our overall Razzball Commenter Leagues Champion…Backdoor Splitters!  It was a wild back and forth between Backdoor and FFB since week 16 or so. I'm pretty pumped for the Splitters for a couple reasons. Firstly, Backdoor has been knocking on the front door of an overall title for many seasons now.  In 2018, they finished 6th overall, 2017 – 18th overall, 2016 – 3rd overall, 2015 – 5th overall and 2014 – 29th overall. Not too shabby, eh? This also marks the first time an ECFBL champ has won the overall title. I'm partial to the ECFBL, having taken over as commish of the league for the late, great Paulie Allnuts back in 2014 and being a member since 2013.  In that time we've had a couple second overall finishes and a handful of top 20s but never an overall. It's perennially one of the toughest RCLs with a high League Competitive Index that makes it tough to really run away with the league. Backdoor Splitters, in his first season in the league did just that though, running away with things with a 112 point score. That, coupled with the 108 LCI was enough to take the overall crown by 0.8 points.  The Splitters really rake it in, winning themselves a $250 Best Buy gift card! More importantly though, the Splitters get a Razzball T-Shirt and RCL glory. Who can put a price on that? Oh, it's $25, well then, moving on. You may know the Splitters more by their commenting handle of The Big Yabu, so the next time you see a comment (likely in this post) be sure to heap on the praise and congratulations. The Splitters fended off some very tough competitors this year to claim the RCL crown.  The Fat Fuckin Babies were the toughest competition, I gave it a quick run as did a handful of others. This is The Backdoor Splitters' moment though, so hopefully they pop in, take a bow and soak it up, they earned it.  
Here's what else what happened this year and this final week of the RCLs:
Each week we'll peek in at our resident 'perts to see who is laying claim to best "expert" RCLer in the land.  We'll take notes, check the standings and generally stalk them.  The heading is also hyperlink, so feel free to follow along as we go.

It is not my honor, or my pleasure (kidding!), but it is my duty to announce the winner of the 2019 'Perts League is none other than Mr. Fantasy Master Lothario himself, Grey Albright!  This marks the third time Grey has won the 'Perts League as he seems to be an odd year RCL player, winning in 2015, 2017 and now, 2019. Saberhagenmetrics at it's finest!  Grey held off my late surge and this marks the second straight season I've finished runner up.  Despite no money being on the line here, I want to win this darn league more than most others, maybe next year!  Grey led the league in Runs, homers, strikeouts and saves this season, making for a very balanced team. Congrats Grey, I'm glad I could at least push you the final week!
Donkey Teeth rounds out the podium and in a stunning upset, Tehol did NOT finish in last place despite abandoning his team in May.  Cram It led the offense this year with 57 of a possible 60 points there. I held the most pitching points with 52.5, but Grey was right behind me with 52.
TOP 20
For those too lazy to check the MASTER STANDINGS, I present to you, the current top 10
I'm expanding the top 10 to the top 20 for the final standings.  Stand up and give a hearty pat on the rear end to your end of season top 20.  Most of these teams made an appearance in the top 10 at some point this year and it takes some serious effort to make the top 20 at season's end.  The end of season IP penalties shook up the LCIs quite a bit, causing a stir, so be sure to check out where everyone finished:
Again, the Splitters claimed the top spot, let's take a quick deep dive into this team here, shall we?  Here's how the Splitters started their draft this year: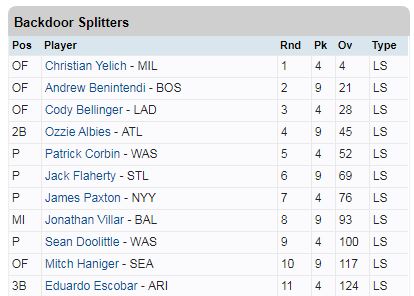 How did we let him draft Bellinger in the 3rd round!?  Yikes!  Villar and Escobar were huge value picks this season and Splitters nailed them both.  Imagine if Benny Baseball had come to play this year?  I had that Yelich/Bellinger combo in one RCL this year and, no surprise, I won that league and finished in the top 10 overall.  Next, let's look at Backdoor's trades.  There were only two as he flipped Albies for Felipe Vazquez in mid-June and then traded Robles and Villar for Walker Buehler in early July.  Otherwise, this overall title was all about the grind.  Nicely done my friend.
FFB slipped to second in the final week, sad babies.  FFB deserves some love here too, they led the way for most of the season and did so with the following draft: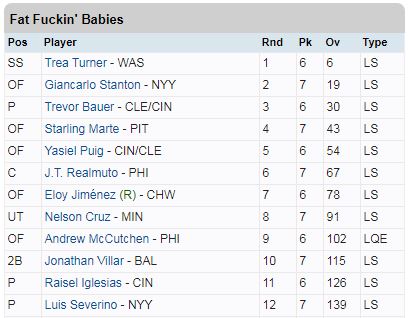 Just goes to show, you can overcome a crappy draft pretty easily in these leagues if you try.  Oh, and drafting Nelson Cruz and Jonathan Villar helps.
UpNorth remained in third, a spot they held for the final five weeks.
The kumamoto expungers jumped up two spots to leap over the Prague Defenestrators and into fourth.
I was able to hold onto a top ten finish with my best team this season, finishing sixth overall.
Acuna Moncada fell two places the final week to seventh.
In case you doubted Backdoor's skills, they also placed a team eighth overall for good measure.  Doubt not, doubters!
Congrats to the Great Knoche for a great final week, jumping up seven places to finish ninth overall!
Rounding out the top ten we have EvilEvies who moved up four spots to sneak into the final top ten.
The remainder of the top 20 includes The Squat Cobblers, Roto-Wan, mcafeeeee and yet another Backdoor squad.  In other words, some of the best in the game, nice work everyone!
WEEKLY LEADERS
The best of the best from the week that was.
R – 64 – Plesh (RCL 2019 (#62))
HR –26 – Plesh (RCL 2019 (#62))
RBIs – 71 – Plesh (RCL 2019 (#62))
SB – 15 – 3 Teams Tied
AVG – .341 – Acuña Matata (RCL 2019 (#2))
K – 219 – Writer-Wan (Writers League)
W – 17 – Writer-Wan (Writers League)
SV –  9 – HaveGunsWillTravel (RCL 2019 (#15)) & Filthy Scooter (RCL 2019 (#32))
ERA (Min. 40 IP) – 0.19 – J&G (RCL 2019 (#9)) (in 46.2 IP)
WHIP (Min. 40 IP) – 0.536 – J&G (RCL 2019 (#9))
With a lot of folks running up their IP the final week I thought we might see the strikeouts or wins weekly record fall a couple times over, but it was only one team that beat it and they destroyed it.  Roto-Wan went out and threw an incredible 219 IP which netted 213 strikeouts and 17 wins, besting the old marks of 147 and 11 quite handily. In case you are wondering, Roto-Wan's ratios for all those innings, 4.05 ERA and 1.313 WHIP.  They squeaked over the IP limit with 1014 IP and secured a fourth place finish in the Writers League for their efforts though, well worth the price. Plesh was a one team offensive wrecking crew, trying their best to take down some records while J&G had a noble attempt at tying the ERA mark and breaking the WHIP record.  In the end though, the current records stood. Speaking of…
WEEKLY RECORDS
The best of the best from the weeks that were.
R – 78 – AutoDraft (RCL 2019 (#9))
HR –35 – Fresh Meat (Frequent Commenters League)
RBIs – 86 – The Crying Wolves (Original Recipe)
SB – 16 – Honey Bunches of Sadness (RCL 2019 (#66))
AVG – .384 – Oey Otto (RCL 2019 (#1)) & Team Baghdoian (RCL 2019 (#42))
K – 219 – Writer-Wan (Writers League)
W – 17 – Writer-Wan (Writers League)
SV –  13 – Battlin Taz (RCL 2019 (#60)) & Team Shlomo (RCL 2019 (#37))
ERA (Min. 40 IP) – 0.00 – PASTE (RCL 2019 (#56)) (in 41.2 IP)
WHIP (Min. 40 IP) – 0.456 – PASTE (RCL 2019 (#56))
These are the best weekly outputs in each category from the year that was.  If you would all stand up to receive a round of applause, that would be lovely.
TEAM OF THE WEEK
Our weekly shout out to the team that killed it the previous week.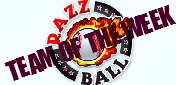 Team: Plesh
League: RCL 2019 (#62)
Stats:   AVG: .314, R: 64, HR: 26, RBI: 71, SB: 5
IP: 79.1, ERA: 3.18, WHIP: 1.021, K: 97, W: 4, SV: 2
Summary: It's always nice to finish strong and that's just what Plesh did in the final week as they simply ran away with the offensive numbers.  I could have given the award this week to a team that threw 200+ innings or some other gawdy number, but that's just quantity vs quality. Plesh managed 79.1 IP and had a nasty K/9 to go along with sweet ratios.  I'm unsure how only four wins came of all this, but nobody likes wins anyway. With the big final push, Plesh moved from fifth to third in RCL #62, gaining 7.5 points the final week. That should give the team something to rally around come Spring Training 2020 I'd say.  
TEAM OF THE WEEK OF THE YEAR
I thought it would be cool to look back at each TOW from this past season and see which week was the best week.
Taking away the extra long weeks that followed a Rudy vacation or the start of the season and us jump-starting the RCL Update machine after the first full week it was STL Squat Cobblers' week 19 performance that was the best of the best this year.  Their 401.16 points were pretty incredible and I remember saying at the time it was a week for the ages.
Both of our top two finishers managed a TOW honor.  FANTASY ICON was the only duplicate team to make the list however, three others, DFresh, Cobbler and myself made the list with multiple teams.  Several leagues sent multiple teams to the TOW ring of honor including RCL #59, RCL #63, RCL #65, DFSers Anonymous and ECFBL.
YEARLY LEADERS
The best of the best from the year that was.
R – 1454 – Fat Fuckin' Babies (RCL 2019 (#57))
HR –440 – Wooh And Waah Strategy (RCL 2019 (#41))
RBIs – 1300 – Stl Squat Cobblers (ECFBL)
SB – 205 – Casterly Rock Fighting Imps (edg5) (RCL 2019 (#42))
AVG – .288 – Team Jbmwlgraphs46 (RCL 2019 (#20))
K – 1769 – Boondock Saints (RCL 2019 (#7))
W – 119 – Prague Defenestrators (RCL 2019 (#15))
SV –  184 – The Lucchesi Family (RCL 2019 (#58))
ERA (Min. 1000 IP) – 3.10 – AR3 (RCL 2019 (#3)) (in 1410.1 IP)
WHIP (Min. 1000 IP) – 1.037 – LA ConXion (RCL 2019 (#28)) (in 1340.2 IP)
IP – Fat Fuckin Babies & Diamond Archers (RCL 2019 (#57)) – 1448.1
K/9 (Min. 1000 IP) –Boondock Saints (RCL 2019 (#7)) – 11.3
MOVES – 500 – Backdoor Splitters, Fat Fuckin' Babies, Backdoor Cutters, Stl Squat Cobblers, Squat Cobblers 2, Squat Cobblers 1, In a Ditch, Vegans, Team HoosierBoss
Worst Place – Hunt & Peck (RCL 2019 (#7)) & Team relaxntakeitez (RCL 2019 (#32)) – 17.3 RCL Points, 16.0 & 15.0 League Points with a League Index of 95 and 100 respectively.
I think we can officially squash the excuse that a moves limit or IP limit are hurting the numbers as we blew away previous RCL records for Runs, HRs and RBIs this season.  Juiced ball? Nah! We only beat the previous Runs record by a measly 171 Runs! HRs? We beat that record by 26! Next up, we beat RBIs by 61. These are records that were 2-3 years old that just got blown to bits.  We were also 32 strikeouts from a new record there and only 4 wins away from a new record there. Nice effort everyone!
The lowest ERA of the season was up 0.4 points from last year's low, yikes.  Interestingly though, our low mark for WHIP is .03 lower than last season. Who knows!
FFB put in some serious work this year leading the way in Runs and IP.  In fact, RCL #57 was action packed with Diamond Archers also hitting the high water mark for IP.  If only it weren't for the deadbeats in that league…
Nine teams maxed out on the 500 moves, up from three last year.  Of course, five of those came from two owners, so take it with a grain of salt.
Finally, a quick shout out to Hunt & Peck and Team relaxntakeitez who managed the feat of finishing DFL in the Master Standings. Hunt & Peck was in last most of the year until the penalties kicked in, they must be bummed to share the spotlight.
TOP LEAGUES
I've mentioned in the past that I have a bias for high LCI Leagues.  I've played in several and commish one of the best, so naturally I want to give them their due.  Here are the top 10 leagues in order of LCI:
RCL 2019 (#64) – 110
Night of the Living Zombinos – 109
ECFBL – 108
DFSers Anonymous – 108
PERTS LEAGUE – 108
Original Recipe – 108
RCL 2019 (#49) – 108
Cougs R Us – 107
RCL 2019 (#52) – 107
RCL 2019 (#45) – 106
RCL 2019 (#65) – 106
RCL 2019 (#66) – 106
There you have it, the top ten (plus ties) most competitive leagues.  Well done leagues! This could be the first time in a long time that the top team is a standard RCL and not a legacy league.  Who knew that an innocent looking $10 RCL would turn into a total bloodbath. Not a single team missed the IP limit, only two teams made fewer than 67 moves with four making around 300 each.  It was a real battle royale and while I usually cruise to a money finish in these RCLs, I finished third here. Nice work to all my league-mates!
It's the usual suspects otherwise.  Cougs, ECFBL and NOTLZ are perennial top LCI leagues and this year is no different.  Cougs R Us was dominate in offense this season, they led in every offensive counting category, plus Saves.  RCL #64 was second or third in every offensive category but made up ground on Cougs in the IP department beating them by almost 800 IP leading them to cruise to the lead in strikeouts and topping Cougs by 61 Wins.  ECFBL was the leader in league moves while RCL #49 led the pack with 1075 Wins.
The winners of all these leagues deserve major kudos.  It's not easy winning an RCL and certainly not one with an LCI north of 103.  Take note of the league names and maybe reach out next year when the time comes if you want to play in one of the top leagues.  I was practically begging people in the comments to come join Original Recipe in the preseason when we needed more managers. You have no one to blame but yourself for not being in a competitive league.  I played in seven of the twelve leagues listed above and each one was a total blast.  
It has been an absolute pleasure bringing you these updates every week.  Thanks to everyone who read, lurked, commented and/or gave a kind word. A million thanks go out to Rudy for collecting data behind the scenes and making my job easy as well as Jay for editing these bad boys!   I love these crazy, time-consuming leagues, I love the daily moves and the competition it creates and I hope that was evident in my weekly reports. Is it perfect? Nah, but darnnit, it's fun as hell. I like to think of it as the daily fantasy of season long.  I also love the community it brings together, pitting commenter against commenter, 'Pert against random lurker. Is there another place on the interwebs where you can play against 800+ other people all with weekly Master Standings updated as well as a weekly report on the goings ons?  I think not. Thank you to Grey and Rudy for creating this beautiful monster known as the RCLs. Let's dedicate this season to Paulie Allnuts and Simply Fred (RIP my brothers) and enjoy our winter of hibernation.  See you all you crazies next year.
Want to be Matt's Twitter pal?  That's kinda creepy, but you can follow him here: @MattTruss