I hope everyone was able to enjoy a long weekend this Memorial Day.  It's the unofficial start of summer here in the north country but it was cold and rainy here, kind of like it was at many baseball stadiums this weekend.  Between the rainouts and injuries I was lucky to get in half the normal amount of Games Played for my Razzball Commenter League teams.  My Eduardo Rodriguez vs. the Marlins start got washed out only to see him get crushed by the Astros.  According to the numbers we had a down offensive week.  If you ask my teams with the Padres pitching staff, we had plenty of offense though.  Hopefully you all had sunny weekends and plenty of offense for your RCL teams.  I'm  recouped and ready to bring you the goings on for the week in the RCLs.  Son stretched his lead again this week, but another Razzball writer is hot on his trail.  We also had a couple of weekly pitching records fall, clearly not from anyone rostering Blake Snell.  All this and more in the week that was, week 8 in the RCLs:
Each week we'll peek in at our resident 'perts to see who is laying claim to best "expert" RCLer in the land.  We'll take notes, check the standings and generally stalk them.  The heading is also hyperlink, so feel free to follow along as we go.
Son gained five more points this week to bring him to 106 total points.  He was able to keep ahead of Coolwhip, who added four points and just can't seem to edge Son out.  The biggest gainer this week was Laura. She gained seven points and moved into third place, leaping over my team, who lost six points.  Six points would typically be enough to earn biggest loser honors, however Donkey Teeth nabbed that honor this week with his 11 point debacle.  That was enough to drop him three spots, the most of anyone this week.  JKJ on the other hand gained 5.5 points and moved up three places to secure the biggest jump in the standings this week.
Each week we'll also take a look at the top ten overall standings in our other Razzball sponsored league, the RazzSlam.  This is our NFBC Best Ball league with managers from all across the industry, from content providers to fans and readers just like you.
The top two remained unchanged this week with Nicholas Mariano holding onto the top spot over Yatta.  Sammy Reid slid into third, moving up from sixth last week and pushing Asher, Seymour and Donkey Teeth all down one spot.  Ryan Owen held onto seventh and Russell Prentice clawed their way back into the top ten this week after falling out since week four.  A new team makes a top ten appearance this week with James Anderson debuting at the number nine spot, pushing Joseph Bond to tenth.
TOP 10
For those too lazy to check the MASTER STANDINGS, I present to you, the current top 10
As I mentioned, Son got to 106 league points and continued to hold the top overall spot this week.  However, Laura added four points of her own in RCL #9, bringing her to 111 league points.  That pesky league index is giving Son a boost, but if Laura can climb up to that 114-115 range she might have enough to pass him.  Her big output pushed Team mpaltrow to third.
Coolwhip, trying his best to keep pace with Son moved up two spots to fourth this week.
Disgustipated moved from tenth to fifth and Son's Writer's League team fell one spot to sixth.
Orlando Calrissians remain in seventh for another week and my RCL #35 team fell four places to eighth.
Rounding things out we have Vottoman Empire who took a three week hiatus from the top ten back in there this week along with a brand new team, Lucky Bucky who has been on a steady climb up the standings and lands in tenth overall.
TRADES
All the trades that have gone down in the past week.  Public ridicule is not only allowed, but encouraged.
Nine trades were processed this week.  Yermin Mercedes continues to get passed around the RCLs.  He'd probably stay on more teams if he had anything but UTIL.  Blake Snell got traded for Keston Hiura…what a schmohawk this guy is.  I'm holding on, just out of spite, but what a fall from grace.
WEEKLY LEADERS
The best of the best from the week that was.
R – 52 – Johnny Utahs (ECFBL) & DFresh (RCL 2021 (#19))
HR –16 – DonSlaughtOnslaught (Night of the Living Zombinos), Man or Stroman? (RCL 2021 (#34)) & Kailuaboys (RCL 2021 (#20))
RBIs – 56 – 3rd String All-Stars (RCL 2021 (#30))
SB – 13 – STL Cardinals (RCL 2021 (#37)) & Backdoor Cutters (Night of the Living Zombinos)
AVG – .310 – Team janowx (RCL 2021 (#31))
K – 104 – Who's Cartwright? (RCL 2021 (#33))
W – 11 – Fat Fuckin' Babies (Cougs R Us)
SV –  10 – DFresh (RCL 2021 (#35))
ERA (Min. 40 IP) – 0.22 – Fenway Franks (RCL 2021 (#18)) (in 41 IP)
WHIP (Min. 40 IP) – 0.583 – Endangered Species (Original Recipe) (in 58.1 IP)
That is one itty bitty ERA.  It'll take someone hitting zero to top that, a feat I've only seen happen once in my time grabbing RCL data.
FFB continues their impressive performance in Cougs and is helping make sure we don't have anymore ties in the win department.
TEAM OF THE WEEK
Our weekly shout out to the team that killed it the previous week.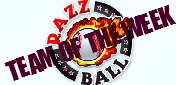 Team: Stl Squat Cobblers
League: ECFBL
Stats:   AVG: .252, R: 42, HR: 14, RBI: 49, SB: 6
IP: 82, ERA: 2.30, WHIP: 1.134, K: 79, W: 10, SV: 4
Summary: I always love when I run the numbers for TOW and see a team I'm trying to chase down in one of my leagues at the top of the list.  The Cobblers led all the RCL universe in RBIs last week and followed that up with TOW honors.  What a two week run.  All he did in that time was take over first place in one of the toughest RCLs out there.  Two weeks ago the Cobblers had 76.5 points and were in fourth place.  Now they have 95 and lead the league by 14.5.  What a swing.  This week it was Tatis, Longoria and Tyler O'Neill putting in work on offense and Brandon Woodruff pacing the pitching.  Nice work Cobblers, now slow down a little would ya?
Want to be Matt's Twitter pal?  That's kinda creepy, but you can follow him here: @MattTruss