Happy Memorial Day RCLers.  It may be a long weekend but the Razzball Commenter Leagues never rest.  We're here for the grind.  We are days away from June and right around this time is where I'm cutting bait with struggling players.  Just this week I've rage dropped Lourdes Gurriel.  Take your two homers and two steals to the waiver wire.  Yoan Moncada and his .133 batting average can hit the road.  Spencer Torkelson at least has four dingers, but I've seen him hitting the wire in a couple leagues and I haven't been jumping to add him just yet.  That said, I haven't dropped him in leagues yet either, call me a sucker.  Kris Bryant at least has the decency to hit the IL.  Grey is still holding Teoscar in the 'Perts League but two homers and one steal with a .170 average is even worse than Lourdes.  I cut Max Muncy in a league where I've already got Jonathan India and now Tim Anderson hitting the IL.  My teams are dying, y'all.  Who have you raged dropped recently?  Anyone you're still holding on to in hopes they get hot as Trevor Story and turn their season around?  Javier Baez perhaps?  Let me know in the comments and we can commiserate together.  Now, for the rest of the week that was, week 7:
Each week we'll peek in at our resident 'perts to see who is laying claim to best "expert" RCLer in the land.  We'll take notes, check the standings and generally stalk them.  The heading is also hyperlink, so feel free to follow along as we go.
We had absolutely no change in the standings in the 'Perts League.  That doesn't mean there were no points gained though.  Grey and B_Don tied for the most points gained this week with six each.  This puts them both just seven points away from Laura who sits in third.  Grey led the league in Runs, HRs, and RBIs this week.  It's real close in the middle of the 'Perts League pack, but Son and I have a big cushion for the time being.  JKJ took the biggest tumble this week, losing five points on the back of a 5.84 ERA.  None of his hitters got in on that action though as his squad only had seven homers.
Each week we'll also take a look at the top ten overall standings in our other Razzball sponsored league, the RazzSlam.  This is our NFBC Best Ball league with managers from all across the industry, from content providers to fans and readers just like you.
Hey, what do you know?  It's Clark Olson still atop the RazzSlam standings.  Zach Nelson aka Barrelman made a big jump this week though and joined the top ten in style, landing in fourth overall.  A couple huge weeks from Trevor Story has Zach repping TeamRazz in style.  The move bumps JKJ out of the top ten, but he's still hanging around ready to jump back in.  Ryan Beck and Robert Goldman replace Bob Cyphers and Brent Franey in the top ten which is otherwise unchanged.
Scott Jenstad gained the most points this week with 784, beating out Zach's 746.  The biggest mover this week was Adam Howe who moved up 64 spots to 84th thanks to a 685 point week.
TOP 10
For those too lazy to check the MASTER STANDINGS, I present to you, the current top 10
I managed to work my teams back up to one-two in the standings but it was my 'Perts League team grabbing the top spot as my DFSers squad took a little tumble.  Donkeycorns falls to fourth overall as stechsjj jumps into third.  Son moved up to fifth and we now have two 'Perts League teams in the top five!  That's impressive for our League Competitive Index (LCI).  Longballers jumps from tenth to sixth and FFB falls from fourth to seventh, but I've still got my eye on them.  Scoboticus and tberkman make their way back into the top ten this week in eighth and ninth, respectively.  Finally, Fred Garvin MP works their way into the top ten overall this week.
TRADES
All the trades that have gone down in the past week.  Public ridicule is not only allowed, but encouraged.
Four deals got done this week with nothing too radical.  I'm not sure I can get on board with trading Cease for Barlow here though.  SAGNOF life after all and I think I'd want a slightly more stable closer in return for Cease, but to each their own.
WEEKLY LEADERS
The best of the best from the week that was.
R – 65 – Vegans (DFSers Anonymous)
HR –21 – Rancid Ruffles (RCL 2022 (#42)) & DZ1979 (Night of the Living Zombinos)
RBIs – 70 – razzkai (RCL 2022 (#23))
SB – 15 – Srbanator (RCL 2022 (#1))
AVG – .338 – Highland Homers (RCL 2022 (#30))
K – 109 – mdubs (RCL 2022 (#2)) & mdubs (RCL 2022 (#26))
W – 10 – Fenway Franks (RCL 2022 (#46)), Lucky Bucky (RCL 2022 (#30)), & Satchel Rages (Night of the Living Zombinos)
SV –  9 – Greetings from the Humungus (RCL 2022 (#9)) & Laura Holt (RCL 2022 (#26))
ERA (Min. 40 IP) – 1.09 – Drich50 (RCL 2022 (#23)) (in 49.2 IP)
WHIP (Min. 40 IP) – 0.702 – RayinIN (RCL 2022 (#39)) (in 62.2 IP)
No new records this week, but many ties.  Razzkai tied the RBI mark and three teams tied the win mark, meaning we have a four way tie for the weekly wins record with 10 wins.  Someone needs to win 11 this week, please and thank you.  Mdubs had two different squads lead the RCLs in strikeouts, each with 109 Ks in 116 IP.  What are the chances of that?
TEAM OF THE WEEK
Our weekly shout out to the team that killed it the previous week.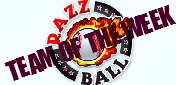 Team: Fenway Franks
League: RCL 2022 (#46)
Stats:   AVG: .304, R: 62, HR: 14, RBI: 59, SB: 9
IP: 95.2, ERA: 2.63, WHIP: 1.056, K: 88, W: 10, SV: 5
Summary: Big weeks from Paul Goldschmidt and Jose Ramirez paced Fenway Franks' offense while Corbin Burnes and Sonny Gray led the way for the pitching staff, each accumulating very nice 0.69 ERAs this week.  The K/9 could have been a little higher, but the high batting average and the slam and legs special 14/9 combo along with teeny ratios and an RCL co-leading 10 wins made the Franks this week's TOW.  The big week moved the Franks from eighth to first in RCL #46 and from 368th to 91st in the Master Standings.  Nice work FF!
Want to be Matt's Twitter pal?  That's kinda creepy, but you can follow him here: @MattTruss