Before we take a dive into our weekly Razzball Commeneter leagues numbers and standings to see how badly Son is clobbering us this week, I want to take a little aside.  I want to chat about K/9 and its importance in the long game of the season.  Since we're all capped at 1,400 IP, the strikeout category basically turns into a race for the highest K/9.  Once your innings are up, you are stuck with the number of strikeouts you have.  This makes those high K/9 relievers such as Aroldis Chapman and James Karinchak (even without the save opportunities) very valuable pieces.  Something I like to do is sort players by K/9.  You can do this by hitting "Extra" on the player page when viewing pitchers.  Then, just sort by K/9 and make sure you're looking for players with a substantial amount of IP.  If only Jose de Leon could not give up an earned run every outing, that K/9 (17.28) would be delightful.  If you find yourself without a save vulture target for the day and your offense is full, consider grabbing a high K/9 reliever to help boost those stats.  It only takes a few 7 IP, 2 K performances to put you behind the pace.  It's important to monitor and keep a balance.  Fortunately for you, and especially those that are bad at math, we're tracking your K/9 for you on the Master Standings page.  There, you can see that among teams with at least 40 IP/week we have Team KumaDeviL with an impressive 12.4 K/9.  Bringing up the rear is Team Matbrekk77 with 7.7 K/9 in 245 IP.  Ideally, you'll be looking at a K/9 north of 10.  You can see our current Master Standings leader, Son is a little behind, which could prove his undoing as everyone catches up in IP.  There's still time to correct though, so fear not!  It's also going to be important to monitor your innings usage.  You can click "MIN/MAX" on your team page to see your innings used and your pace.  I like to keep my pace pretty close to right on the money, but your mileage may vary.  Just don't leave innings on the table if you can help it.  Let's take a look at the rest of the week that was, week 4 in the RCLs:
Each week we'll peek in at our resident 'perts to see who is laying claim to best "expert" RCLer in the land.  We'll take notes, check the standings and generally stalk them.  The heading is also hyperlink, so feel free to follow along as we go.
Son continues his reign of terror on the 'Perts League and the RCL-universe as a whole.  Just for fun, he led the 'Perts League in RBIs and co-led in steals this past week.  He also worked to improve his K/9 weak spot this week, posting 67 Ks in 50.1 IP.  Geez.
The biggest mover this week, trying to steal some of Son's shine is Son's…father?…son?…Grey!  Grey gained 14.5 points this week to finally pull himself out of the depths!  Grey gained five spots this week to settle into sixth place, right in the thick of things, just like that.  Grey didn't lead the league in any categories, but was just very solid in all of them.  One good week, that's all it takes to get back in this thing.
On the other side of that coin, one bad week, like what B_Don had, can send you hurtling to the bottom of the standings.  B_Don lost 17 points this week and fell six places down to 11th.
Each week we'll also take a look at the top ten overall standings in our other Razzball sponsored league, the RazzSlam.  This is our NFBC Best Ball league with managers from all across the industry, from content providers to fans and readers just like you.
For the third straight week, we have a new RazzSlam overall leader.  This time, it's Sammy Reid's turn on top.  Last week's leader, Brian Seymour slipped to third and Nicholas Mariano jumped up from fifth to nab second overall this week.
Donkey Teeth got themselves back into the top ten this week, landing in a tie for seventh and Coolwhip took a bit of a tumble, but held onto the top ten as they fell from second to tenth.
Holding it down for Team Razzball, the biggest point gainer this week is our very own, The Itch!  Itch gained 732 points this week but got edged out for the biggest gain in the standings.  Alex Chamberlain gained 77 spots this week to Itch's 76.  Nice work everyone.
TOP 10
For those too lazy to check the MASTER STANDINGS, I present to you, the current top 10
Son and Laura remain one-two for another week in what should be an epic battle.  EvilEvies jumped up one spot this week to fill out the podium.
Rock Meet Bottom is working on meeting the top, as they moved up from 35th last week to fourth overall this week.  The Fighting Hams also had a big week, moving from 31st to fifth.
Orlando Calrissians moved up two spots to sixth while Team mpaltrow moved up 17 to seventh.
Disgustipated and VottomanEmpire hung onto their top ten spots for another week as Johnny Utahs snuck in there, up from 17th last week.
TRADES
All the trades that have gone down in the past week.  Public ridicule is not only allowed, but encouraged.
Another busy week of trading this week in the RCLs.  A week after Grey had Glasnow as a sell, he's on the move twice.  I really like the deal for Alex Reyes and J.D. Martinez.
Dansby Swanson also found himself on the move twice this week.  After how Tyler Mahle looked this weekend, I think BillyAngel sold just in time.  I also really like that deal for Arozarena.
I'm not sure what happened in this trade in RCL #33, but I feel like Team Draft Difficulties may have also had some trade difficulties.
WEEKLY LEADERS
The best of the best from the week that was.
R – 62 – Fighting Hams (Cougs R Us)
HR –25 – New York Sturgeon King (RCL 2021 (#25))
RBIs – 75 – Team B_don (Writers League)
SB – 12 – Team razzkai (RCL 2021 (#34)), Son (RCL 2021 (#26)) & The TeePee (RCL 2021 (#20))
AVG – .352 – Fighting Hams (Cougs R Us)
K – 93 – Raleigh Fingers (RCL 2021 (#29))
W – 9 – Team (RCL 2021 (#30))
SV –  11 – FANTASY ICON (DFSers Anonymous)
ERA (Min. 40 IP) – 1.40 – The Iron Horse (RCL 2021 (#17)) (in 45 IP)
WHIP (Min. 40 IP) – 0.801 – Plesh (RCL 2021 (#25)) (in 58.2 IP)
It's no wonder that the Fighting Hams gained 26 spots this week, leading the RCLs in two offensive categories will do that for you.
In the early going, these records will fall fairly often and this week we set new high weekly marks in Runs, HRs, RBIs, Average and Saves.  Team also tied the weekly mark in wins.
TEAM OF THE WEEK
Our weekly shout out to the team that killed it the previous week.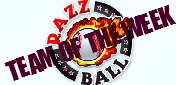 Team: Team
League: RCL 2021 (#30)
Stats:   AVG: .269, R: 51, HR: 18, RBI: 43, SB: 7
IP: 75.1, ERA: 2.03, WHIP: 0.996, K: 71, W: 9, SV: 6
Summary: With the most nondescript team name in all the RCLs, Team had themselves one heck of a week.  Team's pitching staff of Patrick Corbin, Corey Kluber, Alex Wood…wait a minute, what year is this?  The wily vets really put on a show this week.  On offense, it was Shohei Ohtani, Vlad Jr. and Isiah Kiner-Falefa leading the way.  Just like we drew it up.  Unfortunately, Team has found themselves in a bit of a hole to start the season, in part due to Patrick Corbin.  However, after a nice week, they gained 12.5 points in RCL #30, but still sit in ninth place, up from tenth last week.  Team looks to need one more solid week of pitching to help fix those ugly ratios and really get back in the mix.  At least we avoided another week talking about how great Son's team did.  Thanks Team!
Want to be Matt's Twitter pal?  That's kinda creepy, but you can follow him here: @MattTruss