We have a new leader on the top of the Razzball Commenter Leagues Master Standings this week, which will most likely be the norm as things shift in the early going.  Although, if the current top team continues on the tear they've been on, it'll take some time to catch them.  We have our first normal week of data this week as well, which means we have the bar set for the weekly records.  We'll dive into that soon, in the meantime I thought I'd toss out a friendly reminder about pacing yourself.  No, this is not a PSA reminding you to mix a glass of water into your whiskey drinking (but do that too).  This is about pacing your innings pitched.  Some simple math tells us there are 25 weeks in the season and we need to get to 1400 IP.  That means you should be looking at about 56 innings pitched per week in order to stay on track.  In other words, you should be sitting at between 170 and 180 IP as of this writing.  FanTrax does offer you a glimpse of your current pace if you click the Min/Max button on your team screen.  I'm not sure I trust their math though.  I followed their pacing in the past and with about a month and a half to go had to stream my arse off in just about every league to catch up.  I'm not sure where the breakdown was, but I prefer my own tracking.  With any luck, you're reading this early enough this season that you won't fall into the same trap.
Each week we'll peek in at our resident 'perts to see who is laying claim to best "expert" RCLer in the land.  We'll take notes, check the standings and generally stalk them.  The heading is also hyperlink, so feel free to follow along as we go.
Son is looking to runaway and hide with the 'Perts League top spot.  Son gained 18 points this week and you'll be hearing an awful lot about the week he had later on in this write-up.  Son led the league in every offensive category except steals and co-led in saves while tossing out 57 innings of tremendous ratios.  It was, how do we say, a very good week for Son.
Where Son lacked, Coolwhip picked up the slack leading the league in every pitching category but saves and getting nudged in ERA by Laura.  Coolwhip also led the league in steals, gaining 12.5 points and moving up three places to second.  Save some points for the rest of us guys.
Laura was this week's biggest loser, apparently the jinx hex I placed on her last week worked wonders as Laura dropped 13.5 points and fell three places to settle into sixth place.
In other news, Grey is no longer in last!  Congrats Grey!  (Sorry, Cram It)
Each week we'll also take a look at the top ten overall standings in our other Razzball sponsored league, the RazzSlam.  This is our NFBC Best Ball league with managers from all across the industry, from content providers to fans and readers just like you.
Sadly, Donkey Teeth has fallen from his perch atop the RazzSlam standings.  It was a rough week for Donkey and they actually fell right out of the top ten.  Replacing Donkey in the catbird seat is Brian Seymour, who broke out of the three way tie for third last week to lead the pack.
Coolwhip jumped up to second place this week, so Razzball is still represented on the podium.  Last week's runner up, Waler McMichael slips down to ninth and Kenyatta jumped up from ninth last week to third this week.
The biggest point gainer of the week was Ryan Owen, who picked up 668 points and moved into 20th overall.  Joe Piapia was the biggest mover, adding 613 points and moving up 69 spots…nice.
TOP 10
For those too lazy to check the MASTER STANDINGS, I present to you, the current top 10
As promised, here is more on Son's amazing week as his 'Perts League squad moved from eighth to first this week.  Son also has two teams in the top five now as his Writer's League squad held strong in fifth overall.  Everything is coming up Son.
Laura hasn't gone away however, just chilling out in second overall now.
Team bnrgoalie moves up three spots this week to third overall and EvilEvies jumps from 22nd to fourth this week with a great week in the ultra-competitive ECFBL.
RBV falls from second to sixth this week while Disgustipated made a large jump from 46th to seventh.
Orlando Calrissians falls one spot to end up in eighth while some dude named Truss rockets from 71st last week to crack the top ten this week.
Rounding us out is VottomanEmpire, falling one spot.
TRADES
All the trades that have gone down in the past week.  Public ridicule is not only allowed, but encouraged.
Apparently, this week was trade week.  I typically like to wait about a month before I make too many moves with my team, unless there's a glaring, obvious hole, but if that happens, I should know immediately following the draft.  There were ten total trades this week with a couple of big names changing hands.  Speaking of Hands…Brad Hand for Yu Darvish, can I get that deal somewhere please?  I guess i can't talk, I traded Woodruff for Hendriks, but that's on a team I took over that had way too much starting pitching and no saves.  
Ohtani moves yet again, this time for Maeda, I love it.  I tried acquiring Ohtani in a league this week, offering Greinke and Dansby Swanson for him, which was quickly rejected.  I balked at moving Ozuna for Ohtani in the counter proposal.
WEEKLY LEADERS
The best of the best from the week that was.
R – 60 – Son (PERTS LEAGUE)
HR –22 – Team Rmuzz55 (RCL 2021 (#4))
RBIs – 60 – Fart Butt (RCL 2021 (#18))
SB – 17 – Jerk_stoor (RCL 2021 (#4))
AVG – .299 – REDRUM (RCL 2021 (#9))
K – 98 – Expos 2.0 (RCL 2021 (#11))
W – 9 – Expos 2.0 (RCL 2021 (#11)) & Revenge of the Lawn (RCL 2021 (#8))
SV –  10 – Team Truss (RCL 2021 (#35)), MattTruss (Writers League) & Drunc Orks (RCL 2021 (#8))
ERA (Min. 40 IP) – 1.19 – LangDaddy (RCL 2021 (#6)) (in 53 IP)
WHIP (Min. 40 IP) – 0.585 – Creative Chaos (ECFBL) (in 40 IP)
These are your numbers to beat to get on the end of year weekly leaders leaderboard.  Son not only led the 'Perts League in runs, he led all the RCLs. 
Last year, the weekly leader for steals had 16, so good luck topping 17 this season, wow. 
It would seem that I have a thing for closers, huh?
TEAM OF THE WEEK
Our weekly shout out to the team that killed it the previous week.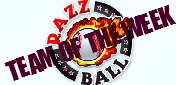 Team: Son
League: PERTS LEAGUE
Stats:   AVG: .276, R: 60, HR: 20, RBI: 52, SB: 7
IP: 57.1, ERA: 2.83, WHIP: 1.238, K: 63, W: 5, SV: 6
Summary: In all my years collecting the RCL data and doing TOW, I couldn't ever remember a team going back to back.  I looked back on the data and while I saw plenty of teams go two for three or even have two different teams be TOW in back to back weeks, there hasn't been a team to win it two weeks running until now.  Son is just off to a blistering start as Fernando Tatis comes back to lead the offense and Yu Darvish along with a stable of relievers pace the pitching side.  Taking a deep dive into Son's draft, he drafted from the third position and drafted Tatis/Darvish/Abreu/Nola.  It's really been Son's great waiver additions and streaming that have made the difference.  Additions of Nate Lowe (April 3rd), Yermin Mercedes (April 4th), Carlos Rodon (April 5th) and a 24th round pick of Emmanuel Clase are just a couple gems so far.  Excellent work Son, it's gonna be fun trying to chase you down everywhere.
Want to be Matt's Twitter pal?  That's kinda creepy, but you can follow him here: @MattTruss