It's hard to believe there's only one week to go in the Razzball Commenter Leagues.  This marathon of a season has seen us torture ourselves for 25 long weeks, agonizing over batty calls, dipping into the streamers with mixed results, cursing players and praising others.  We've ignored our families, our jobs and our personal hygiene and now it all comes down to the final week. You may smell like stale Funyuns, but dagummit, that virtual fantasy trophy is all yours!  Speaking of trophies, the FFBs are looking to lock down their overall RCL Championship trophy. FFB took the lead once again this week after two weeks in the second place seat. FFB has a 0.7 RCL point lead over Backdoor Splitters with a week to go. Can they hold on?  It's a two team race and a battle of LCI vs. League Points. More on the FFBs and the rest of the week that was, week 25 below:
Each week we'll peek in at our resident 'perts to see who is laying claim to best "expert" RCLer in the land.  We'll take notes, check the standings and generally stalk them.  The heading is also hyperlink, so feel free to follow along as we go.

Things are about as close as they can get after this week in the 'Perts League.  Grey held serve with 92 points and I crept up with 91.5 points. The final standings are going to come down to who steals the most bases and if I can get a boat load of saves the final week.  I gained some points in strikeouts this week, but should lose those as others catch up in IP, leaving me in the 90 point range. I'll need to stay ahead of Grey in steals and gain 5-6 saves in order to win this league.  I'm holding my breath and SAGNOFing my face off. I dropped Matt Chapman for Danny Santana this morning, the SAGNOF is real! Wish me luck!
B_Don gained the most points in the league this week with 3.5.  Hot Rod gained the most places in the standings however, gaining two places thanks to Kerry and Tehol's continued tanking.  Kerry was the week's biggest loser, losing 5.5 points and dropping two spots in the standings.
TOP 10
For those too lazy to check the MASTER STANDINGS, I present to you, the current top 10
As I mentioned, Fat Fuckin' Babies and Backdoor Splitters swapped spots this week in what has been an epic back and forth down the stretch.
Up North held firm in third place and Prague Defenestrators swapped places with Acuna Moncada into fourth and fifth respectively.
Kumamoto expungers remained in sixth place this week while I jumped back into the top ten this week after a one week hiatus.
Backdoor Cutters dropped one spot down to eighth this week and The Cherry Stones jumped up 11 spots to make their top ten debut.
Rounding things out this week we have Orchids of Asia representing the Crab Army.
WEEKLY LEADERS
The best of the best from the week that was.
R – 61 – Team Tokyo (RCL 2019 (#50))
HR –23 – Backyard Baseball (Night of the Living Zombinos)
RBIs – 71 – Team jle0379 (RCL 2019 (#63))
SB – 11 – GMoney Squared (RCL 2019 (#33))
AVG – .335 – TEHOL BEDDICT THE ELDER MFING GOD (PERTS LEAGUE)
K – 126 – Buster McThundersticks (RCL 2019 (#62))
W – 8 – #6org (RCL 2019 (#62))
SV –  11 – The Lucchesi Family (RCL 2019 (#58))
ERA (Min. 40 IP) – 0.78 – Whiskeytown Criers (RCL 2019 (#10)) (in 46 IP)
WHIP (Min. 40 IP) – 0.794 – SUMMER THUNDER 2 (RCL 2019 (#59)) (in 51.2 IP)
No new records this week and we've got one more week to topple the current records.  
Proving that even a blind squirrel finds a nut, Tehol's abandoned team made the list this week.  Nice work Tehol.  
RCL #62 is holding it down this week.  That's never a good sign when a league I'm trying to win appears all over the leaderboard.  Needless to say, I am not currently winning that league.
TEAM OF THE WEEK
Our weekly shout out to the team that killed it the previous week.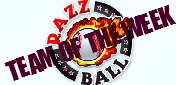 Team: Team jle0379
League: RCL 2019 (#63)
Stats:   AVG: .334, R: 59, HR: 20, RBI: 71, SB: 4
IP: 73.2, ERA: 2.81, WHIP: 1.181, K: 71, W: 4, SV: 7
Summary: Team jle0379 was darn close to a clean sweep of the offensive categories this week and they put up some very nice pitching numbers as well.  Earning TOW honors this late in the season when you're competing for the league lead is always nice. Team jle now finds themselves in second place in RCL #63 thanks to the stellar week and a 5.5 point gain.  Time is running out to catch TC Street Parkers but a second place finish is nothing to scoff at, so stop scoffing you scoffer! Miguel Sano and Nelson Cruz led the Twins and Team jle this week on offense while Marcus Stroman and Mike Clevinger chipped in on the pitching side.  Keep it up jle, with one more great week RCL #63 could be yours!
Want to be Matt's Twitter pal?  That's kinda creepy, but you can follow him here: @MattTruss