It's hard to believe there's only one week to go in the Razzball Commenter Leagues.  This marathon of a season has seen us torture ourselves for 25 long weeks, agonizing over batty calls, dipping into the streamers with mixed results, cursing players and praising others.  We've ignored our families, our jobs and our personal hygiene and now it all comes down to the final week. You may smell like stale Funyuns, but dagummit, that virtual fantasy trophy is all yours!  Speaking of trophies, The Fighting Hams are looking to lock down their overall RCL Championship trophy. The Hams have spent three weeks in the number one spot and with one week to go they added 2.5 points to their league total, bringing them to 113 points.  Those 113 points along with the 103 League Competitive Index has them 2.9 RCL Points ahead of the competition. The Hams are getting hot at just the right time and we'll see if they can hold on. More on the Hams and the rest of the week that was, week 25 below:
Each week we'll peek in at our resident 'perts to see who is laying claim to best "expert" RCLer in the land.  We'll take notes, check the standings and generally stalk them.  The heading is also hyperlink, so feel free to follow along as we go.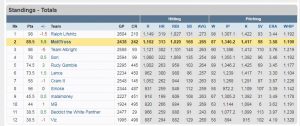 I called this one last week, but it's officially over now.  I'll wait until next week to congratulate Ralph on a darn near wire to wire victory, but you don't have to.  Let him hear it, it's been an impressive season. Grey dropped 5 points this week as he was only able to fire 16 IP due to being so close to the 1400 mark.  It didn't help matters that those 16 IP came with a 9.18 ERA…ouch. Meanwhile, I found myself quite a bit behind in IP thanks to the FanTrax IP pace seemingly being bonkers.  All season I've been keeping my pace right at 1400 but going into last week I was under 1300 IP. Not wanting to try and stream 100 IP the final week of the season I decided to give it a whirl this past week.  The result was 96.1 IP, 9 Wins, 101 Ks, all of which led the league. I managed a respectable 3.83 ERA and 1.204 WHIP as well. All that pitching goodness netted me a gain of 4.5 points and boosted me into second place.  Hopefully, I can hang on, but I don't see any shot at catching Ralph.
TOP 10
For those too lazy to check the MASTER STANDINGS, I present to you, the current top 10
As mentioned in the lede, Fighting Hams holds on for another week and increased their lead a hair.
LauraHolt moved into second place and is seriously eyeing that overall championship.
My Starfish & Coffee squad gained two league points this week and moved from seventh to third.  I think 110 is my cap, so unless the Hams and Laura stumble down the stretch I think third is my max position.
Turd Fergusons seem like they should have karma on their side at this point, right?  They move up one spot to fourth this week.
The Stl Squat Cobblers came storming back this week (more on that below) and moved from tenth to fifth.  They have room to gain and with that high LCI it won't take as much for them to move up the Master Standings.
Chippers Lovechild falls from second to sixth this week and Backdoor Cutters fall from fourth to seventh.
Im in a Ditch gets back into the top 10 this week, in eight place.
The Cat's Ass makes a huge jump this week from 25th last week to debut in the top in ninth place.
Finally, 1-800-BETTSOFF makes their return to the top 10 this week, up from 20th last week.
WEEKLY LEADERS
The best of the best from the week that was.
R – 63 – Stl Squat Cobblers (ECFBL 2018)
HR –23 – Phucket (RCL 2018 (#49))
RBIs – 72 – Girl Number Four (RCL 2018 (#19))
SB – 17 – Sin City 61 (RCL 2018 (#61))
AVG – .356 – Bag Stealn Wheelin Dealin Son Of A Guns (RCL 2018 (#27)) & Corpus Christi right hooks (RCL 2018 (#60))
K – 112 – Vin Z. Wins (RCL 2018 (#12))
W – 11 – Team pael (RCL 2018 (#17)) & Starfish & Coffee (RCL 2018 (#23))
SV –  10 – Rube Waddell's Shiny Objects (Frequent Commenters League)
ERA (Min. 40 IP) – 1.06 – Smoke ('Perty Perts) (in 42.1 IP)
WHIP (Min. 40 IP) – 0.567 – Smoke ('Perty Perts)
When you're in the top 10 of the Master Standings and you lead the RCLs in a category, you tend to move up.  Cases in point, the STL Squat Cobblers leading the RCLs in Runs and Starfish & Coffee co-leading in Wins.
On his way out the door of Razzball, Smokey is leaving us with a parting gift, setting a new weekly record for the season with an insane 0.567 WHIP.  I think Smokey has stopped setting this lineup, but with Verlander, Carrasco and Miles Mikolas in there, he doesn't need to do much. If his team can manage just 27.1 IP this week he'll hit the 1000 IP mark and keep his pitching stats as well.  That would be big for Ralph and bad for Grey in the 'Perts League standings.
TEAM OF THE WEEK
Our weekly shout out to the team that killed it the previous week.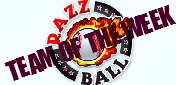 Team: MattTruss223
League: DFSers Anonymous
Stats:   AVG: .254, R: 46, HR: 20, RBI: 58, SB: 12
IP: 86.1, ERA: 3.34, WHIP: 1.066, K: 93, W: 8, SV: 8
Summary: Hey!  I know this guy!  I'm not just tooting my own here either, this is legit.  DFSers Anonymous has been a two person race for the better part of 2 months between Johnny Utahs and Vottoman Empire.  With this crazy week though, I've made things interesting and the league now has 3 teams all within 1.5 points of first place!  Everyone has some IP to burn, but it will be a delicate balance of getting IP to boost Ks and Wins vs. keeping those ratios in check.  This should be an awesome finish and I'm glad I could make it that much more interesting with a big week. One more like this and I could be looking at a league winner.
Want to be Matt's Twitter pal?  That's kinda creepy, but you can follow him here: @MattTruss