This week, I want to bring up a topic before it blows up my comment section as it seems to every season.  This is something veteran RCLers will recall (and likely will be utilizing) and you'll also be familiar with this concept if you've ever played a Yahoo league with an IP limit.  The idea is that you can maximize your pitching counting stats by manipulating the day you go over your 1400 IP.  In the ESPN days, this was manipulating the day you went over the 180 GS limit by getting to 179 GS and then loading up 9 starters and hitting 188 GS.  The same thing applies here with the IP limit (and also in Yahoo leagues) in that on the day you go over the 1400 IP limit all of your pitching stats count for that day.  So, let's say you work it so you get to 1398 IP, then you load up 9 starters the next day.  If all 9 starters last 5 IP, you'd hit 1443 IP and thus gain an extra 43 IP of strikeouts and possibly earn an extra win or two along the way.  The risk is obvious.  It's hard enough pulling one streamer out of the free-agent pool that won't obliterate your ratios, never mind nine!  Unless you are holding a slim lead in the ratios that you don't want getting ruined, there's not much to lose in maxing out your stats though.  So far I haven't seen any teams who have utilized this to the max, two teams had five starters go on their limit day with each getting over 1420 IP.  Vin and I will be keeping an eye out these final weeks as I'm sure a handful of teams will make the move.  I'll be trying to pull it off with a few teams provided I can stream 50 IP per week to finish things off.  Best of luck to anyone who pulls this strategy off!
Each week we'll peek in at our resident 'perts to see who is laying claim to best "expert" RCLer in the land.  We'll take notes, check the standings and generally stalk them.  The heading is also hyperlink, so feel free to follow along as we go.
Laura and B_Don each dropped a spot this week as Cram It and Grey made some last-ditch moves in the standings.  Grey had a nice week of offense to tie him with Son for the most points gained this week (3).  I had a fantastic pitching week but have no standings points to show for it.  Son and CA are too far ahead in WHIP to catch and CA is killing the ERA game.  I may have a shot to pass Laura in ERA if she melts down the final weeks, but I don't think I'm getting any higher than 113 in this league.  Still, a 'Perts League win is something I have yet to achieve in my RCL career and it would be a nice feather in the cap to finish this thing off.
Each week we'll also take a look at the top ten overall standings in our other Razzball sponsored league, the RazzSlam.  This is our NFBC Best Ball league with managers from all across the industry, from content providers to fans and readers just like you.
Speaking of finishing it off.  Our top ten in the Razzslam are looking to finish strong.  Francisco Maldonado had 200 more points scored than the nearest competitor this week as they rocketed into second place with 2+ weeks to go.
TOP 10
For those too lazy to check the MASTER STANDINGS, I present to you, the current top 10
Wake's lead…it grows.  Wake is streaming his buns off and gaining Master Standings points like a boss while my DFSers team rides the roller coaster of the final weeks and ended up down a half point.  I was up to 107 at one point this weekend, but couldn't finish it off.  What I thought might be a close battle could end up a runaway for Wake if I can't pick it up.  Otherwise, the top three remains unchanged with my Perts League team chilling comfortably in third.
Stechsjj & Fred Garvin MP swapped spots this week in fourth and fifth, respectively.
AllRice remains in sixth for another week while Young Guns climbs back into seventh after a one week dip.
Jersey Pine 5 leap-frogged fellow Crab Army team, Asynda Boil to move into eighth as Boil remains in ninth.
Rounding us out this week is a newcomer to the top ten, Mr Big & Bud Goode.
WEEKLY LEADERS
The best of the best from the week that was.
R – 56 – Horse-Faced Whips (RCL 2022 (#26))
HR –20 – 4 Teams Tied
RBIs – 58 – Seamheads (RCL 2022 (#19)) & Horse-Faced Whips (RCL 2022 (#26))
SB – 14 – Fart Butt (RCL 2022 (#42))
AVG – .328 – Legalize Steroids (RCL 2022 (#17))
K – 99 – Lake Titicaca Bungholes* (RCL 2022 (#1))
W – 9 – Fat Fuckin' Babies (Cougs R Us) & He may be gone, but he will be forgotten (RCL 2022 (#35))
SV –  9 – 5 Teams Tied
ERA (Min. 40 IP) – 0.64 – Trussell Shuffle (Cougs R Us) (in 66.2 IP)
WHIP (Min. 40 IP) – 0.656 – Finkelstein Ballers (RCL 2022 (#22)) (in 64 IP)
No new records this week, but it's always fun when the weekly ERA is lower than the weekly WHIP.  Speaking of WHIP, Vin noted a nice stat this week, team RBV lowered their WHIP from 0.993 to 0.983 as they try to be the first team to finish a season under 1.  That would be quite impressive to pull off!
TEAM OF THE WEEK
Our weekly shout out to the team that killed it the previous week.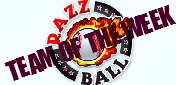 Team: foulballs
League: RCL 2022 (#46)
Stats:   AVG: .281, R: 55, HR: 20, RBI: 46, SB: 3
IP: 75, ERA: 2.16, WHIP: 0.96, K: 78, W: 4, SV: 9
Summary: I could have given this to Wake for another week, but he's won enough and will probably end up winning enough, so I decided to go with foulballs this week who had better ratios and slightly better offensive numbers.  Wake had more IP and more strikeouts/wins, but I think foulballs were more well-rounded.  Plus, let's lift some other teams up, so, foulballs had a heck of a week and is running away with RCL #46.  The rich get richer.  The stellar week also boosted the balls from 41st overall to 20th!  Bash bros, Aaron Judge and Yordan Alvarez led the way on offense while Jose Quintana and Michael Wacha had nice pitching performances, just like we drew it up back in March.  Nice work, foulballs.
Want to be Matt's Twitter pal?  That's kinda creepy, but you can follow him here: @MattTruss